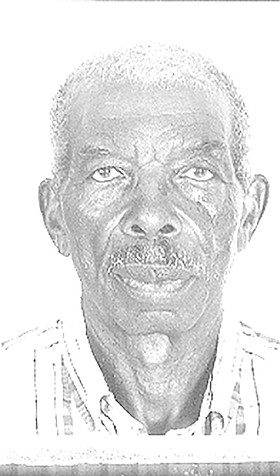 Kelly Elmore Adderley
unknown - unknown
Funeral service for
Kelly Elmore Adderley, 81
a resident of Nichol's Town,
Andros & formerly of Burnt Ground, Long Island, will be held at The New Mount Zion Missionary Baptist Church, Blue Hill Road, on Saturday, December 21, 2019 at 10:00 a.m.  Officiating will be Pastor Talbot Collie, assisted by other Ministers. Interment follows in Woodlawn Gardens, Soldier Road.
Left to Cherish his memories are his wife: Beatrice Adderley
 
SON: Brandan Adderley; DAUGHTERS: Maria Adderley-Brown, Kristina & Katie Adderley
 
GRANDCHILDREN: Kristano Adderley and Dario Adderley-Bastian
 
SISTERS: Velma Adderley, Sheila Small & Eulamae Lawrence (of West Palm Beach, Florida).
 
BROTHER: Douglas Adderley
 
SISTERS IN LAW: Sylvia Bethel, Margaret, Judy, Sheila, Keisha & Ivamae Rolle.
BROTHERS IN LAW: Bill Hanna, Fletcher & Edwin Rolle.
 
NEPHEWS: James Grant, Rashav, Ramon, Clayton & Desmond Adderley, Nathan Pearson, Lateiro Gaitor, Ernest Tynes, Anthony, Andrew, George, Hansel, Harold, Elvis, Craig, Natico, Nathan, Fletcher & Beecher Rolle.
 
NIECES:  Myrtle Pratt, Phyllis Thompson (Errington), Eria & Cora Grant, Monique Miller(Sgt. Adrian), Sherry Reyes Vazquez, Emmerine Adderley Louis, Trenia Adderley Morley, Ruth Adderley Farrington, Ethlyn Adderley Sands, Bethsheva Walkes, Ruth Mae Adderley, Rontel Ulber (Atlanta), Jandalee Archer, Shavon Knowles, Sharon Matillah, Linda Gaitor, Francine Farquharson, Silvia, Crystal, Cutell, Tatassia, Jasmine, Shawnique & Lorie Rolle.
 
NUMEROUS GRAND NIECES & NEPHEWS, OTHER RELATIVES & FRIENDS:
Denise, Ashley & Assia Scott, Sydney III, Kharin, Trenique, Teranique, Hope & Kadijah Grant, Cecil Jr., Ethan Sr.,Kyle, Bryinda & Brian Lloyd, Kendrick,Kelvano, Kordero & K'vantae Walkes, Vernicka Lopez, Anthon, Lorenzo, Macaro, Aron, Trinice, Nathan Jr., Kendia, LaShae, Claude & Pe'Thera Gaitor, Helen Lord, Norma Hutcherson, Vanria Rahming, Neaomi Brown, Ashwel & Debbie Wilson, Naomi Ulber (Atlanta), Vernice Scott, Daisy & Michelle Bowleg, Allington & Eli Evans, Pastor Vanda Rahming, Dan Munroe, Cardi Davis, Masonic Brothers, Anthony Taylor, Miss Weezie, Edna, Prudence Flowers, Florie Adderley & Family, Errol Ferguson & Family, Pastor Talbot & Kendra Collie & Family, Olive Pickstock & Family, Olivia Sweeting & Family, Sherry Fowler & Family, The Curry Family, Sonia Russell & family, Anthony Miller & family, Betty Thompson & Family, Joycelyn Dorsett and Family, Chester Evans & Family, Don Nottage & Family, Patricia McKinney and Family,  Andrews Lodge #11,  Male Surgical II at the Princess Margaret Hospital, The Water & Sewer Corporation, The entire settlement of Nichols Town, Andros.
Friends may pay their last respects at Demeritte's Funeral Home, Market Street, from 12-6:00 p.m. on Friday & on Saturday at the church from 9:00 a.m. until service time.