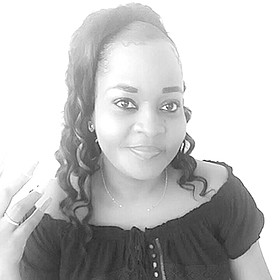 Kasey Felicia Thompson
unknown - unknown
Funeral service for the late Kasey Felicia Thompson age 45 years #35 McKinney Drive, Stapleton Gardens service will be held on Saturday, December 21st, 2019 at 10:00 a.m. at Wesley Methodist Church, Cupids Cay, Governors Harbour, Eleuthera. Officiating will be Rev. Lester Ferguson assisted by Sis. Jacklyn Pinder. Interment will follow in Governor's Harbour Cemetery, Eleuthera Bahamas.
She was predeceased by her mother: Nathalie Alora Thompson; sister: Rowann Alora Thompson; uncle: Earlin Rolle; grandparents; great grandparents;
She will forever be cherished by her father: Landis Thompson; brothers: Antonio and Adelpho Thompson; sister: Nyoka Thompson; grandmothers: Felicia Bethel, Carmen Rolle; nephews: Adelpho Jr. and Dante Thompson; niece: Alora Thompson; sister-in-law: Jessica Bello Fatto Thompson; adopted brothers: Jason Saunders, Kevin Harris and Delano Johnson; uncles: Richard Jr., Roscoe, Kennedy, Julian, Byron, Feron, Spence, Eddison, Plato, Ovid; granduncles: Arthur Rolle, Bently Culmer, Glen Griffin; aunts: Michelle, Eloise, Edithe, Roxanne, Madlene, Rhonda, Elizabeth "Belle", Lillith, Jacqueline, Michelle, Shirley, Rosey; grandaunts: Sarah Hammond, Betty Griffin, Shirley Rolle, god brother: Quinton; god sisters: Valarie and Clarice; god son: Adrian Miller; special friend: John Rolle; cousins: Tiffany, Nikki, Corey, Shannon, Plato Jr., Caron, Edangelo, Lashan, Daray, Elkeir, Deanza, Everne, Tarsha, Lester Jr., Shekegra, Adrian, Adrianna, Leilann, Kennedy, Chole, Jessica, Zavier, Juwan, Juliece, Ashley, LeRhonda, Mya, Syrai, Whitney, Nikkita, Phillip Jr., Cazinique, Zorie, Esther, Elkino, Antoine, Marcian, Devaughn, Curtis, Shauna, Shanae, Sean, Brandon, Shem, Mac, Eagan, Debra, Stephanie, Tony, Pam, Steve, Dolly, Barbara, Earl, Harcourt, Loreita, Bentley, Derek, Elva, Syretta, Valencis, Valentino, Philip, Linda, Judy, Derek, Sheita, Sharon, Karen, Sarah, Bradley, Glen, Richard, Rev. Ena Camine, Lorraine, Olga, Annette, Melvese, Lucille, Craig, Wade, Narassa, Inez, Percy, Glenville, Joan, Kerlene; other relatives and friends including: Lilly Burrows and Burrows Family, siblings of Sidney Burrows Sr. Desiree Jolly, Paul Simmons and Family, Sally, Ruth, Veronica Mcklewhite and Family, Ruth Lightbourne Family, Kathryn Neely Norman, Linda, Rochelle, Bahamasair Reservation Staff, Nassau Dianne Farrington and Family, Vernice Joseph and Family, Rosemary Thompson Family, Nicolette Culmer, Annie Sean, Dolly Thompson, Pandora Thompson, Virginia Minns; special thanks to: Dr. Martin Brown and staff of Princess Margaret Hospital. If we have forgotten your name please forgive us of our minds as you are in our hearts.
Viewing will be held in the Halcyon Suite at Restview Memorial Mortuary and Crematorium Ltd., Robinson and Soldier Roads on Thursday (TODAY) from 10:00 a.m. to 6:00 p.m. and again at Wesley Methodist Church, Cupids Cay, Governors Harbour, Eleuthera on Friday from 6:00 p.m. until service time on Saturday.