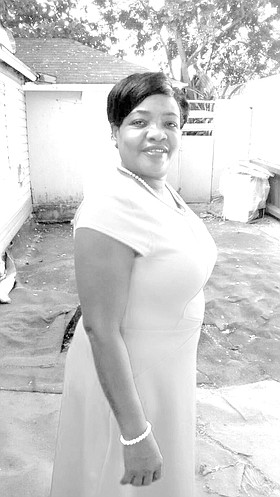 Jossett Giffrard
unknown - unknown
Funeral Service for the late Jossett Giffrard age 54 years of Lucky Heart Corner will be held on Thursday December 19 2019 at New Testament Baptist Church at 11:00a.m. Officiating will be Pastor. Paul Daceus. Interment will follow in Woodlawn Gardens, Soldier Road.
Husband: Pre-deceased – David Giffrard
Parents: Pre-deceased – ImmaculaSenatus (mother), and Milius Sylvain (father)
Son: Rold "Roy" Giffrard
Daughters: Linejuicar "Drecka", Janèe "Jay", and Rodianna "Rodi" Giffrard
Step Sons: Done, Romel (Tayler), and Rolf Giffrard
Step Daughter: YileneGeffrard
Adopted Sons: Gibson Pascal, Walto Bathelus, Valentino Pierre, Jonathan Harris
Adopted Daughters: Linda Pascal, Rickisha Woodside, Maegan Daxon
Grand Children: Roy, Theo, Arya, and Marvin Giffrard,Madison Rolle, Shenika and Anju Rilysse, Andy Esperance
Sisters: Annette, Carol, Yolene, and Magda Sylvain, Miliacine Sylvain-Remy (Claude), Marie Claude Sylvain-Joseph (Amos)
Brothers: Mike Sr. (Antonine), Emmanuel, Doucette, Wilton, Moucelin, and Jean Baptiste Sylvain
Nephews: Jean Max Joseph, Johnian St. Gerard, John Calvin, Kebe, Mike Jr., Jason, and Joshua Sylvain, George Thoby
Nieces: Nadia, Nakitha, Sophia, Danika, Kayla, Ashley, and Jadiah Sylvain, Woodline & Michelle Remy, Emmi Bernadin, Anne Joseph, IsmanieExantus, KathianaThoby, Diana Louis, Merlande&Leotha St. Gerard, Shantell Miller, Naiomi Oliver
Cousins: Evenou "Nana" Jean, Jeanette "Mishou" and Wishmide "Keket" Pierre-Louis, Yoland, Yolette, and Marie Yola Wansh, Gladys, Hubert, Jacques, Josè, Itsmanie Jeremy, Philippe, Jeandeaubrun, Pierre-Louis, Walner, Ambroise, Daumeque, and Genand Sylvain, Marie, Jacques, and Michelet Dupin, Francis "Super D" Altidor, Yvonne Joseph, Yvrose, Dady and NedlinePean, Maugeritte and Felix Salomon, Jose Ambroise, Ginette, Marcia, Aniel, Lionel Pierre Louis and Numerous more.
Best Friends:ElaideBrabelle, Kerland Alexandre, Moristen "Mark" Simeon
Other Relatives & Friends Including: Ligana "Tanya" Dieuville, Preston Evans Sr and Family, Darin & Yvette Munroe & Family, Paul & Micheline Daceus & Family, Joy Drakes, Ms. Fox (Family Guardian), Ersley Pierre-Louis, LeejohnDacin, Philistine Daxon & Family, Lèdèja Carey & Family, Pastor Emmanuel Rolle & the Calvary Baptist Church Family, The Straw Market Family, Anya Gibson, Dinna Nord, Wilken Pierre, Shavario Edmund, John Williams, Audley Johnson, Kisha Simon, and many more.
Relatives and friends may pay their last respect at Evergreen Mortuary located on Collins Ave & 5th Terrrace on Wednesday from 10:00a.m. - 5:00p.m. and again on Thursday from 10:00a.m. until service time.