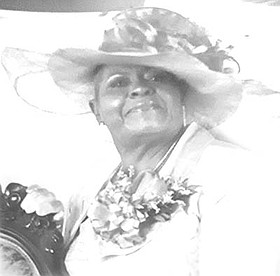 Inez "Nez" Winifred Pinder Fox
unknown - unknown
Funeral service for the late Inez Winifred Pinder Fox affectionately called "Nez" age 75 years of Sandy Point Abaco and formerly Freeport Grand Bahama will be held on Saturday, December 21st, 2019 at 11:00 a.m. at Assemblies of God Church, Abaco, Bahamas. Officiating will be Pastor Erskine Wells. Interment will follow in Sandy Point Public Cemetery, Abaco, Bahamas.
She was predeceased by her husband Silbert W. Fox. Daughter: Valderine Perry, Wendy Fox, Siblings: Rev. Arnold Pinder Sr., Harold Pinder, Ivan Pinder, Corine Pinder-Bowe, Rosetta Kemp; Brothers In-Law: Bertram Bowe, Rudolph Lightbourne Sr., Barry Fox, Don Fox; Nephew: Basil
Left to cherish her memories are her Children: Shelia Ferguson, Cheryl Cambridge, Andrea
McKinney, Felicha, Nakesha, Wayne, Ronn and Abimbola Fox; Stepchildren: Gretamae Ferguson and Bradley Fox; Daughter In-laws- Laurestine Fox, Yvette Fox, Kathrine Fox; Son
In-Laws- Kendrick McKinney, Craig Cambridge, Enoch Ferguson, Earl Ferguson and Delroy
Coore; Grandchildren: Shenika Maura, Shakara Burrows, Shakala Moxey, Cierra Fox, Daveyette Thurston, China-lee Fox, Celine Ferguson, Shandaniqua Adderley, Rasheed Pinder, Megan Fox, Quanisha Thurston, Wayanne Fox, Kendra McKinney, Shaylicha Pinder, Kendrea McKinney, Wendia Fox, Oshen Fox, Skye Fox, Lashay Pinder, Ryane Fox, Enoch Ferguson Jr., Acheco Fox, Rashad Ferguson, Rashad Fox, Bradley Fox Jr. Jamal Fox, Lavado Ferguson, Elroy Ferguson, Arcenio McKinney, Akeno McKinney, Dave Thurston Jr., Shavano Adderley, Leviticus Ferguson Jr., Regean Fox, Yashar Fox, Jordan Pinder, Devon Fox. Great Grandchildren: Deon Evans Jr., Kaden Evans, Shakur Fox, Raquel Fox, Gi'quan Thurston, Infiniti Fox, Chamarie Blyden, Breneka Maura, Khiyan Moxey, Karter Neely, Marchel Maura, Terrel Moxey, Shamar Davis, Ariel Fox, Erianna Moss, Kelsey McKinney, Lisa'anne Cambridge, Alisa and Aliyah Ferguson, Demir Thurston and Saylor Wring; Sister: Hazel Baillou; Brothers-in-law: John Fox, Gregory Fox, Eddie Fox, James Green, David Greene, Howard Fox, Horatio Baillou, Jimmy Lightbourne and Mark Fox; Sisters In- Law: Sybil Pinder Lessie Rolle, Diana Smith, Barbara Jenkins, Josephine Fox, Debbie Fox, Clarice Fox, Latisha Fox, Fiola Fox, Janet Culmer; Nieces and Nephews: Rev. Arnold Pinder Jr., Stacey Pinder, Pastor Sean Pinder, Marjorie Mitchell, Stephanie Bowe, Ada Cooper, Pamela Laing, Jerry Pinder-Ingraham, Byron, Craig, Harrison, Peterson, Graham, Robert, Amado and Neil Pinder, Jennifer Gellis, Joyann Pennerman, Bursel, Lester, Roosevelt (Missing), Gilbert, Gibson and Christopher Pinder, Daphne Roxbury, Karen Hamilton, Marzel Kemp, Aswell, Rev Cecil, Coralee, Rosalee, Relda, Pettlin and Dorie Kemp, Dr. Carolyn Cooper, Bertram Bowe, Commodore Roderick Bowe, Joycelyn Rolle, Deborah Strachan, Carol Bowe-Pratt, Nicola Thompson, Eric Baillou Sr., Rev. Pedyson and Earlyn Baillou, Izetta Kemp and Sylvia Poitier; God Children: Vernice Bain, Melinda Williams and Lakeria Miller; Other Relatives and Friends: Linda Evans and Family, Lekita Burrows, Mickey Roberts, Darlene Roker, David Staurt and Family, Jane Davis, Betty Mcbride, Jennymae Garland and family, Lyden Williams and family, Shirly Saunders and family, Terrell Roker, Judy Roker, Patricia Roberts and family, Golfrey Fox, Sherwin Pinder, Prescola Penn, Jimmy Williams and family, Lesley Adderley and family, Marie Rolle and family, Brenda Bain and family, Karen Sermon, Raniece Smith, Revy Kellman, Vergina Russell and family, Pastor Erskine, Wells and family, Robert McKinney and family, George Burrows and family, Zelma Bain and family, Percy Burrows and family , George Bain, Daivonne Basden, Staff at Rand Memorial Hospital, Staff at Princess Margret Hospital, Communities of Grand Bahama, Sandy Point, Crossing Rocks, Moores Island and Marsh Harbour, Abaco.
Viewing will be held in the Serenity Suite at Restview Memorial Mortuary and Crematorium Ltd., Robinson and Soldier Roads on Thursday (TODAY) from 10:00 a.m. to 6:00 p.m. and again on Friday at Assemblies of God Church, Abaco, Bahamas until service time on Saturday.