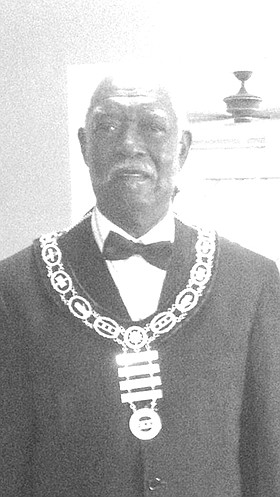 Illustrious Past Grand Master Mr. Samuel Nathaniel Culmer
unknown - unknown
Final Rites and Burial for the late Illustrious Past Grand Master Mr. Samuel Nathaniel Culmer Age 83 yrs, a resident of Rock Sound Eleuthera will be held on Saturday December 21st 2019, 10:00 am. at Wesley Methodist Church Rock Sound Eleuthera, Officiating will be Rev. L. Carla R Culmer President, Bahamas Conference of Methodist Church and Rev. Christopher Neely Ministerial Moderator South Eleuthera Region, Interment Yellow Ground Cemetery.
ItLeft to Cherish his Memories are:
His Wife: Kathleen Culmer
His Children: Audreyanna (Greg) Clarke, Susan, Magaritta, Samuel Culmer Jr, Kathleen (Geno) Guina, Meredith (Robert) Atwood, Jule, Deborah (Baldwin) Smith, Lueann Eulin, Perrylyn Hall, Troy (Guerda) Culmer. Janest (deceased), Patrick (deceased).
Adopted Children: Pedro Richards & Bryan Morley.
Grand Children: Trevor (Madlin), Sidainya (Cordero), Guiliano, Troy Jr, Akia, Isaiah, Aniyah, Nathan, Adrian, Sidney Jr, Cruz, Delisa (Dwayne), Monica, Rudolph Jr, Isadorah, Tasha, Latoya, Elway, D'Meo, Tanisha, Jhamal. Kyle (Deceased).
Great Grand: Lerone Jr, Zaiah- Rae, Roman,Kaylin, Dayden, Cole, Gu'Lia (JuJu, Bee), Geno Jr, Dwayne Jr, Ruth, Kion, Kayla, Layla, Kianna, Colby, Justin, Kidron, Anna, Christian, Tellica, Takashi, Navad, Jehu, Adam Jr, Asha, Nacario.
Brothers: Norman (Charlotte) Culmer, Joseph (Lillis) Bethel.
Brother in Law: Ervin (Dawn) Gibson, Eric (Ernestine) Gisbon, Elgin (Helena) Gibson, Ruben Gibson, Stephen Gibson.
Sisters in Law: Agnes Sweeting, Miriam Forbes & Madlin Gibson.
Staff of Sammy's Place: Carolyn Farrington, Shanea Bain, Kimba, Benoit, Shanika Campbelle, Jovanna Sands, Vernica Clayton, Hernique Newbold & Anthony Symonette.
Extended Family: George Edwards & Family, Kirkwood Cleare & Family, Cassie Evans, George Fernander & Family, Pat Maynard & Family, Stephen Maynard & Family, Felease, Shanta, Laurane, Wayne, Stacey, Tia Knowles & Franco Francis.
Other Relatives & Friends: Joyce Culmer & Family, Mrs. Antrabis, Katie & Ellen Culmer, Jean & Megan Carey, Sidney & Perlene Rolle, Dora Campbell & Family, Rupert Anderson & Family, Jack Hiton & Family, Garnet Brown & Family, Margaret & Barry Ward & Family, John Francis & Family, Edison Brice, Evelena, Noralee, Bettyann, Cleomi, Louise, Barbara Farrington & Family, Bobby Sands, Roslind Sands & Sisters, The Cates Family, Doris Tynes ,Joseph, Harold, Alfred, Ophelia Bannister & Family, Rachel Miller & Family Mr & Mrs Deal, Mr. Edgar & Flo Symonette, Elton Symonette & Family, Calvin , Jolly, Regina Hall &Family, Audley Zonicle, Don Thompson, Raynel Minus, Fredrick Curry, Wendy, Camille, Phillipa, Aldise, Sharon, Prudence Knowles & Family, Roscoe Thompson, The Purity Bakery Family, Bahamas International Food Family, John Chea#3 Family, Debbie Gomez, Javaro Kemp ( Bro JJ), Evin and Sheila Gibson, Hartwell Higgs, Hilbert Richards, Vionna Richards, Pam, James Gibson & Family, Emerson Horton, Harry Horton, Johnny Butler, Claudia Sands & Family, Ray &Betty Carey, Michael Culmer & Family, Darren Thompson, Dr & Mrs Guina, Garry Goodman & Family, Napoleon Whylly, Oswald Ingraham & Family, Carlos Culmer, Carlos Malone, Myer & Rolance Taylor, The Most Worshipful Grand Master Leslie Dean, Mrs. Bridgewater, Mrs. Ella Sands & Family, Rahming Family Savannah Sound, Ernest, Dennis, Andrea, Worshipful Master Betram Rolle, Bertram Rolle Sr, Lashonada Pennerman, Murietta Major & Family, Marcie Knowles, Rev Christopher Neely, The entire Savannah Sound Family, The Tarpum Bay Fisherman Family, The entire Rock Sound Family, &The Rock Sound Methodist Family,Mr. Hank Johnson Member of Parliament for Central and South Eleuthera, Barry Hepburn, Ivy Smith, The Saint James Road Family, Mr. Timbert Carey & Cleveland & Ethel Knowles & Family, Mr & Mrs. Errol Sands, The entire Wemyss Bight Family, The Masonic Lodge Family Near & Far. The Day Break Family & Milo Butler Family, Half-moon Cay Family & Holland America Family.
The body will repose at the Chapel of the Saints Sweeting's Colonial Mortuary and Crematorium, #84 Blue Hill Rd. from 2.00 pm on Thursday until 5:00 pm and on Friday 10:am until 1:00 pm and at the church from 9:00 am until service time.