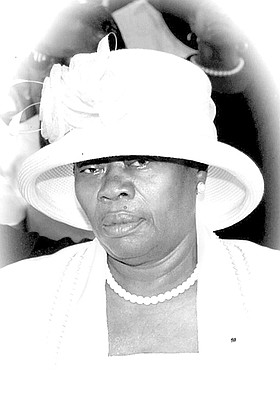 FAITH ROLLE
unknown - unknown
The Children of MRS. FAITH ROLLE, age 83 years, of Ethel Street, Montell Heights and formerly of Rolleville, Exuma, announces her passing on Saturday, December 14th, 2019, at the Princess Margaret Hospital.
Her survivors include Sons: David Rolle and John Hall (British Columbia, Canada); Daughters: Cpl. 1751 Paula Rolle and Katie Hall; Sisters: Queenie Gray and Geneva Ferguson; Brothers: Halland Gray (Ft. Pierce, FLA.), Carl and Bertram Gray: Sister-in-law: Helen Hall; Brother-in-law: Charlie Ferguson; Numerous Grand, Great-Grand Children, nieces and nephews.
Funeral service will be announced at a later date.