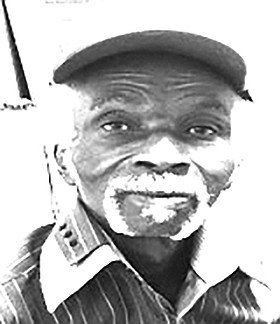 Eugene Beneby
unknown - unknown
MEMORIAL SERVICE
FOR

The Late Eugene Beneby
Age: 64yrs
Of Lovely Bay Acklins, Will be held on Saturday 21st of December 2019 at Ebenezer Mission Baptist Church, St Charles Vincent St at 11:00 am. Officiating will be Minister Helen Miller assisted by Minister Prenell Taylor along with other Ministers of The Gospel. CREMATION WAS DONE.
Left behind to Cherish his memories are His Sisters: Rev. Floretta Robius, Remelia Williams, Eunice Deveaux, Minister Helen Miller and Clarabell Dawkins. Brother: Felix Beneby Nieces and Nephews: Gregory and Athea, Huey, Donald, Tencecita, Sandra and Florinda Robins. Min. Geneveve and Pastor Dean Wells. Berkely and Tony Williams, Min. Enadell and Melvin Lundy, Bevenly and Keneth Beneby. Jozell, Perry, Marsha, Austin, Judith, Brian and Jonathan Whyms. Anthony Johnson, Carolyn Romer, Emily Moxey, Archelaus, Tanya and Gifford Johnson, Doramae Wright, Ename Nottage, Fedel and Meletha Johnson, Nicole Sands. Anthony Johnson, Carolyn Romer, Emily and Michael Moxey, Doramae and Darrell Wright, Nicole and Terrell Sands. Floramae, Eulamae, Kevamae, Tyrone, Lanna and Rodney Beneby, Anishka and Kevin Bethel, Raquel Beneby, Meoshi Knowel (Freeport Grand Bahama), Wilshire Beneby 3rd, Almond, Reno, Philip, Corlette, Paulette Deveaux. Janice Miller, Brent and Deborah Miller, Brian and Kernette Miller, Min. Bless Miller and Pastor Chester Thomas, Barrett and Michelle Miller. Oralee, Nathaniel Perrie, Lynette and Ian Foster. Nicole and Kevin Woodside, Vanessa Musgrove, Kenwin Adderley, Winifield Dawkins II, Wilton and Willshire Dawkins. Meleaquer and Rosco Johnson, Daphanie Okhuarobo, Dr, Deval Rolle, Devania, Deshan, Feliciano and Rennick Beneby other relatives and friends including Dianna Beneby of Mastic Point Andros, Audrey Gibson, Min. Sarah Ferguson, Min. Vernice Bain, Elijah Beneby of Lovely Bay Acklins and The Lovely Bay Acklins Family and the Lovely Bay Community, The Ebenezer Mission Baptist Church Family, Fresh Anointing Ministries Family. May the soul of the departed rest in peace.
Serviced by Rock of Ages funeral Chapel.