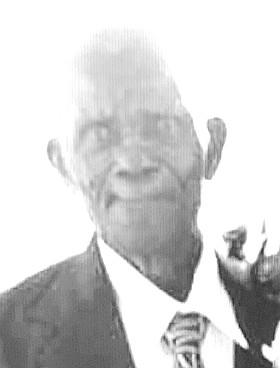 ERNEST MUNROE
unknown - unknown
FUNERAL SERVICE FOR THE LATE MR. ERNEST MUNROE AGE 98 YEARS OF MOSS TOWN WILL BE HELD ON SATURDAY DECEMBER 21 2019 AT —-AM
E.C. McKenzie Auditorium, Ramsey Exuma
Officiating will be Rev. Randy Musgrove, Pastor, Mt. Zion Union Baptist Church
   Moss Town, Exuma and interment will follow in——.
He is survived by 
 
His children:  Shiela Munroe-Curry, Loran Ferguson, Elrita, Nathaniel Sr., Luella, Ernest, Jr., David, Vernita, Simeon, Marilyn and Philip, Sr.
 
Grandchildren:  Charmaine & Wittington Deleveaux, Belinda Hutchinson, Brent Stubbs, Arnette Munroe-McPhee, Dellington& Tamika Munroe, Nathalie & Tyrone Tynes, Nathaniel Jr. & Monique Munroe, Marcia & Artrin Swift, Barry & AlexyaWilliams, Shenique Rolle, Brian, Garvin & Kanisha, Ernest III & Jessica Munroe, Patrice & Quincy Pratt, Dika Newbold, Shantell Chipman, Arthur Jr. & Patricia Munroe, Kimberley & Amy Rahming, Tanaicia Rahming-Monroe, Lamon Munroe, Renee & Jawanza Munroe, Dromilus & Wendy Curry, Te'araNeymour & Prenecia Rolle, Philandrea, Philnovia, Philip Jr. & Nae, Glenroy Munroe, Lavinia Richardson, Bernadette, Prenelle, Mispah, Christine, Eslyn, Godfrey & Paula Ferguson.
 
Great Grandchildren: Rashawn Moss, Kenny, Kyle, KerrellDelancey, Whitley, Ellissa Deleveaux, Courtney Stubbs, Dillen,Ambrosine & Xandria Williams, Leandra Clarke, Atrin Jr., Atrill, Ashliegh Swift, Kendrick Rahming, Shawn Jr. & Shavaughn Rolle, Maguel & Normique Monroe, VakitaRichardson, Bryce, Brody & Brooklyn Curry, Trey, Catlyn, Danielle, Deandra, Samantha, Nathan, Quetelle, Eugene Jr., & Teyano Murray, John Knowles III, Autel, Auinderia, Princina, Eugene Jr., Perez, Marvin Jr. & Marvinique Newbold, KendenoRolle, Benzel Jr., Benalinique, Rave Bethel, Dante Chipman, Shawn Grey, Rashanda Bain.
 
Great Great-Grandchildren: Thirteen (13)
 
Daughters-in-law:  Ruby, Arnette & Terry Munroe
 
Son-in-law:  Clyde Ferguson
 
Sisters: Nathnalie Evans & Curlene Munroe-Major
 
Brothers:  Alfred 'Freddy' & Arlington Munroe
 
Sisters-in-law:  Millicent & Karen Munroe, Yvonne Butler & Mary Saunders
 
Brothers-in-law: George Evans, Alton Major & Milton Saunders
 
Nieces: Nyoka Deveaux-Price, Iantha (Yvette) King, Maxine Newton, Ruth Williams, Zella Symonette, Patricia Brown, Sybil Munroe, Eurika Gibson, Shoranda Taylor, Wanda, Linda, Monique, Brendalee, Willisee Brown, Anita Collie, Marilyn Adderley, Theresa, Pauline, Alouette, Alana, Eltonia, Charmaine, Alkeisha, Alkera, Lauriece, Linda, Brenda, Kendra, Pamela Johnson, Elaine Lewis, Janice & Margo.
 
Nephews:  Therevis, Wilfred Jr., Benjamin Deveaux, Terrance & Randy Rolle, Keith Hinsey, Ralph Richard 'Dick' Brown, Ulis Jr., Dexter Brown, Edward Munroe, Emmit (Ricky), Kent & Wade Evans, Marcus, Elvis, Desmond, Tyrone, Holland Jr. & Van Munroe, Mark, Marcian & Marvin Major.
 
Other relatives and friends, including but not limited to:  The descendants of Lovely Thompson, Edna Bain & family, Barbara Dorsett & family, descendants of Esau Saunders, Harold & Cynthia Major, Rev. Dr. C. W. Saunders & family, Pearl Musgrove & family, The Clarkes, Musgrove, McPhee, Curtis families, Dr. Deral Rolle & family, Nurse Darlene Curtis, Desiree Ferguson, Pastor Lynden & Lisa Clarke & family, Pastor Randy Musgrove & family, Rev. Adam J. Brown & family, the entire community of Moss Town & the Hermitage, the staff of the George Town Community Clinic and a host of relatives and friends too numerous to mention.
  
Relatives and friends may their last at Evergreen Mortuary located Hoopers Bay on Friday from 1:00pm to 4pm and again at the church from - until service time.