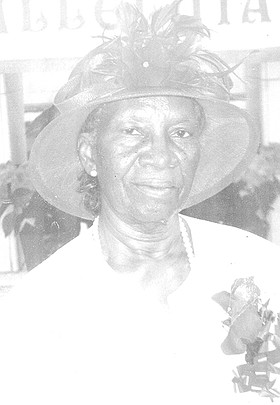 Edna Levarity
unknown - unknown
Funeral service for
Mrs. Edna Levarity, 89
a resident of #10 Karl Road, Claridgedale Gardens, will be held at Christ The King Anglican Church, Ridgeland Park West, on Saturday, 21st December 2019 at 10.00am.  Officiating will be Archdeacon J. Kingsley Knowles.  Interment will follow in Woodlawn Gardens, Soldier Road.
She is survived by 3 daughters: Rosemary Gibson, Meryl (Velock) Johnson, Elsa Munnings; 3 sons: Kendal, Mark & Alexander Levarity. 
One (1) brother: Robert Lightfoot and one (1) sister: Ophelia King;  sister-in-law: Rosalie Lightfoot; three (3) adopted sisters: Adelaide Pinder, Iteah Ritchie and Ruby Davis of Freeport, Grand Bahama.
Grand children: Kenneth (Desalene) Gibson, Geron Gibson, Lashanta (Derek) Smith, Indera Gibson, Theora & Kenria, Allister Johnson, Sherelle (Mervin) Williams, Sherene (George) Pitter, Sharonna (Terrance) Richards, Arvin Johnson, Deon Moss, Teneekqua Gibson, Danielle Munnings; Kenese Levarity, Idell, Dominic, Alexander, Alexandria Levarity
39 Great Grandchildren
15 Great, Great Grandchildren
11 nephews, 8 nieces, and numerous relatives and friends including Rev, Ivan Butler Sr. and Family, the family of the late Eugene Butler, the family of the late Arthur & Bloneva Levarity, Gloria Butler & Family, Mr. Arlington Miller and Family, Barbara Naissance (Caregiver), Janice Archer and Family, Mrs. Armbrister, Mrs. Hamilton and Miss Iris & Family.  Christ The King Family, Florinda Williams & Family, Bahamas Holy Bible Mission and First Baptist Church.
Friends may pay their last respects at Demeritte's Funeral Home, Market Street, from 12-6:00 p.m. on Friday & on Saturday at the church from 9:00 a.m. until service time.