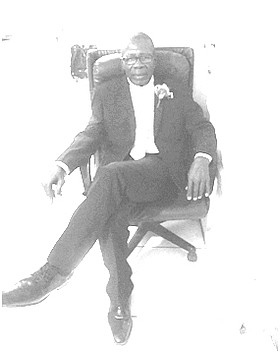 Collins Charles Martin
unknown - unknown
Service of Praise and Thanksgiving for the Life of
 Collins Charles  Martin
Funeral Service for the late Collin Charles Martin age 65 years of Skyline Lakes will be held on Saturday December 21 2019 at Last Days Gospel Assembly Forbes Street Nassau Village at 11:00a.m. Officiating will be Pastor Ishmeal Martin, assisted by  Rev. Thomas Small and Min. Johnny Martin. Interment will follow in Old Trail Cemetery, Old Trail Road.
He is survived by: Children: Charles Martin and O'Brian Neeley
Brothers: Leon, Johnny and Ishmael Martin
Sisters: Elizabeth Major, Janet Small and Joycelyn Woodside
Brothers in Law:Thomas Ashley Small, Glen Woodside. Thomas, Milton, Stafford, Leslie, Lionel and Ellis Hanna
Sisters in Law:Terricita Martin, Brenda Martin, Vernetha Hanna- Llewellyn and Evelyn Fowler
Nieces: Nicole, Carolyn, Brendalee, Samantha, Latasha, Katherine, Joann, Yienderia, Glendina, Anta, Monique, Miriam, Shaniqua, Darnell, Christal and Christia Hanna, Antia Henderson, Anita Rahming, Stacy, Niosha, Una Shavonne, and Vontianise Hanna, Shegarah and Demetria Frith,
Nephews: Rollins, Leon, Salvano, Wellington, Cosman, Edward, Ishmael Jr., Willanere, Kevin, Isaiah, Joey, Ricardo, Thomas Jr., Kameron, Claudius, Desnal Hanna, Matthew, Diamount, Ashton, Tyler, Milton Jr. Branaldo, Branerro, Brandon, Leslie Jr., Emyr, Esyn, Lennis, Darieo, Shavarro,
Stepchildren and Grand Children: (Keno) and Latoya Archer, Kayliah and Keon Archer, (Bradley) and Althesia Pratt, Brea and Breyon Pratt, Kenyen Adderley, Kenyen Jr, and Keniesha Adderley
Other Relatives and Friends include:Kaynesha, Kasey,Koy, Ralph Jr. Candiz, Queanna, Antonio, Naveah, Joey Carlos Jr. Jessie, Shacara, Justin, Elvis Jr., Daniella, Savannah, Latario, Patsy, Samuel, Austin, Isaak, Krysten, Kantrell,  Kawahna, Kandra,Kandez, Marquel, Destinea, Rollie Heastie, Darrin Woods and the Bahamas Hotel Catering and Allied Workers Union Family especially "Bagaloo" and Rochelle Greene, The Nassau Village Community including The Reckley, Ferguson (Melvern) and Roberts Families. The staff of Granny's Goodies. Doctors and Nurses of Male Medical Ward #1. Numerous cousins including Apostle Quebell Martin, The Gaitor Family, The Sands family, The Extended Martin Family.
Relatives and friends may pay their last respect at Evergreen Mortuary located on Collins Ave & 5th Terrace on Friday from 10:00a.m. - 5:30 p.m. and again at the church on Saturday from 10:00a.m. until service time.