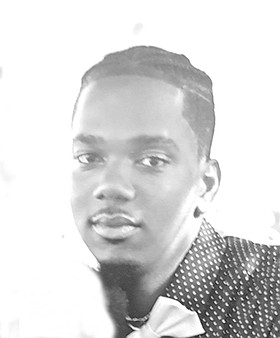 Nathaniel Dervon Josey
unknown - unknown
Funeral Service for Nathaniel Dervon Josey age 24 of Tufa Close who died on December 1, 2019 will be held on Saturday December 14, 2019 at 1:00 pm at First Baptist Church, Market Street. Officiating will be Pastor Diana Francis assisted by Other Ministers. Interment will follow in Lakeview Memorial Gardens, John F. Kennedy Drive.
Left to Cherish his memories are his son, Nathaniel Dervon Josey Jr.; his daughter, Ah'miyah Josey; his mother, Maxine Lloyd Josey; his father, Nathaniel Josey Sr.; brothers, Dedrick, O'nan and Nicholas Wells; adopted brother, Perez Fraser; sister, Deondra Lloyd; adopted sisters, Erlande Elizor (Ellen); grandmother, Ledora Pandora Lloyd; grandfather, James Rolle; nieces and nephews, Dedricka, Dedrinique, Dedrick Jr., Derrick, Omori Wells and Gary Lloyd; uncles, Kelsey and Lamont Lloyd, Ellis, Rufus, Arnold, Pedro, Romeo, Deino Josey; aunts, Maryann, Pat, Alicia, Suzette, Doris, Larriette, Sharmaine, Edith, Joyann Josey, Alice and Elsie Johnson; granduncle, Rev. Leonard Josey; grandaunt, Janett Lloyd; fiancée, Nicoya Taylor; adopted family: Rose, Samantha, Nyoka, James, Jameah Taylor; Godchildren, Wintah Stubbs and Tyiesha Haven; cousins, Laniyah, Lamont, Madison, Khares and Karina Lloyd; Other relatives and friends including: Rev. Charles Rolle, Anthony, Leroy, Ted Sr.(Barbaramae) Daethmar, Celestine, Gilbert (Rochelle), Dwayne (Ann), Sharon (Newton) Dawkins, Melinda, Willard, Stanley, Denice, Shanna-Janet, Frankie, Carla, Ida, Ruthmae, Jackie, Portia, Gensta, Cynthia, Leslie, Ken, Javaugh, Fredrick, Tessa, Cynthia, Mary, Nathaniel and Daniel, Diane Johnson, Hughton and Betty Rolle, Marina Arnette, Anastacia Bain, Gladys and Shorn Lightfoot "Dragon", Lina Casseus, Leonardo "Hen", Tedistine, Ted Jr., Antonio, Tamren, Monet, Sgt. 2896 Devaughn Fraser (Abbigail), Ezekiel, Sheniqua (Teran "Bappy"), Abbernique, Dennis, Danielle, Tachan, Tachaz, Nikki, Deigo, Sharron, David, Lachelle, Keianno, Miguel, Chavese "China", J'Ian, Hughton and Betty Rolle, Jamal, Debbie Casseus, Lina Casseus, Laway Casseus, Peter Saunders, Vangy, Alma, Vernie, Dera, Mac 10 and Shanny, Rose, Nelson Jr., Gentry, Keno, Tino, Charm, Anton and Petrona Powell; Special Acknowledgement: Hon. Glenys Hanna Martin M.P., The Public Hospital Authority, The Registry Department, Human Resources Department, CSSD Department, Medical Department, Xray Department, Ministry of Public Works Welding Department, Battery and Tire, Wendy Fraser and Family, The Wilson Tract Family, Bahamas Customs Department, Immigration Department, Downtown Straw Market Vendors, The Great Exuma Barraterre Association, Pastor Marva Thompson, Water and Sewerage Corporation, Michael Gardiner and Family, George Lowe, Jermaine Rolle and Family, Mr. Cooper and Sylvia and Family.
Viewing will be held in the Legacy Suite of Vaughn O. Jones Memorial Center, Mt. Royal Ave. and Talbot Street on Friday from 12:00 noon to 5:00 pm and on Saturday from 10:00 am to 11:00 am and at the Church from 12:00 noon until service time.