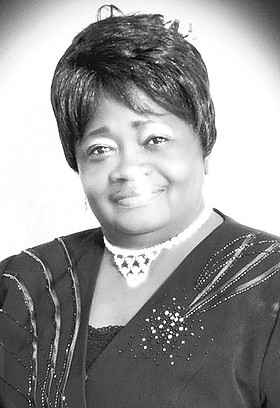 Malvern "Tally" Muthlyn Bastian
unknown - unknown
Funeral Service For
Malvern Muthlyn "Tally" Bastian, age 66yrs a resident of Carmichael Road and formerly of Smith's Hill, Andros, died at The Princess Margaret Hospital on Tuesday, November 19th, 2019. Service held At EVANGELIC ASSEMBLY CHURCH OF GOD IN CHRIST, Baillou Hill Road & Fleming Street Nassau, Bahamas Saturday December 14, 2019 at 10:00 a.m. Officiating will be Patrick V. Smith and assisted by Reverend Nelson Brown and Elder Stephen Sands. Interment will be held at Lakeview Cemetery, Lakeview & Gladstone Road.
The love and memories will forever linger in the hearts of her:
Father: Alfred Bastian
Sons: Phillip Moss & Elton Bastian
Adopted Son: Cleveland Knowles
Daughter: Shanel Bastian
Daughter In-Law: Octavia Bastian.
Grand Daughters: Keishanna Bastian and Taneil Burrows;
Grand Sons: Tyrese Kemp, Turel & Elton Jr. Bastian.
Brothers: Alton, Carl, Sidney of Orlando Fl., Edward and Sheldon Bastian;
Sister: Brendalee Bastian Sands.
Uncles: Henry Bullard, Elijah Ferguson, Zebedee and Paul Bastian, Kendal and Stevenson Smith;
Aunts: Prescilda Ferguson, Muriel Ash, Arleane Smith, Emily, Marjorie, Shelia, Francis, Theresa and Lestine Bastian, Reheasa (Colin) Francis, Cheryl and Ivy Smith;
Brothers-In Law: Charles Sands and Jerome D'Arceuil;
Sisters' in-law: Joycelyn, Stephanie, Dorca, and Sandra Bastian;
Nephews: Cory, Covin (Enid), Garvin (Denise), Travon,
Sydney Jr. (Latoya), Brendan, Dillian, and Sheldon Jr., Bastian;
Nieces: Shanique Forbes, Sharmaine (Arnold)
Morley, Shakera (Nick) Shepherd, Cassie (Adrian) Battiatta, Chara D'Arceuil, Ednica, Candace, Xena, Daysha, Aaliyah and Deja Bastian, Morvette Butler;
Grand Nephews: Judah and Jovan Forbes, Cardino and Shaquan Ferguson, Adrian Jr., and Amahziah, Battiatta, Santino Carter, Doyle Jr., Dolana, and Carl Jr., Bastian, Jakriah Telus, Khai Rigby and Shiloh Trotman;
Grand Nieces: Kevina Pennerman, Yazmin Moss, Doylesha Bastian, Adreanna, Amanda, Allayahdra, Alena and Alicia Battiatta, Zion and Kyah Moss;
Cousins: Katherina, Maxwell, Harrisson, Vernel, Danny, McArthur, Freeman, Tyrone and Rekell, Smith, Preatta Gibbs, Elvis (Elaine), Howard (Clarice), Clifton(Vanria) and Alvin (Calvina) Bullard Sharon (Robert), Newman, Lillian (Lawrence) Lloyd, Tonia (Emmanuel) Mullings, Valria (Graham) Exton, Jackie (Randy) Hanna, Sharleane (Gregory)Moxey, Tasha (Josue) Josep, (Janice(Ricardo) Clough, Marcia (Kaden) Smith, Endalyn (John) Toker, Ellesa(Miriam), Luther (Mytle), Marvin, Burnt (Annis), Talmage (Hichi), and Elon (Erica) Ferguson, Pauline, Loxley, Lynden, Laten, and Lystra Bastian, Chenique (Jason) Atkin, Paul Bastian Jr., Janna Deveaux, Deanne, Dekeria,Dalene, & Darien Bastian, Christine, Irene, Ruben, Dexter Ishmel and, Martin Bain, Michelle, Maurice, Mario and, Marie Bastian, Ulric (Julia), Nakita (Shelyvelle) and Gurth (Henrea) Smith;
Other Cousins & Friends:
Special Friend Robert Moxey, Dr. Mildered Chou, Mrs. Arleane Farquharson, Mrs. Lucile Toote, Claramae Bain, Janet Bain, Cle Fynes, Ellamae and Sheliamae Harris, Eulamae, Thompson, Barbara Dellaveaux, Flloyd Bastian, Ruben, Annie and Paula (Stephen) Rolle, Margo Forbes, Garnell (Dwight) Sargent, Karen (Lloyd)Jones, Portia Deveaux, Bertha (Edmund) Forbes, Ellouise and Godfrey Taylor Doraline Enoch) Joseph, Velma (Lenward) Strachan, Marjorie Dorsett, Tess Brice, Zakiyyah Waheed of Philidelphia, Gena (Anthony) Jones, Rose (David) Sweeting, Desiree Carey, Stafford Ambrister, Alphonso (Lelia) Adderley, Jenifer Deveaux, Harriet Kelly, Lorraine McPhee, Roosevelt(Geneva) Rolle, McPhee, Calton (Oramae), Smith Garnel (Huel), Campbell Livingston (Beverly) Smith, Dianne(Marvin) Austin, Michelle and Micheal (Shanel) McPhee, Tiffany (Mario) Petty, Bernice Munnings, Gertrude (Mario), Sandra and Telma Miller, David Thompson, Debra (Leon) Smith, Lillian Darling, The Smith's Hill Community, Business Office and the (SRC) Staffs, Rev. Patrick V. Smith and The Evangelic Assembly Church of God in Christ Family, The Entire South Andros Community. A host of other relatives and friends too numerous to mention.
Relatives and friends may pay their last respects at THE NEW COMMMONWEALTH FUNERAL HOME, INDEPENDENCE DRIVE Friday from 10:00 -6:30 p.m. Saturday from 9:00 a.m. at the church to service time.