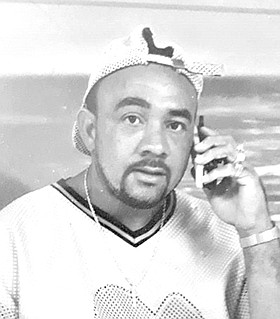 Eric "Private Eye" Ambrose Johnson Jr
unknown - unknown
Funeral Service for Eric Ambrose Johnson Jr. "Private Eye" age 55years, of Governor's Harbour, Eleuthera will be held on Saturday December 14, 2019 at 10:30a.m. at St. Patrick's Anglican Church, Governor's Harbour, Eleuthera, The Bahamas. Officiating will be Rev'd Fr. Ivan Eldon and Archdeacon James Palacious. Interment will follow in Bay Front Cemetery, Governor's Harbour, Eleuthera, The Bahamas. Prior to service Eric Ambrose Johnson Jr. was cremated.

Left to cherish his loving memories are: Devoted parents: Eric and Naomi Johnson, Son: Dante Johnson of Hollywood Florida, Stepson: Desmond Mackey and family, Sister: Austina Clarke of Pooler Georgia, Brother: Waden Johnson; Adopted Brother: Clyde Bethel; Aunt: Rose Cartwright of Wellington Florida, Uncle: Allan Symonette, Special nieces: Johnita Johnson, Kyaja Knowles and Claudia Ellis. Other nieces: Darrien and Dwayniqua Ferguson, Jalessia and Carmika Ellis, Deanka and Vandesha Mackey, Nephews: Kymani Symonette, Nasir Knowles, Thearon, Akeem and Matayo Johnson and Devano Mackey. Sisters- in-law Paula Ellis, Cyprianna Mackey and Tanya Johnson. Brothers- in-law: John Clarke of Pooler Georgia and Van Mackey. Special Cousins: Shawn Cartwright of Wellington, Florida and Wendy Baker of Port St. Luci, Florida. Special friend: Demetrius Johnson ;Other Relatives and Friends including: Mark Thompson and Family, Nancy Sommer and family, Delores Rahming, Keith McCartney and family, Rosemund Williams and family, Gary Sands and family, Tracey Knowles, June Poitier, Arthur Turnquest and family, Paul Simmons and family, Gail Wisdom, Cecile Cooper, Sophia Dames, Joy Smith, Clinton Davis, Estell Major, Ethel Johnson, Sharon Green, Deidre Austin, Kathy Forbes, Thelma Bosfield, Marva Daccosta, Charlotte McIntosh, Emily Petty, Miss Cap(Caregiver) Raynard Bodie, Jennymae Taylor, Alonzo Micklewhyte, Linton Symonette, Christopher Knowles, Archdeacon James Palacious, Archdeacon Harry Bain, Rev'd. Fr. Ivan Eldon, Rev'd. Fr. Scott Brennan and Rev'd.Fr. Colin Saunders.

There Will Be No Viewing
Relatives and Friends are welcomed to sign the book of condolences at Butlers' Funeral Homes & Crematorium, Ernest and York Streets on Thursday December 12, 2019 from 1:30p.m. until 5:00 p.m. and on Saturday December 14, 2019 at St. Patrick's Anglican Church, Governor's Harbour, Eleuthera from 9:30a.m. until service time.