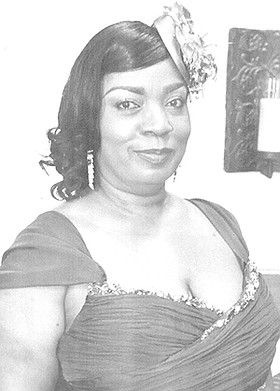 Eva Ruth Adderley
unknown - unknown
Funeral service for Eva Ruth Adderley, 55 yrs., a resident of Sis. Maria Rahming Drive & W.K. Frank Close, will be held at Grace Community  Church, Grace Ave., Palmetto Village, on Saturday, December 7, 2019 at 11:00 a.m. Officiating will be Sr. Pastor Lyall Bethel, Pastor Stuart Kelly, Elder Cyril Peet, Pastor Emeritus Marcel Lightbourne & Sr. Pastor Emeritus Dr. Rex Major. Interment follows in Woodlawn Gardens, Soldier Road.
 
Husband: Earle Adderley; 
Two (2) daughters: Lashonna and Rochelle; One (1) son: Ruvane Adderley; 
One (1) daughter-in-law: Monica Adderley;
Three grandchildren (3): Anton, Samara, and Raven;
Mother: Ethel Edgecombe
Two (2) brothers: Prescott Green, Patrick Taylor
Three (3) sisters: Brenda Bain, Esther Newton, Petty Officer Mary Sweeting
Three (3) adopted Sisters: Karen Missick, Glendina Garland, Janice Albury
Ten (10) brothers-in-law: Oral Bain, Thomas Newton, Harvey Sweeting, Jerome, Linward, Raymond, Hillarey, Theodore, Linzie, and Arthur Adderley;
Two (2) sisters-in-law: Jennifer Hanna, Martha Adderley
Two (2) uncles: George and Anthony (Delores) Edgecombe
Three (3) aunts: Louise  Crumbie of Leeds, England, Cathlyn Garbie, Monica Edgecombe,
Numerous nieces and nephews including: Santinio, Richard and Orrenda; Valencia and Terez; Leroy, Marko, Tanya, Kingsley, Shanika and Crystal; Deangelo, Sheba, Orlando and Abigail; Lynkeisha, Coreado, Linward Jr., Rashad and Lateisha; Raymond Jr., Sherel, Tavani, Roman, Trimone and Mia; Heber, Shadrach, Antica and Tedrica; Eric, Brianna and Joshua; Pedra and Arthur Jr.
 
Grand nieces and nephews: Mitchell and Nathan; Isaiah and Miracle; Leroy, Kymari, Tanaya, Tashea, Terron, Jeffery, Taliyah, Kenya, Kaylee, Jaron, Ryanne and Tavanique.
 
Other close relatives and friends: Diane McKenzie and family, Charles McCartney, Leonard, Superintendent Matthew (RBPF), Daniel, Samuel, Johnathan and Eric Edgecombe and Family, Eveyln Nesbitt and Family, Sandra Laing and Family, Louise (Kermit) and Family, Michelle Tynes and family, Cetis Jr., James and Jacob Edgecombe, Juliette Thomas, Joanne Cooper, Stephen and Simeon Edgecombe, Kelly and Family, Phillip, Mark and Kevin Crumbie, Juliette and Antoiniece Edgecombe,  Francita Martin and Family, Althea Ferguson and Family, Barbara Morris, Nurse Margo, Theresa Simpson, Dawn Grey, The Reckley Family, The Shaw Family, The Munroe Family, Shirley Sweeting and Family, The Strachan's Corner Family, The Management and Staff of Roberts Furniture, The Pastors and Members of Grace Community Church, The Pastors and Members of Mt. Pleasant Greene Baptist Church.
Friends may pay their last respects at Demeritte's Funeral Home, Market Street, from 12-6:00 p.m. on Friday & on Saturday at the church from 10:00 a.m. until service time.