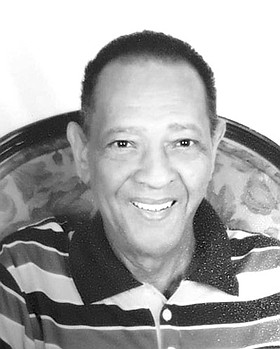 Wynton "DOC" Augustus Isaacs I
unknown - unknown
Funeral Service for Wynton Augustus Isaacs I, affectionately called "DOC", aged 76 years, of Pine Street, Tall Pines, will be held on Friday January 26, 2018 at 11:00 a.m. at St. Margaret's Anglican Church, Kemp Road. Officiating will be Rev'd Dr. Roland Hamilton. Cremation will follow.
Left to cherish his memories are his Wife: Arthellia Isaacs: Children and their Spouses: Wynton II, Deron (Ida), Dale, Danielle and Daryle (Dr. Dellareece) Isaacs; Stepson: Cassius Powell; Grandchildren and their Spouses: Joi, Tyson (Cameron), , Ghandi, Whitney, Winter, Skyy, Allyssandra, Alexis, Daren (Sevitra), Destiny, Savvy, Dyvine, Deven, Darian and Daryle Isaacs II, Taiisha (Ernest) Forbes, Ossha (Christopher) Cleare, Theodosia (Kwady) Lightbourne, Tanya (Ramon) Gibson, Patricia (Quince) Lockhart, Rayne McQueen, Christielle McQueen, Dante Fowler and Whitley Cargill; Great Grandchildren: Haileigh, Kaileigh, Vincent II, Kwady, Kaedyn, Kayle, Ashton, Collin, Quincy Jr., Camani, Camryn, and McKayla; Brothers-in-law: Rudolph and Roy Powell; Sisters-in-law Dorlean Duford and Joyce Gaitor; Adopted Sons: Franco Brown, Dwayne Pratt, Deckery Johnson and Godfrey Arthur; and a Host of Other Relatives and Friends Including: Yvonne Isaacs, Haroline Walker and family, Gail Woods and family, The Major's of Freeport, Kaye Aranha and family, Paulette Rolle and family, Tanya Sands and family, The Major's of Chippingham, Edgar Walker and family, Paulette Walker, Ricardo Thompson, Magnol Walker and family, Gloren Walker and family, Sue Kemp and family, Dennis Woodside, Adrian LaRoda, Lamont Bain, Dorothea Butler, Pastor Tom and Lesa Roberts, Jenny Isaacs-Dotson and family, Eddie Dean, Craig Mitchell and the fellas at Mitchell's, Sam Kemp and the people of Adelaide, Lawrence Smith, Dewitt Johnson, Delarese Maycock, Bursel and Dedrie Woods and family, Jill Cleare, the Retirees of Batelco, Jennimae Stuart, Kaylor Douglas,
The Old Corner Hotel Crew, Romeo White, Denzil Johnson, the Armbrister and Seymour families, Rev'd Dr. Roland Hamilton and family and many others.
Please forgive us if we have forgotten anyone because we know that "Doc" has touched the hearts of so many.
Friends may pay their last respects at Butlers' Funeral Homes and Crematorium, Ernest and York Streets, on Thursday January 25, 2018 from 10:30 a.m. to 5:00 p.m. and at the church on Friday January 26, 2018 from 10:00 a.m. until service time.