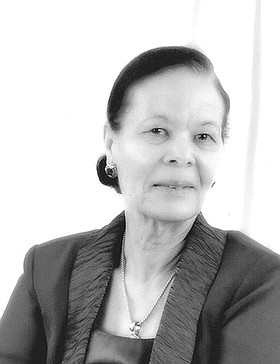 Veronica Elizabeth Hanna
unknown - unknown
Funeral service for the late Veronica Elizabeth Hanna age 67 years of Tiga Drive and formerly of Roses, Long Island will be held on Saturday, January 27th, 2018 at 10:00 a.m. at Holy Cross Anglican Church, Soldier Road. Officiating will be The Rev'd Canon Norman D. Lightbourne, Rector assisted by The Rev'd Deacon Eric A. Miller. Interment will follow in Woodlawn Gardens, Soldier Road.
She will forever be cherished by her Husband: Villeneuve 'Willie' Hanna; Son: Edwin Knowles II; Daughter: Yasmin Hanna; Daughter-in-law: Wanda Knowles; Grand-daughter: Caroline Knowles; Sisters: Melvina Levarity and Agatha Cartwright; Brothers: Ricky, Dwight I, Sidney, Dexter, Richard and Dwight Dean II; Aunts: Olga Turnquest and Althea Hepburn; Sisters-in-law: Merrial Hanna, Daisy Hanna; Brothers-in-law: Enoch Hanna Jr., George Hanna; Nieces: Alexandra Cheeks-Rolle, Tia Duncombe-Levarity, Santiala Cartwright-Ferguson (N'Komo), Stameika Symonette (Samuel); Nephews: Sean (Sheneka), Starsky (Tara), and Santini Cartwright, Dominic and Gamal Levarity and Stephen Hanna; Grandnieces: Ashley Cheeks, Dominique Burrows, Sylena, Santiara and Halle Cartwright, Nate'ya and Nathalia Ferguson, Tomaya, Abbeygail, Dominique, Melvina , Dereka, Felicity, Arianna, Trinity, Sarai and Symone Symonette; Grandnephews: Ashton Cheeks, Shemar and Shavez Cartwright, Marcopolo, Targe, Ronnie, Kaden, Dominic Jr., Melvin, Miguel, Joshua, Samuel Symonette Jr.; Cousins: Ignatius and Jonathan Carrol, Iva Nixon, LaGloria Smith, Hazel Lightbourne, Beatrice Burrows, Melvina Major, Eulie Scott, Frederica Cartwright, Claudius Burrows, Drexel, Brenell and Violet Cartwright, Myrtle Cartwright, Cecilia Rolle, Naomi Pratt, Martha Turnquest, Stephen Dean, Andrew King, Cheryl Hicks, Caroline Torrence, Alice Dean, Joanna Goodman, George Jr., Fredrick and William Dean; Extended Family and Friends include: Sam & Meg Adderley, Alexander Levarity, Pearl and Ella Cartwright, Rosie Knowles, Denny Haley, Christine Cartwright and Family, Ellen (Tunsy) Major and Family, Laura Sherman, Rudy & Daisy Roberts and Family, Hon. Jeffery Lloyd and Family, Canon Norman Lightbourne and the Parish Family of Holy Cross Anglican Church, Dr. Luna Rolle and Family, Debbie Smith, Dorothy Turner, Olga Bethel, the Management and staff of Scotiabank (Bahamas) Limited, the Management and staff of Sea Point, Port New Providence, the Management and staff of Leisure Travel & Tours Limited, Rev. Franklyn Knowles and the Congregation of Light & Life Community Church, Archbishop Patrick C. Pinder, the Chancery staff and the Pastoral team of the Catholic Archdiocese, Sr. Mary Benedict Pratt and the Sisters of St. Martin's Monastery, Monsignor David Toupe, Fr. Nicholas Cachia and the St. Vincent de Paul Seminarians, Boyton Beach, Fla.; Angela Moree and Family, Nurse Peggy Lundy, Retired Nurse Carolyn Cambridge, Dr. Kevin Moss and the Medical team of Princess Margaret Hospital, the Surgical team and staff of Holy Cross Hospital, Fort Lauderdale, the Medical team of Kindred Hospital, Las Olas, Fort Lauderdale, the residents of Orchard Close and Tundra Close, Sea Breeze and numerous other relatives and friends.
Viewing will be held in the Halcyon Suite at Restview Memorial Mortuary and Crematorium Ltd., Robinson and Soldier Roads on Friday from 10:00 a.m. to 6:00 p.m. and at the church on Saturday from 8:30 a.m. until service time.