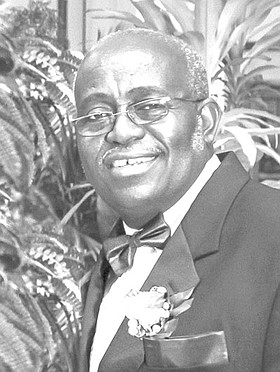 TYRONE SAMUEL RUSSELL
unknown - unknown
Memorial Service for the late TYRONE SAMUEL RUSSELL age 66 years of #18 Leewood Road, Imperial Park South will be held on Saturday, January 27th, 2018 at 3:00 p.m. at Assembly Hall of Jehovah's Witnesses, Edmond Street, off Dolphin Drive. Officiating will be Ruben Rolle.
Tyrone will always be cherished and remembered by his loving and dedicated Wife: Menett Mavis Russell; Daughter: Tamara Carmeal Harrison; Son-in-law: Richard Harrison; Brothers & Their Spouses: Freddie & Beverly Russell Jr., Anthony & Nancy Russell, Sidney & Veta Russell, Jim & Gladys Russell, Samuel & Sandra Russell; Sisters: Lindsay Bastian, Patricia Russell, Kim Russell, Fredrica Neely, Cheryl Bastian, Ingrid Russell, Karen Bartlett & Elvira Russell; Brothers-in-law, Sisters-in-law & Their Spouses: Elgin & Shirley Wright, Gertrude Fournillier, Leastine & Zebee Bastian, Deborah, Sidney Outten & Charles Bastian; Nephews, Nieces, & Their Spouses: Freddie Raymond & Annette Russell (of Orlando FL), Michelle Bastian-Thompson, Carla & Brian Wallace, Emily Pearce, Marvin & Nyoka Hanna, Kelly Noel, Ryan, Cassandra, Marlin, Marcel, Jason Thoan, La Tina, Shaquita, Patrick, Thorne, Indira, Sidney, Samantha, Danielle, Albert & Savannah, Arnold, Frederick, Gina, Tamika & Kevin Bowleg, Tamara, Dwayne Wright, Theodora Wright, Theresa Cooper, Collingwood & Yvette Sweeting, Gary & Precious Sweeting, Dairen & Barbara Bastian, Deann & Brett Hallett, Delane & Tony McCloud, Dekera & Gregory Gordon, Sherrene & Simon Stalder, Sidney Outten, Roger Outten, Bobi Jane & Yen Newton; Grand Nephews & Nieces & Their Spouses: Berkeira & Charlthorn Strachan, Lashan & Burkley Thompson, Keith Russell Jr., Raymond Russell, Brain & Bryson Wallace, Jordon Noel, Yosh Bastian, Yasean & Brooke Bastian, Knyashia McCloud Sydney & Kendall Gordon, Mia & Simon Jr. Stalder; Cousins: Delvera Wallace, Ann & Norman Bedford, Julian & Joann Wallace, Corey Wallace Sr., Ellsworth Cumberbatch, Sharmaine & Sidney Hart, Emma & Don Forbes, Steve & Tamika Fynes, Christine Gibson, Craig & Wendyann Knowles, Christine Knowles, Yeshousa & Jean Collins, Annette Stuart, Jennie Lloyd; Other Relatives & Friends too numerous to mention, including: the BEC Family, the Seabreeze Congregation and the entire Family of Jehovah's Witnesses.
.

THERE WILL BE NO PUBLIC VIEWING. Persons wishing to sign the book of condolences may do so at the church on Saturday from 1:30 pm until service concludes.