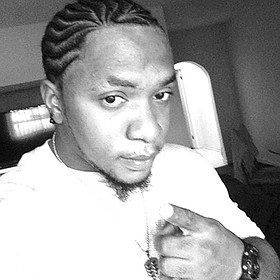 Tevin Terrance Roberts
unknown - unknown
Funeral Service for Tevin Terrance Roberts age 23 years and a resident of #205 Palm Beach Apartments, Freeport, Grand Bahama will be held at 10:00 a.m. on Saturday 27th, January, 2018 at Mary Star of the Sea Catholic Church. Officiating will be Fr. David Cooper and interment will follow in the Grand Bahama Memorial Park #2, Frobisher Drive.

Left to cherish his memories are his loving parents: Terrance and Joanne Roberts; grandparents: Vilma and Joachim Heid; adopted parents: Craig and Rosebud Adderley; sisters: Tamika Roberts, Terika Cleare, Anderze Grant, and Nioka Roberts-Pratt; brothers: Joachim Cleare, Rasheed Adderley, Bantam Pratt, Craig Lundy; aunts: Valeria Roschelle, Rosemary, Ellen Roberts; uncles: Freedie, Roy, Dashiel, Harvey Roberts, Max Daniel, Sandy Kemp; grandaunts: Patricia Lewis, Ena Taylors, Ferris Higgs, Jean Bobb, Floris Bobbs, granduncles; Allen and Wallace Saunders; niece: Sariah Woodside, newphew: Macallan DeCosta; numerous cousins and relatives including: Carla, Hortense, Donette, Dominque, Myckell, Akia, Yolanda, Lashana, Mickela, Chereka Laquinta, Daynette, Dawn, Max Jr., Matthew, Samantha, Terez, Terell, Joseph Adderley, Shelia and Harold, Eloise Knowles, Marcus Pinder , Ricky Mackey , Michelle and Christina Lundy, Pervial and Dorth Johnson, Higgs, Mackey, Lewis, Johnson, Roberts, Sawyers, Curry, Major, Percentie Families, G & G (Seacor) Shipping Company, Management and Staff of Freeport Ship Services; special friends: Khadijah Saunders, Trevor, Jade, Lil Joe Adderley, Sharon Johnson, CMT Tours Crew, Zendal Carey, Shean Justan, Fredicka Jr., Ellis, the Class of 2012 – Harbour Island All Aged School, Bernand Cooper, Thyra Johnson, Joanaia and Chaz Turner, Areba Saunders, Crystal Bethel, Yvonne Collie, Mr. and Mrs. Vergina Foster, Maxwell and Antonia Higgs, Bod and Loraine Roker, Martin Grant, Clare and Quenna Pedican, Demaro Martin, Cheryl Whyms, neighbors and friends of Rum Cay Villas and Palm Beach Apartments, Lisa and Family, Andrey Gardiner, Micaela Rolle-Curry, Lawerance Thompson , Earl Neely. Special Thanks: Dr. Leviticus Rolle, D/Insp. Stephen Rolle, D/Sgt. Randy Lewis, Branee Fyne, Teriska Ellis, Pershona Demeritte, Andre McCartney, Preston Knowles, James Joseph, Rev'd Fr. Oswald Ferguson
Relatives and friends may pay their respects at Yager Funeral Home & Crematorium, Queen's Highway on Friday from 12:00 noon until 6:00 p.m. and at the church on Saturday from 9:00 a.m. until service time.