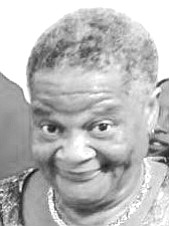 Rosalin Mae Cole-Francois
unknown - unknown
Funeral Service for Rosalin Mae Cole-Francois, age 69, of Smithsville, New Providence and formally of Jamaica who died on January 10, 2018 will be held on Saturday January 27th 2018 at 10:00 a.m. at Bahamas Faith Ministries, Carmichael Rd. Officiating will be Dr. Dave Burrows assisted by Other Ministers. Cremation will follow.
She is survived by her Husband: Augustin Francois;Daughters: Karen Francois, Karlene Francois, Margaret Francois;Sons:Robert Francois, Orlando Miller (Larue), Garvin Francois;Stepchildren: Michael Toote, Caroline Francois;Grandchildren: Maurissa Knowles, Latoya Knowles, Christina Knowles, Vantaniece Newry, Shanicqua Newry, Brittany Newry, Valdez Newry, Shaddai Miller and  Shammah Miller;13 Great grandchildren;Brothers: Christopher Lewis, Gary Lewis, John Lewis, Slater Lewis, Siean Lewis;Sisters: Charmaine Lewis, Annette Lewis, Maureene Lewis, Donna Lewis, Dieadriann Lewis, Sherilla Lewis Gill; Nieces and nephews: Leroy, Latoya, Andre, Ronald, Rachael, Lemont, Shane, Daniel, Kristen, Andre, Antoine, Layne, Nicholas, Kimberly, Carlogne, Trudy, Ashley, Rachelle, David, Paul, Alexandra, Asahele, Kahel, &Ann. Other relatives and friends too numerous to mention.
Viewing will be held in the Legacy Suite of Vaughn O. Jones Memorial Center Mt. Royal Ave. & Talbot St. on Friday from 12 noon to 5:00 p.m. and on Saturday at the Church from 9:00 a.m. until service time.