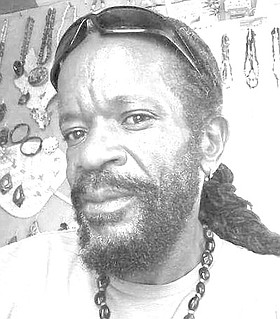 RICHARD "BUFF, COOKIE" HERBERT CULMER
unknown - unknown
Funeral Service for the late RICHARD HERBERT CULMER affectionately called "BUFF, COOKIE" age 58 years of #26 Major's Subdivision, Collins Avenue and formerly of Arthur's Town, Cat Island will be held on Saturday, January 27th, 2018 at 10:00 a.m. at St. Gregory's The Great Anglican Church, Carmichael Road. Officiating will be Rev. Canon S. Sebastian Campbell assisted by Fr. Dwight Rolle. Interment will follow in Lakeview Memorial Gardens, John F. Kennedy Drive and Gladstone Road.

Left to mourn his passing and cherished memories are his Children: Ricken, Ashtin, Lauren and Gabrielle (Angel); Wife: Marie; Step children: Alexia and Phillip; Grandchildren: Kenreia, Shamir, Blake, Ricken Jr., Aiden, Nayla, Jamell Jr., and Ken; Brothers: Kenton Thurston, Dr. Kirtland (Rachel), Dr. Leslie (Beverley), R. H. Jr., Sandford (Mary) Winston Sr., (Sylvia), Kendal (Evalyn), George, Hubert, Vincent (Karen), Stuart (Mona), Eardley, Edwin (Bonaventure), Raymond (Darlene), and Llewelyn (Coralese); Sisters: Mrs. Velma Johnson (Michael), Mrs. Grace Russell (Alvin), Ann, Jan, Vernell, Patricia, Pauline, Edwina, Mavis, Ethlyn and Ingrid, Denise (Sterling), Ann (Rev. Troy); Aunts and Uncles: Elijah (Leah), James (Maeoni), Cleophas (Shari), Emily (Allworth), Albena, Sheba and Roselda Moxey and Jack Franks; Nieces and Nephews: Lithera (Dencil), Floydena, Jermaine (Nyoka), Kenrico (Janea), Kendreka, Alvin Jr., Christopher, Aydan, Kenton Jr., Eric, Trevor, Winston Jr. (Marrissa), Monique, Dr. Dawn, Dennis, Denise Culmer, Denise Hafidh, Desiree, Tamika, Lynell, Sarah, Janet, Angela, Dr. Rusanne, Nicole, Lisa, Cheryl, Monique, Dr. Dawn, Cara Sanique, Ebony, Anishka, Que, Janur, Gill, Rhumer, Leslie, Jhanell, Christi, Aioki, Hedda, Lisa, Arlene, Ellen, Gigi, Brittney, Nadia, Antonia, Courtney, Leslie, Vaughn, Quentin, James, Raymond, Donielle, Kristianne, Jabbah, Kevin, Kirtland II, Andrew, Jules, Allison, Kyle, Christophe, Dwan, Alejandro, Ray Jr., Jackson, Croix, Cruz, H. Campbell III, Robin, Troy, LaRon, Rashad, Brian and Mark; Grandnieces: Denielle, Kenece, Kenria, Shamare, Denay and Ke'nasia; Grandnephews: Kaymark Jr., Deangelo Jr., Kenrico Jr. and Jermaine Jr.; Cousins: Paul, Cozetta, Vincent, Kemuel, Lyndon, Patrice, Georgina, Rose, Richard, Hubert, Michael, Daphne, Donna, Brian, Prescott, Melanie, Ian, Melverne, Sandra, Morlan, Nigel, Mandel, Alcindor, Alphanette, Sherry, Nolan, Kingsley, Hugo, Tanya, Sharlene, Marvin, Stanley, Tara, Carla, Hazel, Michael, Christa, Terrance, Cloyd, Pearl, Sherdon, Anya, Anton, Ramon, Roland, Earl, Cheryl, Daria, James, Raquel, Kenya, Jamaal, Jerome, Jaleel, Jammie, Dario, Fritz, Aunt Betty, Carmen, Jose, John, Rhoda, Suzanne, Pedro Jr., Christian, Sheldon, Shelvon, Shevan, Marco, Clari, Claudia, Nicole, Romaine, Shawn, Keith, Neil, Daryl, Shane, John, Tamara, Anya, Julian, Rhonda, Jodie, Danazo, Ken, Pamela, Faye, Fern, Patrinella, Omar, Katie, Cora, Dillard and Abdul; other relatives and friends: Frank, Alexander, Tyrone and Perry Williams, Edmand Rahming, The Butlers, The Farringtons, The Armbristers, The Deans, The Williams, The Campbells, Patrick and Treina Major, Wesley Cartwright and family, The Larrimores, The Farrahs, The Smiths, Rev. Celestine Eneas and family, Rev. Marva Thompson and family, Helena Scott and family, Michelle Bain and family, The whole community of Arthur's Town, The Straw Market Family
.

Viewing will be held in the Halcyon Suite at Restview Memorial Mortuary and Crematorium Ltd., Robinson and Soldier Roads on Friday from 10:00 a.m. to 6:00 p.m. and at the church on Saturday from 8:30 a.m. until service time.