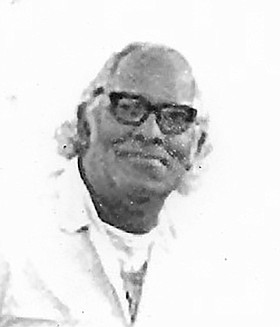 Patrick Thompson
unknown - unknown
Funeral Service for the late Patrick Thompson age 77 years of South Beach will be held on Saturday January 27 2018 at East Street Gospel Chapel at 11:00a.m. Officiating will be Pastor. Thomas Roberts assisted by Pastor Edmund E. Dorsett and other Ministers of the gospel. Interment will follow in Old Trial Cemetery, Old Trail Road.
Patrick was predeceased by: his parents: Mr. Neville & Cornelia Thompson; Sisters: Antionette Hill and Betty Swaby; brothers: Hurton Thompson and Lawrence Thompson; Other family members: Bertram Ingraham, Donald and Amelia Archer and Patrick Thompson (Willy)
Patrick Thompson is survived by: Nephew: Ricardo Thompson and Sean Thompson;
Monique Nixon, Yvette Fox, Perry Fox, Megan Fox, Lois Thompson, Hellen Thompson, Mr. & Mrs. Trevor Thompson, Mr. & Mrs. Roselt "Bob" Thompson, Mr. & MRs. Everette Thompson (Audrey), Ian Thompson, Alita Thompson, Craig and Corey Thompson, Esther Ingraham, Pearline, Oswald, Lauren, Richard, Don, KEnneth, Bertram Jr. Ingraham, Rosie Sands, George Cartwright, Sheena, Ariel & George Jr., Rezido Cartwright, Jennifer Pyfrom and Beth Carey, Randy Albury, Daniella Thompson, Claire Thompson, Neymour, Beverley Archer, Shelly, Perry, Terry, Karen Symonette, Peggy Roberts, Marsay Pratt, Adrian and Dwight Pratt, Gurney and Debbie Armstrong, Mitzi, Scooby and Ira Swaby, Ian Thompson, Alita Thompson, George and Corey Thompson, Vera Grant and Sheila Grant, Chrystal Thompson, Rosie Thompson, Lillian Carey, Sean Thompson, Allan Bsotania, Chet Benjamin, Danisio D'Aguilar and Family, Luisa Wells, Nuella Melenchik, Marina D'Aguilar and Family, Alexander Clarke of San Antonio, Texas.
Other relatives and friends: Dr. Carolyn Henna and Family, Norma Virgina Hall and Family, Steve Nixon and Pedro Thompson, Joe and Emily Klass, Lynda Polemus and Family, Charles Carter and Family of Augusta Street and residents of The Dummett Family of Augusta Street,
Relatives and friends may pay their last respect at Evergreen Mortuary located on Collins Ave & 5th Terrace on Friday from 10:00a.m. – 5:30 p.m. and again at the church from 10:00a.m. until service time.