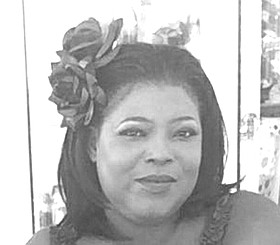 Odette Dedrie Hanna
unknown - unknown
Funeral Service for Odette Dedrie Hanna age 44 of Pride Estates No. 3 who died on January 15, 2018 will be held on Sunday January 28, 2018 at 12:00 noon at Hillview Seventh Day Adventist Church, Tonique Darling Highway. Officiating will be Pastor Eric D. Clarke, Pastor Paul Scavella and Pastor Melvin L. Lewis. Interment will follow in Woodlawn Gardens, Soldier Road.
Left to cherish her memories are her daughter: Rhodia Imani Russell; adopted daughter: Bella Maddison; mother: Faydoria Bullard-Hanna; sisters: Denise Adderley, ShannanIghodaro, Keva Watson, Melvern Rolle, Cheryl Curry, Regina Hanna and Bernadette Duncombe; Brothers: Kim, Charles and Justin Hanna; Aunts: Doralyn Bain, Gloria Bullard, Josephine Bastian, Margaret Styles, Gina English, Rebecca Smith, Norma Rahming and Lydia Bullard; Uncles: Alfred, Horace, Charles and Wilfred Bullard; Brothers-in-law: Sgt. Ronald Adderley, Dr. ErabhorIghodaro, Sean Watson, Dewey Rolle and Jeffrey Curry; Neices& Nephews: Sirrae, Jaydan, Samantha, Jan, Brittney, Crystal, Anishnoff, Latario, Lynden, Marco, Demarco, Chris, Tasha, Esosa, Myah, Idia, Keanu, Michael, Rashadd, Stephen, Charles, Myron, Makye, Charlene, Elvin, Jamie, Angela, Devaughn and Elvis; Grandnieces & grandnephews including: Janero, Corde, Ethan, Rashadd Jr., Kileigh, Chloe, Dillian, Dante, Draya, Krista, Lewis, Milaya, Anai and Ariyah. Numerous Cousins including: Marthalean Minnis, Donna Minnis, Pandora Minnis, Gaylene&Kenyetta Bain, Thedore Bain, Michelle Collie, Cindy Delancey, Delserene, Monique, Patrice, Rochelle Richards, Qutell, Cindy and Valentino Gardiner, Judy cartwright, Ricardo Major, Ken, Bridgette, Patrice, Marvin, Paula, Vickie, Timmy, Dr. Vincent Forbes, Noey, Latoya, Melanie, Shawn, Rakell, Shantell, Stanya, Vanessa Clarke, Denny, Trina, Coya, Carla, Jeana and Vaughn. Other Relatives & Friends including:Arlene Poitier, Lydia Strachan,Paula & Rafik Bain, Allison & Roger Rolle, Carlton, Tony, Dominic, Gia, Shelly, Keva, Shantell, Esther, Danny, Michelle Knowles, Tanya, Jay J, Shenika Mackey, Chekara, Indi & Dwight Brown, Tamika Hall, Deborah Adderley, Monique McKenzie, Joyce, Lavern, Remy Minnis, Elaine, Linda Davis, Amanda, Philip Armbrister, Keisa, Andria, Dr. Charmaine Stuart, Ianthe&IeishaCleare, Rekell, Cheney & Family, Brenell Smith, Monique & Brian Bethell, Rolf Russell, Brenda Gibson, Bricymae Gibson, Brenda Rose, Rashae&Rashan, Nurse Jamie Sears, Roselyn Cox, Tony Burnside, Aniska, Charmaine Cox, Tasma, Glenique Bowe, Preva, Cynthia Russell & Family, Kathy, Ingrid, Harold & Carol Dorsette, Nicola, Alisha, Marvin Smith, Olive Morley, Rachell, Kayla, Elder Griffin & Family, Lucy Watson & Family, Pastor Barr & Family, Hope Watson, Whylicy Adderley & Family, Deborah Elliott & Family, Janemae Saunders, Georgina Reckley, Joanna Neeley, Santiago, Diane Major & Family, Sophia Bastian, C. H. Reeves Class of '91, Department of Social Services, The Bahamas Conference of Seventh Day Adventist Peardale Church Family, Management & Staff of Nassau Christian Academy, The National Insurance Board Family, The Staff of Willard Patton Pre School, The National Drug Agency, First Caribbean Bank, Family Guardian & Mahogany House.
Viewing will be held in the Legacy Suite of Vaughn O. Jones Memorial Center, Mt. Royal Ave. And Talbot Street on Saturday from 11:00 a.m. to 5:00 p.m. and on Sunday at the Church from 11:00 a.m. until service time.