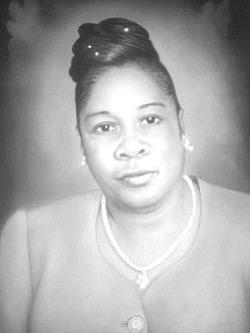 Marion Evans
unknown - unknown
Funeral service for
Marion Evans, 67
a resident of Red Bays, Andros, will be held at Mt. Moriah Baptist Church, Farrington Road, on Saturday, January 27, 2018 at 11:00 a.m.  Officiating will be Rev. Dr. Wilton Strachan, assisted by other Ministers of the Gospel. Interment follows in Lakeview Memorial Gardens, John F. Kennedy Drive.
Cherished memories will forever linger in the hearts of her loving mother: Brenetta Evans; sister: Dale Riley; brothers: Anginal, Charles (Deborah) Evans and Tony Evans, Jerry (Rev. Daphne) Russell and Reo (Thais) Russell; daughters: Maxine, Betty Marshall, Panchetta Marshall Evans, Carol Marshall Curtis and Shamika Riley Munnings; sons: Joe and Mario Marshall; adopted daughter: Michaela; adopted sons: Tony Barton, Mark Campbell, Jeffery Russell, Oscar Colebrooke, Isaac Colebrooke and Sam Marshall; granddaughters: Jorede Marshall, Inez and Reneka Evans, Litera Moss-Gilbert, Maronique and Mia Marshall, Elisha Smith, Cardia and Jada Evans, Caranique and Brittinique Marshall; grandsons: Joey, Joechan, Jovargo and Keith Marshall; nieces: Francita Hall, Kendra, Sharron, Latoya Riley, theria and Grace Russell, Ashley, Kim, Tonya, Terez Evans and Ulamae; nephews: Teran, Travaughn, JJ, Jerred, Jerrado and Theo; grand nieces: Anthonique Hall, Alexis Miller, Princess Hepburn, Ciara Rolle, Taronae McPhee, Brayden Musgrove; grand nephews: Anthony Hall, Alex Riley, Troy Miller and Richard Munnings II; aunts and uncles: Evangelist Susanna Russell, Carl and Wilbert Lewis, Doris Lewis Rev. Alphonso and Tryphania Lewis, Tavis and Patsy Evans, Bishop John Lewis, Bishop Esrum and Evangelist Lorretta Lewis; sons-in-law: Phillip Nickita Curtis, Luther Moss and Rustom Evans; grandson-in-law: Constable Chintino Gilbert; numerous cousins, other relatives & friends including: Movino Davis & family, Edison Colebrooke Sr. & family, George Woodside & family members, James Rolle & family, Clarence Colebrooke & family, Myra & family, Dr. Nigel Lewis, Valderine Sweeting, Darren Lewis, Monique Lewis, Johnette, Lakeitha, Gaynell, Prince, Maltese, Paul, Joel, Alburn and Dorothy Colebrooke, Donald Lewis, Stancel Russell & family, Mackey Knowles & family, Peggy Colebrooke & family, Peggy Barr & family, Freda Russell & family RBDF Commander Warren Bain & family, Hue Fowler & family, Rev. John Newton & family, Hon. Darrell E. Rolle & family, Hon. Perry Gomez & family, Hon. Vincent Peet & family, the entire community of Red Bays & Lowe Sound, Andros, the Mt. Moriah Baptist Church family.
Special thanks: The Dialysis Unit of P.N.H. staff and Dr. Emmanual Farquharson.
The family apologies for any names we might have left off, we thank you all for your love, care and calls.
Friends may pay their last respects at Demeritte's Funeral Home, Market Street, from 12-6:00 p.m. on Friday & on Saturday at the church from 10:00 a.m. until service time.