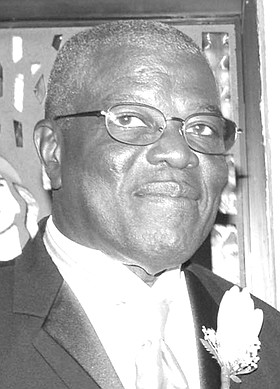 JAMES LIVINGSTON EDGECOMBE
unknown - unknown
Funeral Service for MR. JAMES LIVINGSTON EDGECOMBE, age 68 years of Ganymede Drive, Freeport, Grand Bahama and formerly of Cooper's Town, Abaco will be held on Saturday, January 27, 2018 at 10:00 a.m. Faith Walk Church of God, Cooper's Town, Abaco. Officiating will be Pastor Keith Russell assisted by Pastor Herbert Edgecombe Jr. Interment will follow at Southside Cemetery, Cooper's Town, Abaco.
He was predeceased in death by his loving father Herbert Edgecombe Sr. and his beloved sister Thirza Albury.
Left to cherish his memories are his mother: Thelma Edgecombe; sons James Jr. and Cameron Edgecombe; daughter Dr. Bianca Edgecombe-Richards (Debranker Edgecombe); daughters-in-law: Charmaine and Cindy Edgecombe; son-in-law Keith Richards; grandchildren Carissa, Cassidy, Carmelo and Jachae Edgecombe, Brantley and Kairi Richards; brothers: Lowell (Lorraine), Pastor Herbert Jr. (Millicent), Robert (Julie), Garnet (Marilyn) and Johnly (Rosemary) Edgecombe; sisters Elva Roberts, Sybil (Simeon) Taylor, Veola Edgecombe, Merlene Edgecombe, Georgina (Livingston) Watkins, Dennalee (Kenneth) Curry and Gretchin (Drexel) McIntosh; adopted children: Phillippa, Nerissa, Alderay, McArthur and Alexander McIntosh, Linda (Felton) Collie, Shantel Albury, Amanda Newbold and Vanessa (Darren) Scavella; adopted sister: Jennifer Bullard; adopted brothers: Beltram Curry and Micheal Nairn; aunt: Marion (Fernly) Palmer; uncle: Medious (Cleotha) Edgecombe and Charles (Lettymae) Jones; niecesLorinda, Sydina, Garnette, Shaniqua, Anquanique, Evelina, Tamara, Marvette, Luneka, Lowrell, Darlene, Lakeisha, Herbernette, Johnaleer, Johnisha, Jalon, Georgette, Livincia, Nicole and Linovia; nephews: Rodney, Lamont, Roberto, Trevor, Lowell Jr., Tadus, Luneko, Valdez, Trillo, Romando, Justin, Herchell, Algerio, Garvin, Denczil, Clarence, Cardinal, Anton, Ryan, Arthur Jr., Decordray, Kennedy, D'Vaughn, D'Vardo, Deangelo and Terran; caretaker: Lester McDonald; numerous grandnieces and grandnephews, great grand nephew and a host of other relatives and special friends and relatives including: Mrs. Celeste McIntosh, Rt. Hon. Hubert Ingraham, Mrs. Catherine Simmons and family, Mr. Alphonso (Shirley) Wright and family, Mr. Burnell "Chubby" Williams, Mr. Donald Dean and family, Mrs. Deborah Kikivarakis and family, Mr. Lofton Wright, Mr. Orneal (Melvern) Cornish, Mr. Floyd (Silvia) Poitier, Mr. Kingsley Murray and family, Mr. Clarence Poitier, Mr. Audley Leathen, Mr. Claridge Kemp, Miss Eloise Fernander, Dr. Ronnie Knowles, Pastor Leslie Cornish and family, Mr. Ejnar Cornish, Mr. Rudy Cornish, Mr. Livingston Rolle, Mr. Cecil Allens, Cia and Abel Cooper, Mr. Robert Russell, Mr. Colin Hield, Mr. Edward and George Rolle, Mr. Welbourne Bootle, Mr. Charles Bootle, Mr. Branford Dames, Mr. Bert Wilson, Mr. Edward Roberts, Mr. Venable Rolle, Mr. Allison (Patrice) Campbell, Dr. Duranda Ash, Mr. Eddison Brice, Mr. J.M Pinder, Mr. Tyrone (Linda) Gibson, Tony (Macarooni), Mr. Donald (Pauline) McIntosh, Robins, Rolle and Levarity families (Bimini), Delores Lightbourn and Lewis family (Eight Mile Rock, Grand Bahama), Bootle, Bullard, Cooper, Cornish, Cox, McIntosh, Murray, Rolle, Russell, Sands, Smith, Sawyer and Wright families and the North Abaco community, First Baptist Church family, Nixon family, the Glass family, Staff at FES Construction Co. Ltd.
Viewing will be held at Faith Walk Church of God, Cooper's Town, Abaco on Friday from 2:00 p.m. to 9:00 p.m. and at the church from 8:30 a.m. until service time.