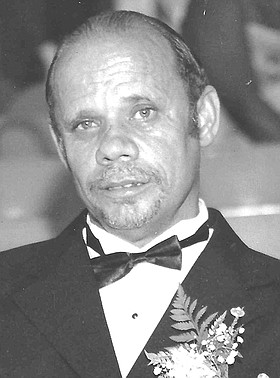 Evangelist William Whitney Knowles
unknown - unknown
Funeral Service for Evangelist William Whitney Knowles, age 63 of Rosewood Street, Pinewood Gardens who died on Sunday, January 14th, 2018 will be held on Saturday, January 27th, 2018 at 11 a.m. at Evangelistic Pentecostal Church, Pentecostal Way Garden Hills. Officiating will be Pastor Monica E. Paul assisted by other Ministers of the Gospel. Interment will follow in Lakeview Memorial Gardens, J.F.K Drive.
He is survived by his Wife: Ruthiemae Knowles; Children & (In-Laws): Valerie Gray (Samuel), Feliase Bain (Cordell), Nicholas Knowles & Shequetta Lunn (Sean); 10 Grand Children: Marvin Taylor, Mario Mckay, Nelson Gray, Cordell Bain Jr., Colisa, Correa, Coral and Corlea Bain, Nicholas Knowles Jr. & Sean Lunn; 2 Sisters: Meyucah Knowles & Joan Knowles-Turnquest; 2 Brothers: Angelo and Robert Mackey; 2 Adopted Sisters: Dorean Lean and Idealla Taylor; 6 Sisters-In-Law: Orea Mackey, Marilyn Bullard, Vanvera, Rose and Sharon Burrows & Barbara Farquharson; 3 Brothers-In-Law: Rueben and Edwin Burrows & Mr. Turnquest; 20 Neices: Precious Burrows, April, Deandra, Latoya Rolle, Gwendolyn, Elizabeth and Jennie Knowles, Maxciene Ambrister, Kaniesha, Opichi, Christie Bullard, Lashan Robins, Samantha, Gaynell, Jonisha, Alexandra, Aricha, Dellie, Melony & Shirlane; 8 Nephews: Angelo Jr., Andre, John, Leroy, Omar, Tyrone, Sam & Lynwood; 13 Nieces-In-Law: Lisa, Natalie, Charlyn, Candy, Marinette, Nadia, Rachea, Ellen, Rochelle, Shantell, Edricka, Sabria & Salina; 10 Nephews-In-Law: Marcus, Junior, Dave, Michael, Kevin, Craig Jr. - Lil Man, Devon, Simione, Samuel & Sylvan Jr.; 12 Cousins: Shirley Christie, Winifred, Karen, Bridgette, Shawna, Tanya, Philip, Ricardo, Aaron, Valentino, Brenda & Brian; And a host of other Relatives and Friends including: Lawrence Burrows and Family, The Revelation Church of Jesus Family, Betsy Bay, Pirates Well and Abraham Bay Family and The Maynard Family.
Friends may pay their last respects at East Sunrise Mortuary, Baillou Hill Rd & Cordeaux Avenue from 10 a.m. to 6 p.m. on Friday and again on Saturday from 10 a.m. at the church until service time.