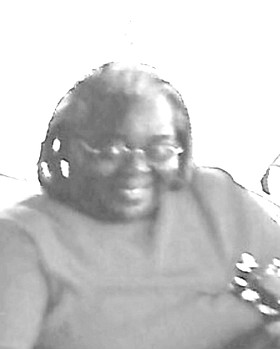 Deaconess Nurse Vernyce Franklin Strachan
unknown - unknown
Funeral Service
FOR
The Late
Deaconess Nurse Vernyce Franklin Strachan
Age: 75
Died on December 24th, 2017
Of #56 Key West Street and formerly of Chicago Illinois, will be held on Sunday 28th January 2018 at 11:00 a.m. at New Englerston Seventh- Day Adventist Church, East Street. Officiating will be Pastor Jeremiah Duncombe, Assisted by Other Ministers of the Gospel. Interment will follow in Woodlawn Gardens Soldier Road Nassau, Bahamas.
Those left to mourn the passing of her memories are her Husband: Dec. Carlton Strachan Sr. 5 Children: Carlton (Lakeitha) Strachan Jr. Ivan Strachan, Colleen (Gary) Cooper, Ogetha (Gavern) Gibson, Step-Children: Sargent 503 Nicole Ferguson, Benjamin Sawyer and Doreen Bullard, Adopted Children: Ricardo, Kim, Lawrence and Laurel Swader of Harvey IL, Marsha, Nicole, and Carlton Swader of Chicago, IL; Sister: Rosie Smith of Phoenix Az. Brothers-In-Law: Kenneth Higgs, Berthram Sears, Patrick Edwards, Salathel Storey of Phoenix IL, Perry Strachan and Anthony Strachan. Sisters-In-Law: Ruth Sears, Hyson Johnson, Eula Edward, G.G.Strachan, Carol Strachan and Janice Hopkins of Gary Indiana. Grand Children; Steven, Ivan Jr., Ivanton, Aaliyah, Carlton Jr., Macario, Kaidia, Arianna & Carlisa Strachan, Tamara, Roberst & Gavern Gibson, Nephews & Nieces; Dwight and Dr. Jacinta Higgs, Cpl. Bernard & Tamara Johnson, Ricardo Saintie, Vernyce an Venecer Cooper, Steven Strachan, Robert Sawyer, Daniel and Kimberly Carey, Kenneth, Albert, Bernard, Gregory Higgs, David, Dion, Ashton, Alex, Valentine, Jason & Thaddeus Woodside, Raython & Torin Strachan, Cpl. Bernard Johnson of Salima Pt., Ian & Granlin Edwards, Branice Rolle, Altomease, Shantell, Alexdia, Agnes, Juliann, Stephanie, Patrice, Anastacia, Georgette, Choka, Yolanda, Dameka, Berniece, Demris, Nicole, Pamela, Charlene,& Angela Higgs, Perrk Strachan, Antoinette Forbes, Karen, Ell, Jenny, Kimberly & Dwight Miller. God Son; S. Reckley. Numerous other relatives and friends including: Sam & Emma Reckley, Sylver Musgrove, Sister Allen and families, Ms. L. Finlayson, Mary Dean and families, Charles Stubbs, Sister Thelma Hanna , Elder Andrew Hanna and families, Patricia & Lewrey Cleare, Martha & Elva Davis & families, Pastor Charles W. Johnson of Harvey IL., Mrs. C. Rolle, Nurse Eude of Chicago IL., Larry Rias of Harvey IL. and family, Mr. Alvin Mitchel of Gary Indiana, Mrs. Bobbi Brown of Gary Indiana, Rev. C.W. Hanna, Elden Patrick Sands, Charlesetta Allen, Christian Adam, Shelly Mackey, Elder Johnson, Pastor I. Hanna, Meleicient Ramsay, Dr. Alvira Higgs, Mrs. Deloress Moxey, Dr. Idamae Hanna, Elder Jeremiah Duncombe and families, Elder Glendina Johnson and family, Ketrina, Freddy, Mosses, Ketio, Brenden, Ruby Emmanuel, Elva Lightbourne, Allen Emmanuel, Jessie Emmanuel, Rickey Davis, Hazel Emmanuel, Clementine Lightbourne, Pastor Brennon, Pastor L. Williams, Pastor G. Williams, Dr. Lenard Johnson, Pastor Paul Scavella, Pastor Edward St. Fleur, Hon. P.G. Christie and family, Bishop Leroy Emmanuel & Hon. Meriam Emmanuel/ MP for Mical Hon. Glenys Hanna Martin, Steven Rose of Salina Point Acklins, Pastor Dr. Carey, Pastor Burrows, Sheila & Kingsley Black, Birdie & John Adderley, Steven Wilson and family, Nurse Sheila Williams, Pastor Rufus Forbes and family, Curtis Hanna and family, Sammy Rolle, Sister Rolle, Asp Rolle, Babra Forbes, Elmae and Oland Ferguson, June and Anthony Cartwright, Junior Demeritte, Edderson Rose, Mr. Styles of Salina Point, Elder and Sister Darling, Dr. Eugene Gray, The Ebenezer Baptist Church Family, The Good Samaritan Church Family, The New Englerston and Berea SDA Church Family, The Community of Salina Point Acklins, The Key West St. Community & the entire Englerston Community.
Friends may pay their last respects in the Jasper Suite at Rock Of Ages Funeral Chapel Wulff Road and Pinedale Nassau Bahamas on Saturday 27th January, 2018 from 11am-4pm and on Sunday at the church from 10:00 a.m. until service time.