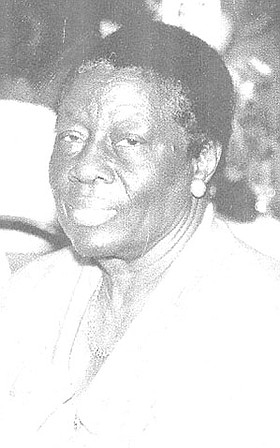 Caroline Althea Bain
unknown - unknown
Funeral service for
Caroline Althea Bain, 88
a resident of Garden Hills #3 & formerly of Rum Cay, will be held at Grace Community Church, Palmetto Ave., Marathon, on Saturday January 27, 2018 at 10:00 a.m.  Officiating will be Pastor Lyall Bethel, assisted by Pastor Leroy "Tinkle" Hanna & other Ministers of the Gospel. Interment follows in Woodlawn Gardens, Soldier Road.
She is survived by her3 sons:  Raymond Wright, Patrick and Burkheart Ellis (North Carolina); Sisters: Erma Bullard, Doris Charlton (Miami, Florida) and Marge Bain (Rum Cay); Daughters-in-law: Deborah Wright, Mellissa Ellis (North Carolina); Grandchildren: Gia, Gail, Raymond (and Vanessa), Rayshorna Wright and Shanell Gibson, Prince Wright, Burkheart Jr., Jamal, Andrea and Simone Ellis; Great Grandchildren: Shae Bonaby, Rhianna and Seth Wright, Gabriella Marshall, Bridell Sweeting and Ravell, Prince Shiloh, Prekiha and Preniyha Wright; Nieces and Nephews: Susan Griffin, Deborah and Sammy Charlton, Doretha Laing, Pamela Taylor, Eleanor and John Bailey Bain, Angelica Bain Thompson, Jane and Stephanie Bullard, Jackie Dames, Bernadette Sands, Dedriann Rolle, Iva, Don and Kenneth Hepburn; Other Relatives and Friends: Eustace Duncanson, Franklyn Williams, Michael Ellis, Poky Dorsett, Jackie Nottage, Hermie and Rubie Bain,  Donna Newton and Family, Vann and Eula Gaitor and Family, Gregory and Evadne Bascom and Family, Shane Williams, The Disciples of Christ family including Pastor Thompson, Alfred Joseph, Carla Phillip and Lolita Thompson (Caregiver), The Garden Hills #3  family including Alfreda Holbot, Lucilla McDonald, Shawn Deal.  A special thank you to The Grace Community Church family and the Medical Staff of South Beach Clinic.
Friends may pay their last respects at Demeritte's Funeral Home, Market Street, from 12-6:00 p.m. on Friday & on Saturday at the church from 9:00 a.m. until service time.