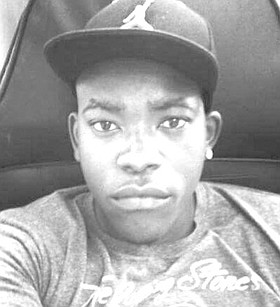 Basil Shaquille Rolle Jr
unknown - unknown
Last rites of Basil Shaquille Rolle Jr. age 24 years of The Bluff, South Andros will be held on Saturday 27th January, 2018 at 10:00AM at Golden Gates Assembly, Carmichael Road. Officiating will be Pastor Trent Davis, assisted by Pastor Fairdale Smith. Interment will follow at Woodlawn Gardens.
Left to cherish his special and lasting memories are his Parents: Basil Sr. and Burnell Rolle Sisters: Therez and Kenya Rolle, Brother: Immigration Officer Romell Andrews, Nieces: Melisha and Brianna Andrews, Nephews: Tyreek Smith, Takari Sweeting and Jabari Andrews, Aunts: Rozena Mckenzie, Karen Forbes, Cynthia, Vernice, Brenda, Janice, Deserene, Bernadette Thenile, and Anastacia Rolle, Sheila Stuart, Uncles: Minister Shelton, Obrien, Paul Sr, and Cedric Rolle, Glenroy Forbes, Minister Franklyn (Helen) Stuart, Lester (Cindy) Stuart, Willis Stuart, Grand-Aunts: Sentury, Ella, Winnifred, Rhoda and Ann Rolle, Cheryl, Reheza and Joyce Smith, Catherine Bain, Thelma Green, Grand-Uncles: Minister Daniel Rahming, Brian, Sydney and Hosea Rolle, Minister Stevenson and Kendal Smith, Vernal Bain, Jackson Thompson, Orthland Fynes, God Parents: Terryanne Moxey, Mcdonald Rahming, Bernadette Rolle, Mildred Duncombe, Glenroy Forbes, God Son: Jamari Bartlette, Numerous cousins including: Kyle Bain, Lloyneisha Russell, Brenton Taylor, Ashton, Shania and Ayisha Forbes, Ashanti Thervil, Shaniqua, Shauna, Javon, Juania, Lashantae, Cedtrica, Cedtika, Edmonique, Cueshea, Candice, Savion, Brandon, Brandy, Sherrinique, Anno,Vatorio and TrevonRolle, Omarion and Carmelo Samia Davis, Stephon Albury, Beyonce Robinson, Drexel, Ul- rage, Urick Dean, Eurice Bagnold, Devin Brown, Shanille Rolle, Kimberley Larrow, Jason Mckenzie, Raquel Mckenzie, Quinten Mckenzie, Sharon Lafleur, Suelyn Stuart, Willis, Don, Sharron, Lakera Stuart, Dwayne Stuart, Sheena Stuart, Sharmaine Stuart, Tif- finet Stuart, Juliette Stuart, Kaynell Stuart, Francheska Barr, Harold Stuart Jr., Brian Stuart, Kemuel Stuart, Dominic Stuart, Dario Stuart, Ledger Stuart, Dax Stuart, Esmin Shakespeare, Dorothy Shakespeare, Michelle Rolle, Shandera Johnson, Pamela Williams, Ann Fynes, Shurrice Fynes, Special Friend: Stephanie Hinzie, a host of family and friends including: Elvin and Vernell Lloyd and Family, Sheva Bain, Melvern Hunt, Sandra Bartlett and Family, Deborah Forbes and Family, Mildred Duncombe and Family, Leona Davis, Rosalie Simmons, Sheila Mitchell, Kendal Taylor, Mem- ber of Parliament Mr. Picewell Forbes and Family, Terrance Duvalier, Alice Stuart, Andrea Duvalier, Britta Balfour, Pastor Fairdale Smith and Family, Valderine Rahming and Family, Jermaine Smith, Geno Smith, Javano Johnson, Shaka Forbes, James Bartlett, Lamont Smith, Minister Francita Neely, Berkley Rolle, Aaron Rolle, Kaden Smith, Reno Rahming, Cornell Rahming. Laquan Stur rup, Norman Mckinney Jr., Rajiv Dean, Maureen Edwards, Pressie Rolle, Alice Sweeting, Mary-Jane Rolle, Rhona Hinzie, D.J. Fro, The Rolle, Neely, Johnson, Smith, Rahming Families, South Andros and Mangrove Cay Water and Sewerage Corporation Staff, Administrative Office Staff, Department of Corrections, Friendship Native Baptist Church Family, and the entire South Andros Community.
The body will repose at CURTIS MEMORIAL MORTUARY on Friday from 10:00AM to 5:00PM, and at the church on Saturday from 9:00AM until service time.