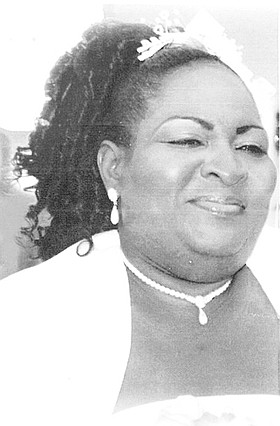 Barbara Sands Petty
unknown - unknown
Funeral service for the Late Mrs. Barbara Sands Petty age 56 yrs of Pinewood Gardens will be held at Bible Truth Ministries, Fire Trail Road, Nassau Bahamas, Saturday January 27th, 2018 at 11:00 a.m. Officiating is Prophet Trevor Stubbs, Senior Pastor Free in Jesus Church, assisted by Assistant Pastor Derek Feaste. Interment to be in the Old Trail Cemetery, Abundant Life Road, Nassau.
Loving and cherish memories will forever be held by her Husband: Prince Alfred Petty Jr.; Sons: Joseph Sands and Dudley Butler Jr.; Daughter: Maelee Butler; Grandchildren: Suntano, Sundrino and Suntego Sands, Theo & Theao Butler, Joniqua, latrell, Ashenic, Alena Sands, Ashantae' Smith, Yolanda Bethel, Jessica and Pethra Rolle; Father-in-law: Prince Alfred Petty Sr.; Daughter-in-law: Latoya Sands; Brothers: Rufus, Solomon, Boston, Charles, Samuel, Cecil. Philip and Fredrick Sands; Sisters: Shevamae Whymms, Magdalene Fernander, Pamela Lewis & Betty St. Fleur; Brothers-in-law: Floyd Lewis, Prince Fernander, Jean St. Fleur, George, Cecil, Elder Harry Petty, Van Johnson, Teddius Petty and Astra Petty; Sisters-in-law: Michelle, Sheska, Christina, Brendalee, Marion Sands, Hyacinth Sands, Brendalee, Clemintina Petty, Bernadette Robinson, Prophetess Margaret Seymour, Vanessa Johnson, Avis Bethel & Susan Rolle; Nieces: Nakeisha, Keshan Daniels, Dashanique Johnson, Rashaye Darville, Kiana, Latasha Wilkinson, Terah Marshall, Crystal Sands, Fernacha Sands, Julicia St. Fleur, Vandisha Suckra, Miracle Serenity, Alaisha Marshall; Nephews: Dashad, Rodney Darville, Romel, Damien, Emmanuel, Samuel Jr., Philip Jr., Macayle, Fredrick Sands Jr., Shaquille, Natarieo Johnson, Avery, Kenrick, Kenneth, Gary, Vandyke Fernander, Brendan Bastian, Jermaine, Jeron St. Fleur, Solomon Johnson, Kension Daniels, Jamal Sands, Rashawn Johnson, Kade Wilkinson, Joshua, Barrington Sands, Kingsley Wilkinson, Dominique Fernander, Gerard Petty, Jay Petty, Charles and Christopher Petty; Other relatives and friends: Rachel Munroe, Laura Barr, Rev. Angela Gray, Hubert, Randolph, Elder James Sands, Lloyd Sands, Lamaund, Glendina Rahming, Susan Taylor, Joycentina Conliffe, Angela Small, Joseph Hubert Jr., Prince, Yorick, Freda, Alicia Sands, Edray James, Glenroy, Eruin Rahming, Lindrick, Glen, Steven, Eldridge Sands Jr., Mozena, Alice Sands, Leona Morris, Justina Farrington, Emerald Frazier, Geraldine Higgs, Cleomie Forbes, Willey, Henry, George Farrington, Rosalie McPhee, Rudolph, Jacob, Olymae Knowles, Glenda Hepburn, Kirk Deveaux, Diana Thompson, Gordon Levia, Lashanda Baron, Gloria Brown, Geraldine Strachan, Nurses and Doctors at South Beach Clinic, The Brown Family, Butler family, Staff of Ministry of Education, Staff of C.V. Bethel Senior High, Staff of K&L Security and others too numerous to mention.
Relatives and friends may pay their respects on Friday at Kemuel Cox Funeral Cremation Centre #12 Arundel Street East off Mount Royal Avenue from 12:00 p.m. to 5:00 p.m. Saturday at the church from 10:00 a.m. to service time.