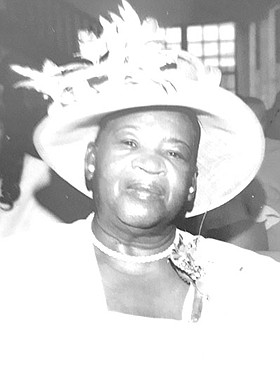 Auralee Minette Hutcheson–Newbold
unknown - unknown
Funeral service for the late Auralee Minette Hutcheson–Newbold age 80 years of Sunshine Park and formerly of Hatchet Bay, Eleuthera will be held on Saturday, January 27th, 2018 at 10:00 a.m. at Bethel Baptist Church, Meeting Street. Officiating will be Rev. Timothy Stewart assisted by Rev Lambert Farrington. Interment will follow in Bethel Baptist Church Cemetery, Meeting Street.
Her memories will forever remain in the hearts of her three loving children: Sherry Antionette Newbold, Chief Petty Officer Marvin Newbold (RBDF), and Nursing Officer 1 Jacquelyn Newbold (DPH); Grandchildren: Sgt. 1544 Vaughn & Nurse Samantha Woods ( RBPF) Shawn & Melderese Newbold ( Correction Officer) Itika & Sgt.710 Kaylyn Cooper, Marcia & Holland Major ,M/S Eduardo Rolle ( RBDF), Rikarra, Antonia, Anthera and Debrianna Newbold; Great Grandchildren: Dashawn, Keshawn, Taeshawn, Ric'kayden Newbold, Vaughn Jr & Ethan Wood, Kourtney & Kevin Major, and Angela & Antionette Cooper; Sisters: Prescola Fox (H. Bay); Adopted Sisters: Erma Knowles and Brenda Trainer; Brother In-law: Theophilus Bain (Grand Bahama); Nieces: Clarice Pratt, Della &Tamika Dean, Hopel Bodie, Petra fox ,Alicia Poulin, Charmaine , Katanya & Joy Rolle, Latoya Jacques, Moika Moss, Glenda Wildgoose, Ceeney Butler ( Grand Bahama ) Nezelene Riley, Sarah McKenzie, Willamena Gaddist ( USA) Libby, Vivvy & Cindy Bain ( GB), Barbara Moore ( Andros), Cheryl Johnson, Sheila Arthur, Zella RedHead –Roberts, Samantha Butterfield, and Kandra Jones, Monique Brown-Gibson and Marcia Sawyer; Nephews: Matthew, Lucious, Lorento & Tameko Fox, William, Quentin, Lorenzo, Lynden & Gavin Carey, Ralph & Roberto Thurston, Basil & Alphonso McKenzie, Supt Christopher, Willijean & Laington Bain, Roger Poulin, Milton Dames and Mario Newbold; Relatives and Friends: Rev. Bessie Dean, Rev. Lambert Farrington, Rev. Eric Johnson, Edith Hanna & Family, Jennie Basden & Family, Samuel Arthur, Willamae Laroda, Lulamae Rolle, Alivira Bowe & Family, Dorothy Cox & Family, Meredith Newbold & Family, Gwendolyn Francis & Family, Benjamin Newbold & Family, Norma Woodside, Clarice Jones, Cleo, Janet, Jeffrey, Frank & Slane Williams, Clifford –Butch Scavella, Lavada Ingraham, Betty Ann Ferguson, Euleen Johnson & Family, Mavis Davies & Family,Charlene Cooper, Alex McIntosh, Susan Newbold, Joan Stubbs Norma Thompson, Rowena Sands, Ivymae Smith, Sophia Rolle Gertrude Wilson, Dion Burrows, Lionel Fernander, Nurses Monique Roberts-Cambridge & Elaine Stuart, Jennie Albury, Carol Jeffery Pinder, Descendants of the late Tama Kemp, Joycelyn Higgs, Olive Cambridge, Yvonne Pinder, Authur Johnson, Mahalia Albury, Clothilda Johnson-Rolle, Arimena Johnson –Pinder, Martha Johnson Curry, Julius Johnson , Abraham Johnson George Dean, Louise Turner, Richard Newbold, Staff of Flamingo Garden District Service, Staff of Female Surgical 1 ( PMH) Bethel Baptist Church & the entire Community of Hatchet Bay Eleuthera and Sunshine Park and many others too numerous to mention.
Viewing will be held in the Celestial Suite at Restview Memorial Mortuary and Crematorium Ltd., Robinson and Soldier Roads on Friday from 10:00 a.m. to 6:00 p.m. and at the church on Saturday from 8:30 a.m. until service time.