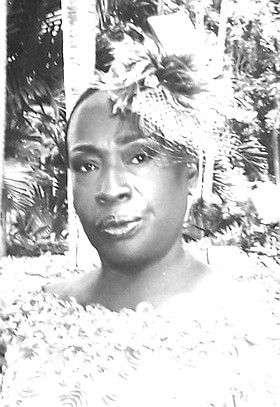 AINSLEY MARIA SMITH
unknown - unknown
Funeral Service for the late AINSLEY MARIA SMITH age 66 years of Milton Street, off East Street and formerly of Fresh Creek, Andros will be held on Saturday, January 27th, 2018 at 10:00 a.m. at New Destiny Baptist Cathedral, William Thompson Auditorium, Jean Street. Officiating will be Apostle Delton D. Fernander assisted by other Ministers of the Gospel. Interment will follow in Woodlawn Gardens, Soldier Road.
PRECIOUS MEMORIES WILL ALWAYS LINGER IN THE HEART OF HER SONS: LAVARDO SMITH MUNROE AND JASON SANDS; GRANDCHILDRENS: DESTINY, BREA, AALIYAH AND LAVARDO JR., ANGEL AND ASHLEY STUBBS; DAUGHTER-INLAW: MILDRED MUNROE; SISTERS: THELCINA, PAULETTLE THOMPSON AND PRINCESS VIVIDO; BROTHER: HERCULEAN THOMPSON; UNCLE: ERNEST THOMPSON OF CHICAGO ILLINOIS; SISTERS-IN-LAWS: LILYMAE, CATHY THOMPSON, NELL SMITH, ELIZABETH SMITH, ROSIE WILLIAMS; NIECES: SHENEQUE AND SHURICE ROLLE, TERRY JO LOWE, ROSE NEELY, SHARNETTE THOMPSON-MCKINNEY, JOYCELYN FARRINGTON, LAMARR (GILBERT) BAIN, JADE, PATRICIA, BRITTANY, JADE, LYN ANASTACIA, SHARON, JANICE, SHAKIRA, NADIA AND ALAINE THOMPSON, SANDY, YANCY, BRIDGETTE AND DENNY LEWIS OF ATLANTA GEORGIA, MALIKAH, SHANISKAH AND KAYWANNA VIVIDO, TRACEY ALHASSAN, THELCINA WESLEY, GINA RUSSELL; NEPHEW: KEN SHANADO (RAQUEL), KEVIN, TAMIKO (WANDA)THOMPSON, LATOR, SHERMAN, COURTNEY, YARNICK, KASHIN AND EVE THOMPSON, CLEOPHAS COOPER, SHAVANO CHANDLER, DION AND KENDRICK NEELY, NED (SHARMINE) MUNNING, GARETH ROLLE, HOLLAND GRIFFIN, LYNDEN LEWIS OF ATLANTA GEORGIA AND HENRY BROWN OF MIAMI, FL, TANEIL FOWLER, JAMAL AND PASTOR ROGER WILLIAM; GRAND NIECES AND NEPHEW: ETHAN, JUDAH, TAZZARIA THOMPSON, ASHLEY, SHONISE ROLLE, MACUSHALA, SHANAE, GARRINIQUE, ASHTON, JAYQUISHA, GREGORY, FAITH, LAKEITHA, JAMAILAH, SADE, ARSCENIA, CHARVANO, ALECKNA, LESLIE, DEVON, AZARIA, AYESHA, ANZELL BOWE, WENEL, RENAE, TESHA, SHERMAN JR, ASHLEY LASHANDA, LASHAD, DARNIQUE, SHANTELL, STEPHEN, LATORRIA, LATOR, DERVINQUE, SHAVON, ASHARAN, ASHTON, AALIYAH, MICHEALA, MARIAH, EDRICQUE, KENDISHA, GILDISHA, GILBREA, ROKELLE, ARIEL, KEVIANNA, QUETEL, NADIA, ALLISTON, NED JR, KENDRICK JR, MICHAEL, GILVARDO, GILBERTO, THYRELL; GREAT GRAND NIECES AND NEPHEW; GODCHILDREN: ELEAZER LUNDY, AYESHA BOWE, RON WHYMNS; NUMEROUS RELATIVES AND FRIENDS: HONARABLE PERRY AND BERNADETTE CHRISTIE AND FAMILY, M.P FOR CENTERVILLE REECE CHIPMAN, MARGARETTE AND DEAVANY ROLLE AND FAMILY, EDDIE THOMPSON, CAROLYN TURNQUEST, SHARON COX, BRENDA (CHARLES) HIGGS, CHILDREN OF HASTEN, ERNEST AND WILLIAM THOMPSON, SANDRADEE GARDINER, BRENDA BERRY AND FAMILY, JOHN SANDS, FELIX MUNROE, PATRICE LUNDY, SHAKIRA WALLACES,ROBERT PINCER, TERRACITA CHASE, NICOLA NEWTON AND FAMILY, MARIA LEWIS AND FAMILY ALGERNON ALLEN AND FAMILY, MEMBERS OF THE ROYAL BAHAMAS POLICE FORCE, MILTON STREET FAMILY, SOLOMON FAMILY, CLARKE FAMILY, BIG YARD FAMILY, ASHANTI HALL, ATLANTIS FAMILY,RIVERBEND CREW, BEACH BAR CREW, ANASTASIA THURSTON, FRESH CREEK ANDROS FAMILY, SYLVIA THOMPSON AND FAMILY, DOCELIA JOSPEH AND FAMILY, JOHN JOSPEH, AMANDA FERGUSON, CEDRIC AND ETTAMAE DEVEAUX, GLORIA TAYLOR AND FAMILY, GRAMMY PAULINE AND FAMILY, FRESH CREEK ANDROS COMMUNITY; SPECIAL THANKS: ANASTACIA THURSTON.
Viewing will be held in the Halcyon Suite at Restview Memorial Mortuary and Crematorium Ltd., Robinson and Soldier Roads on Friday from 10:00 a.m. to 6:00 p.m. and at the church on Saturday from 8:30 a.m. until service time.