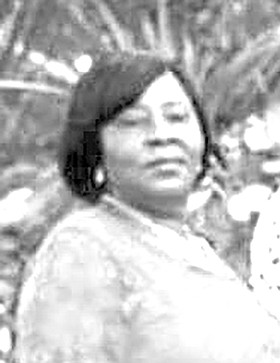 SISTER THOMASENA LOUISE PORTER-SCOTT
unknown - unknown
Funeral Service for the late SISTER THOMASENA LOUISE PORTER-SCOTT age 53 years of Claridge Road will be held on Saturday January 20 2018 at Church of God Temple, Coconut Grove at 1:00p.m. Officiating will be Prophetess Roger Williams assisted by Bishop Lindo Wallace. Interment will follow in Woodlawn Gardens, Soldier Road.
Left her cherish "Toga" memories, lifestyle and legacy
Husband: John Scott Snr.
Daughter: Shandeika Scott
Sons: John Jr. and Aramant Scott
Grandchildren: Allan Jr; Shandon Ferguson and Aniyal Scott
Sisters: Pauline, Deborah and Carla Porter
Step Sister: Charlene Munroe
Mother In-Law Alma Scott
Sisters in-Law Calvese and Alisa Saunders, Ethel and Susan Smith
Brother In-Law Levingston Miller
Uncles: Carlton Thompson (Ann Thompson), Roosevelt Porter
Aunt: Lozier Roker
Nieces: Schavonne Bullard, Yvonnette Strachan, Marcia Hepburn, Patricia, Linda, Michelle Johnson, Tamika, Lavonya, Inderia, Antoinette, Miracle and
Hermanique Porter
Nephews: Tomiko and Jermaine Porter, Perez Pierre and Remel Munroe
Grand Nephews: Valvano (Esther) and Rashad Bullard, Giovanni Clarke, Phillip Moncur,
Kenroy Mackey, Adonis Johnson, Ethan Clare and Dejarono and
Renaldo Johnson
Great Grand Nephews: Amari and Amaire Bullard and Perez Pierre Jr.
Great Grand Nieces: Gia Clarke, Adena Cunningham, Valencia Porter, Diamonique Porter, Maureka Webster, Alex and Terrinique Johnson, Grace McCartney,
Aliah Pennerman, Alicia, Tominiqua and Devon Porter
Nephews In-Law: James Bullard and Dean Hepburn
Cousins: Una, Sherita, Ken and Charlene Bullard, Valencia Green, Cushlia Roker,
Charmaine Munroe Viola, Ruthnell, Dellarese, Agatha, Sabrina and
Sabrianna Porter
Other Relative and Friends:
Prophetic/Pastor Roger "Don" Williams and Pastor Rose Williams and family,
The entire "Fresh Fire Kingdom Ministeries and family", Ministry of Youth Sport and Culture, Delores Berry and Family, Nadia Pinder and Family Deidre Darville
and Family, Melanie Dean and Family, Pearline Rolle and Family, Paul Goodman
and family, Evangelist Ethel Rolle and Family, Betty Jolly, Lynette Beneby,
Shanell Cartwright, Sylvia and Family, Hilda and Family Shakera Peterson,
Phil McCartney, Julia Smith and Family, Bernie and Family and the entire Claridge Road Community.
Relatives and friends may pay their last respect at Evergreen Mortuary located on Collins Ave & 5th Terrace on Friday from 10:00a.m. – 6:00 p.m. and again at the church on Saturday from 1:00p.m. until service time.