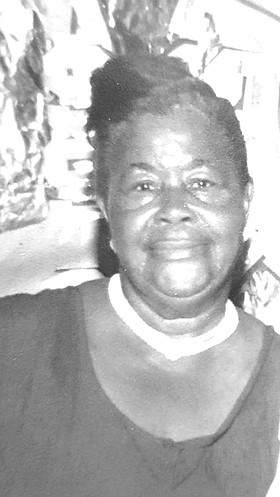 ROSE JANET ROKER
unknown - unknown
FUNERAL SERVICE FOR THE LATE
MRS. ROSE JANET ROKER, 82
OF SANDY POINT ,ABACO , THE BAHAMAS WILL BE HELD ON SATURDAY JANUARY 20TH 2018 AT 11:00AM AT ST. MARTIN'S ANGLICAN CHURCH, SANDY POINT. OFFICIATING WILL BE REV'D CHESTER BURTON ASSISTED BY OTHER MINISTERS OF THE CLERGY. INTERMENT WILL FOLLOW IN SANDY POINT PUBLIC CEMETERY.
LEFT TO CHERISH IN HER MEMORIES ARE HER CHILDREN: (2) DAUGHTERS JUDY DOLCE, JILL PUBIEN (7) SONS: ROVEL, TERELL, VANDIKE, JOHNNY DECEASES, JOINAL DECEASED, RODNEY DECEASED AND GEORGE DECEASED.
SISTER: JERANITA AUSTIN, BROTHER: WILLIAM KNOWLES
(3) DAUGHTERS-IN-LAW: DARLENE, SHERESE, FLORENCE (2) SONS-IN-LAW: DONNIE DOLCE & PAUL PUBIEN
(5) SISTERS-IN LAW: MICHELLE KNOWLES, LORRAINE KNOWLES, SLYVIA KNOWLES, SHEBA ARMBRISTER, ROSE THOMPSON OF ATLANTA GEORGIA.
(13) GRANDDAUGHTERS: MELINDA, CASSIE, BIONCA, TONIKA, TYLIN, RODENIA, MIRACLE, SHERELL, RAMIYAH, GIANNA, LESLEY, YONTALA, JERNITA (6) GRANDSONS: JOINAL, ELSWORTH JR, KALIN, DENRODO, TYRESE, D'VANTAE,
GREAT GRAND CHILDREN: TAHJ, MYAH, PARIS, CARLIYAH, KIANNA, JAMARIE, RODEJAH, MICKELLO, ROMAN, RODELLE, MEKHI, BRANIYAH, ROMAN, IVAN, DENRODO JR., NIJAH, RAYANNA, RIKA, ZIA, ELSA, COLLINS JR, KIYEKA, DANAJH, LAZI, AND ZOEY
NIECES & NEPHEWS: CHRISTINE, SANDRA, RAYMOND, TANNY, JASON, JEWEL, JALINKO, ZEBULIN, FLORABEL, SUSAN, MARCUS, BENNY, ANDREW, DARLENE, KHANDY, HYKEYTO, CAROMANO, SCHEATRA, ANNIE, BARBARA, SANDRA, LEONA, LEONARD, FAITH, ALEXANDER, MARGARET, EUGENE, KENDAL, JACQUELYN, ELLEN, REGINALD, JOANNA, RUTH, FRANCES, PATRICIA, ALVIN, SINTENIE, DANERO, DAVANTEE, COTRINA, CEILA, RAMONA, JERAMINE, JAMESON, IAN, DONOVAN, CECILY, JERNISKA, JASMIN, CHELSEE, ELIAN, JIMMY, DAVID, ALFRED, CECIL, SYLVIA, LEE JR. CAROLYN, DOUGLAS, DEBBIE, ENDA, PAULIE, PANDORA, NEORISA, LATERRYO, JULIUS. OEISHA, SONIA,
OTHER RELATIVES & FRIENDS INCLUDING: REV. WILLISH JOHNSON, FATHER BURTON, ANITA DARVILLE, MARGET BURROWS, MAY STUART, DONALD & ESTELLE PINDER, MRS. BRENELL HIGGS, PATRICIA ROBERTS, INEZ FOX, ANNIE  ROBERTS & FAMILY, GEORGE WELLS & FAMILY, IVA DAVIS, EDNA KNOWLES, JIM WELLS, IRENE BURROWS, SIMONE, ZELMA, MICKEY, ROSEDLA, DENISHA, DAPHNE, HON. EDISON KEY AND FAMILY, STANLEY WHITE, LAKEIA BURROWS, ELIZA PINDER, VERGIE LIGHTBOURNE, JANE BAIN, LOUINE WALKER, GINA ADDERLEY, DAVID GREEN, JAMMIE GREEN, PRESCOLA PENN, NURSE JESSIE SMITH, REV JASON ROBERTS, FRANK HEPBURN AND FAMILY, SHIRLEY SAUNDERS, STAFF OF SANDY POINT CLINIC, STAFF MARSH HARBOUR GOVT. CLINIC, ST. MARTINS ANGLICAN CHURCH FAMILY, MT. ZION BAPTIST CHURCH FAMILY, ASSEMBLY OF GOD, ENTIRE COMMUNITY OF SANDY POINT.
RELATIVES AND FRIENDS MAY PAY THEIR LAST RESPECTS AT ST. MARTIN'S ANGLICAN CHURCH SANDY POINT, ABACO ON FRIDAY FROM 10:00AM TO 6:00PM AND ON SATURDAY FROM 9:30AM UNTIL SERVICE TIME.