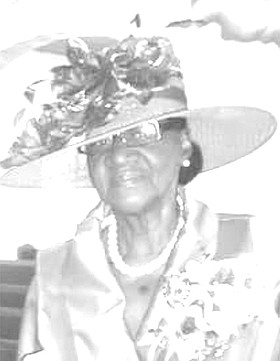 Marilyn Muriel Duncombe Wallace
unknown - unknown
Funeral service for the Late Matriarch Marilyn Muriel Duncombe Wallace age 81yrs of #184B West Street, Bain Town, Nassau and formerly of Long Bay Cays, Andros Bahamas will be held on Sunday January 21st, 2018 at 11:00 a.m. at The Apostles of the End time Church, West Street, Bahamas. Officiating will be Apostle Carlos Wallace assisted by Apostle Warren Duncombe and Apostle Preston Collins. Interment will be in Woodlawn Garden Cemetery, Woodlawn Way off Soldier Road, Nassau.
Left to cherish her memories are her:
Sons: Elder Allan Wallace, O'Neil Wallace, O'Brian Wallace, Apostle Carlos Wallace, & B'Marilyno Wallace
Daughters: Stephanie Leadon & Arnicker Wood.
Daughters & Sons-in-law: Linda, Lindamae, Deaconess Magnolia, Evg. Allison. & Coria Wallace.
 Kendal Leadon & Edward Wood.
Adopted Children : Rev. Oswald & Sabrina Poitier, Eric Rolle, Ricardo Smith, Reginald Deveaux, Syrano Rolle, Tony Osbourn, Cheryl Knowles, Yolanda Hart, Jenny Dorsett, Althemese Major, Pamela Rolle, Kendrick Williams, Trevor Woods, Nathaniel Higgs, Rev. Godfrey Stubbs, Min. Michelle Taft & Naomi Pinder.
Siblings: Apostle Wendell Duncombe, Johnny Duncombe, Susan Ferguson, Adrianna Pierre & Sybleane Forbes.
Siblings In-Law: Rowena Duncombe & Yvonne Russell, Priest Jimmy Pierre, Gladstone Brennen & Alrick Wallace.
Grand & Adopted Grandchildren: Pachino, Teshura, Keeren, Clint, Devita, Crystal, Latiesha, Allan Jr., Lindera, Anansia, Andre, O'Neil Jr., O'Brian Jr., Chavis, Carlos Jr., Ashley,Tia, Leonardo, Marianna, Shaniel, Charles III, Elecoe, Kamari, Caleb, Leah, Delmar, Garrick, Tiffany, Oswald Jr., Shema, Sammie, Samantha, Selah, Derinique, Qutell, Camille & Richa.
Great Grandchildren : Clint Jr., Nina, Naomi, Ashantae & Winter.
Numerous friends & relatives including: The Apostles Of The Endtime Church Family, The entire Duncombe/Wallace Clan, Pastor & Mother Salathiel Rolle and the Pinewood Garden Ministry family, Pastor Preston& Gardina Collins and One Accord family, Priest Stubbs & The New Apostolic Church, Pastors Warren & Annamae Duncombe and Prayer & Worship Outreach family, Mother Beris Williams & family, Evg. Marcel Forbes & family, Mother Philomese Burrows, Pastor Sharron Rolle & family, Pastor Calvin & Sandra Kemp & the Glad Pilgrim family, Sis. & Bro. Archer, Elder & Evg. George McCartney, Min. Sherman & Sharron Smith & family, Min. Vaughn Miller (MP), Adora Hanna, Paige Boyde, Deaconess Julian Lewis, Min. Jackie Taylor, Bethsheba Woods & family, Min. Don Lightbourn, Joyce Woodside & family, Dr. Austin & Vylana Davis, Min. Wendy Dean & family, Rev. C.B. Moss, Cecily Seymour, Christine & Arby Rigby, Carla Gibson, Pearl Stubbs, Deanne Conyers, Rollington Johnson, Chenique Whylly, Joanne Wallace, Rosemary Campbell, Pat Saunders, Betty Romer, Cyprianna Major, Raphelita Jones, Annamae Hinsey, Jennymae Poitier, James Lightbourn, Sherry Miller, Sis. Verna Gilbert & family, Sis. Dorthia Francis, Merlin Stubbs, Ned Joseph, Mr. Gaitor, Nurse Colebrook & the Fleming St. Clinic staff, Atlantis Finance Dept. and The Bain & Grants Town Community.
Please accept our apologies for any omissions of names resulting from space limitation. Mother Wallace's friends and relatives are innumerable and she loved you all.
Viewing for relatives and friends will be held on Friday at The Apostles of the End Time Church located West St, Bain Town, Nassau from 2:00 p.m. to 5:00 p.m. Saturday at the church from 10:00 a.m. to 5:00 p.m. Sunday at the church from 9:00 a.m. until service.