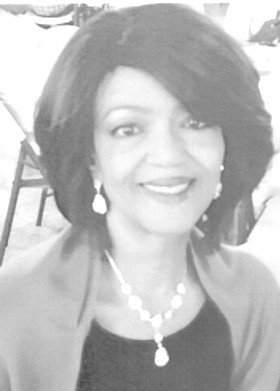 Lavon Wendy Harris Smith
unknown - unknown
Funeral Service for the late Lavon Wendy Harris Smith age 60 years of Harold Road West will be held on Saturday January 20th, 2018 at 10:00 a.m. at St. John's Native Baptist Church, Meeting Street. Officiating will be Bishop Carrington Pinder assisted by other ministers of the gospel. Interment will follow in St. James Native Baptist Church Cemetery, St. James Road.
She is survived by her son: Ahmad Rashad Harris-Smith; grand-daughter: Ahmaiya Claire Harris-Smith; brother: Carlos Austin; aunts: Rosalind 'Rose' Thompson, Phyllis Hyde of New York, Carol Ward, of Toronto Canada; uncle: Paul Ward, of Toronto Canada; step-mother: Hortense Harris-Smith; sisters: Hazel "Teri" (Roger) Smith, Calliope "Calli" (Marcevans) Smith, Vanessa (Gregory) Armstrong; brothers: Terrance (Lavern) and Kermith (Brenda) Harris-Smith; sister-in-law: Janet Harris-Smith; nieces: Janique Harris-Smith, Yirnaria Smith, Terrilyn Hanna of Atlanta GA, Rainya Smith-Kemp, Dr. Aisha Cox of St. Lucia, Shari Harris-Smith, Ashton and Amaia Smith, Nowe and Adeya Harris-Smith, Kopano Miller, Ekua Harris-Smith and Trew-Haven Armstrong, Bianca Rolle, Erica (Shawn) Williams and Shornell Nesbitt;  nephews: Gerrad, of London England, Gary Jonathan, and Jevaughn Harris-Smith, Dr. Bryan Lee of Trinidad, Ramon, Marcevans Trent and Roger "Race" Smith, Tyler and Tate Armstrong, Kendal and Shawn Nesbitt; nieces/nephews –in-law: Kimeko Harris-Smith of London England, Nicola Smith, Adrian Cox of St. Lucia and John Kemp; Grand Nieces/Nephews: Aisa Knowles, Khaedky Harris-Smith,  Deja Pinder, Savanah & Syrianna Smith, Sierra and Samaia Harris-Smith, Alayah Cox of St. Lucia, Kailey Miller, Desmond Jr., Rashawn and Raivon Pinder; cousins and their families: Vincent & Dawn Clarke of Freeport Grand Bahama, Rev. Dr. Jeffery & Cynthia Ingraham of New Haven Connecticut, Rev. Dr. Charles & Dec. Pauline (Bonnie) Rolle (Caregiver), Adrian & Gayle LaRoda, Ricardo & Cynthia Adderley, Raj & Terry Major, Ta-Tanisha, Hasani & Felecia Clarke, Chavar & Chavoya Rolle (Caregiver), Kristan & Jordon Thomas, Bethany Ingraham, Tekara Capron, Chase Cornish; God Children: Ta-China Cornish, Anthony Jr.,  PaAeisha & Antonishka Deveaux, Phylicia Johnson, Lashae Thompson, Dwanya Farquharson, and Dwanyel Archer; Special Caregivers: Donnalee Bowe, Karen Moxey, Dec. Donna Delancy, Karen Turnquest, Bernie Smith, Linda Bartlett, Rev. Alphonzo & Patricia Newry; close friends and their families: Ashley Bullard, Dec.Esther Burrows, Dec. Sherrymae Miller, Austin & Janice Knowles; Claudia & Lenora Rolle, Chef Eldred Saunders, David Johnson, Andre Speak, Arch- Deacon Father Keith Cartwright, Frank Rolle, Bruce Thompson, Pamela Deveaux, Kevin and Renee Davies, 1974 Class of the Government High School; Church Family: Rev. Dr. Michael & Dr. Hilda Symonette and Family, Bishop Carrington & Pastor Sabrina Pinder and Family, Rev. Dr. Anthony & Rev. Cheryl Carroll and Family, Rev. Daniel & Dec. Beverly Beneby, Rev. William & Dec. Willimae Hepburn, Rev. Dwayne & Dec. Sonia Rahming, Rev. Angela Gray and their Families, Gospel & Sanctuary Choirs, Usher Board, Officers and Members of the St. James Native Baptist Church; Exercise Club (FOIC): Charmine Price, Catherine Weech, Sib Johnson, Michelle Swann; Management & Staff: Ministry of Transport & Local Government, Ministry of Finance, Staff of Atlantis Casino,  Vincent Morley and the Staff of R&R Medical Supplies; Dario Brennen and the Saxon Superstars Brass Section; Special Friends: Ashtin Wells, Patrick McIntosh, Rudy Gardiner II and Family, Jevaughn Rolle, Rashad Fountain, the Staff and Crew of Bahamasair, Ronald Campbell and the Crusaders Brass Band, Rev. Simpson Rudy McKinney, Kevin Nelson, Chris Adams, Bradley Strachan, Gaylene Laing; Doctors: Locksley Munroe, Nevein Girgis, Mac Apple; Nurses: Terry Bain & Family, Sheri Pinder & Family, Sylvia Butler & Family; Church Families Of: Mt Zion Native Baptist, Sandy Point, Full Gospel Assembly, Treasure Cay, Rev. Eulease Brooks & St. James Native Baptist Church Family Abraham's Bay Mayaguana; Family Island Families: Communities Of Treasure Cay, Crossing Rocks and Sandy Point Abaco and Mayaguana; Other Family & Friends too numerous to mention.
Friends may pay their last respects at Bethel Brothers Morticians #44 Nassau Street on Friday from 10:00 a.m. to 6:00 p.m. and at the church on Saturday from 9:00 a.m. until service time.