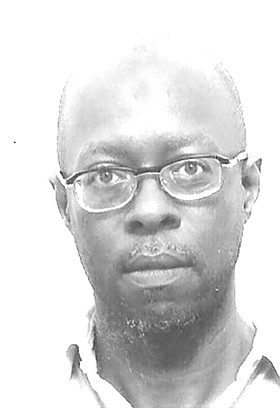 John Courtney Wayne Basden
unknown - unknown
Funeral Service for Mr. John Courtney Wayne Basden, age 59 years, of #57 Soldier Road, will be held on Friday, January 19th, 2018, 10:00 a.m., at Evangelistic Temple, Collins Avenue. Officiating will be Rev. Dr. Vaughn L. Cash. Interment will follow in St. Matthews Anglican Church Cemetery, Shirley and Church Street.
Left to mourn his passing and cherish his memories are: Brother: Trevor "Tabs/Trevi" Basden; Sisters-in-Laws: Brenda and Deborah Basden; Nieces: Carol Basden, Christina Basden-Farquharson (Christopher), Trevez Basden, Cinquetta Basden-Jones (Jarrod), Claire and Chante Basden, Tylor and Tia Basden; Grand Nieces: Jordyn Jones, Kaleya Nicolas Grand Nephews: Nathaniel Moss, Christopher and Christian Farquharson; Cousins: Gertie and Rev. Howard Mills and Family, Clarabell and Samuel Brennen, Natalie and Roland Tuddles of New Jersey, Ernest "Dukie" Basden, Enola Burke, Adrian "Eddie" D'Aguliar, Earl "Chuck" Basden, Samuel Brennen Jr., Sean Brennen, Fr. Scott and Dionne Brennen, Dr. Shane "Tammy" Brennen Ph.D, Kenneth "Candy" and Maryann Hart, Minster Claudette Basden of the Turks and Caicos Islands, Gerald Williams, Elena Hanchell, Josephine Robinson, Lillian Jolly, Judith Williams, Sandra Williams, Shirley Cox, Ben Johnson, Peter Williams, Stanley and Jean Willaims, Dudley and Martha Moree, Veronica and Clinton Williams of Freeport, Grand Bahama, the entire Williams Taylor family of The Turks and Caicos Islands and The Bahamas; The descendants of Dorcas Jane Stubbs-Williams of Providenciales, , Turks and Caicos Islands, Charlotte Denise Basden-King Paulette "Honey" Hepburn, Paul "Man" Evans, Roy Adams, Ruth Adams, Veronica Johnson of West Palm Beach, Florida, Ruth and Ceron Adams, Bianca and Billy Allen, Kenneth and Micholette Hart, Kendra and Deangelo Brown, Maria Basden of New Jersey, Kenton and Kristen Hart, India and Tatum Hepburn, Paul Evans Jr., Peter Grist Jr., Marsha and Dr. Tyrone "Butch" Bartlette; Numerous Other Relatives & Friends, including: Monica and Solomon Stuart, Victor "VC" Chandler, Jeffrey and Vernon "Bing" Chandler, Henderson Stubbs, Stephen Greene, Charles, Benjamin, Whitney, Annamae, Elijah, Alfred, Kenneth, Sharlemae Brice-Stubbs, Helen Brice Thompson, Patrice Brice-Dames, Velma "Mother" Cargill, Ephraim and Anton Cargill, Paul Cleare, Carnetta and Dale Moss, Don F. W. Campbell, Debbie Evans, Van "Harry Potter" Butler, Bishop Walter and Minalee Hanchell, Sherene, Theresa and Allan McPhee, Janet & Jonathan Pratt, Thelma & Tony Rivers, Wencil Neely, Monique Neely, Locksley Collie, , Lennard Markland, the Moss, Thurston, Cargill and Cartwright Families of Soldier Road, Palm Tree Partners, the Pastors and Members of Evangelistic Temple, the Clergy and Members of Christ Church Cathedral, BFM Real Men Ministries, the Doctors, Nurses and Staff of the New Eloise Penn and Renovated Eloise Penn Wards at SRC, the Doctors and Staff of the Princess Margret Hospital.
Relatives and friends may pay their respects at Cedar Crest Funeral Home and Crematorium Ltd, Robinson and Baillou Hill Roads, on Thursday from 12:00 p.m. to 6:00 p.m., and at the church on Friday, from 9:00 a.m. until service time.