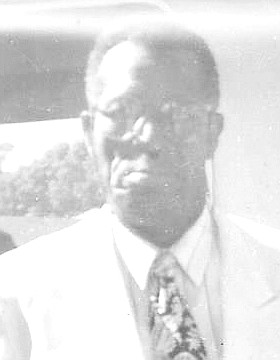 George Edward McKenzie
unknown - unknown
Funeral Service for the late George Edward McKenzie age 85 of Murphy Town Abaco will be held on Saturday January 20 2018 at Zion Baptist Cathedral at 11:00a.m. Officiating will be Bishop Rev. Christopher R. Dean assisted by Rev. Leroy Thompson. Interment will follow in the Murphy Town Public Cemetery.
Left to Cherish his Life and Legacy are: Four Sons: Eugene, Clayton, James, Wayne McKenzie; Four Daughters: Edith Johnson, Wanda Russell, Colleen Murray, Collette Sears; Daughters-in-law: Greta, Yvonne, Erma, Angela McKenzie; Sons-in-law: Lloyd Russell, Paul Murray, Peter Sears, Ronnie Fred Johnson (Pre-deceased); Sister:Millicent Johnson; Grandchildren: Deandra (Noel) Brown, Lloynard, Lloynette Russell,  Ronnie Jr, Quentin, Shanderia, Shazaria Johnson, Shakora (Franklin) Russell, Jewayna (Andre) Dean, Wayne Jr McKenzie, Colanderia, Terrell, Max Sears, Sherry, Eugene Jr McKenzie; Great Grand Children: Lloyshard, Deanna, Tanaysha Brown, Keron, Franklin Jr Russell, Christonya, Ronnie Jr, Zianna, Rondre Johnson, Shameka, Osaiah Brown
Jayden Sawyer, Andra'Nae, Tonique, Alexander, Malachi, Montez Dean  Shavaya, Joiovnni Swann; Nephews:Ruswell, Manor, Lamont & Valentino McKenzie, Samuel Jr Johnson, Gail, Colon, Regional, Darren, Manoah, David Kenny, Ronald McKenzie Jr; Nieces: Rosamae Davis, Sylvia Outten, Ludeen McDonald, Shanell Gierweski, Tarsha Wallace, Paranell Spence, Sharmaine Cleare, Kordelle Thompson, Sabrina Barr, Caroline, Shanda, Sonia McKenzie, Norlin Rolle, Shawanda, Shameka, Shavann Johnson, Desrah Williams, Sherry, Judith, Gia, Mia, Sal, Pinky, Malique;  Sister-in-law: Almaria McKenzie; Brother-in-law: Samuel Johnson; Adopted Daughter: Aggie Simms; Godchildren: Sanda McKenzie
Other Relatives & Family: Bishop Rev Christopher Dean and the Zion Baptist Cathedral Family, The Davis Family, Pastor A. B Lewis and The Victory Tabernacle Family, Enskin Curry and Family, Ernest Scott and Family, Sterlin McKenzie, Twilight Senior Citizen Home, The Staff of P. M Hospital, The Community of Murphy Town , The Morris Island Family,Bishop Lernis Cornish and Family
Relatives and friends may pay their last respect at Evergreen Mortuary located on Queen Elizabeth Drive Marsh Harbour Abaco on Friday from 12:00 noon until 6:00p.m. and again at the church from 10:0a.m. until service time.