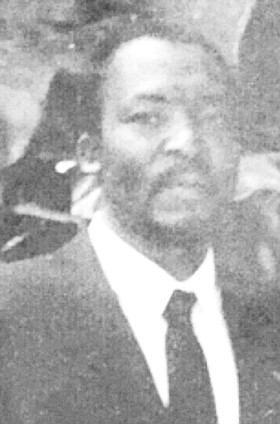 Franklyn "Frankie" Garfield Petty
unknown - unknown
Funeral Service for the late Franklyn "Frankie" Garfield Petty age 65 years of Sir Lynden Pindling Estates and formerly of Governor's Harbour, Eleuthera will be held on Saturday January 20th, 2018 at 10:00 a.m. at Southwest Cathedral Church of God, Carmichael Road. Officiating will be Pastor Bruce Davis assisted by Bishop Clifford Petty and Rev'd Dr. Yvette M. Johnson. Interment will follow in Southern Cemetery, Cowpen and Spikenard Road.
Left to cherish fond memories are his daughters: Mallissa, Shantell , Shonell and Erica Petty sons: Micheal, Mario and Lavardo Petty; daughters in-law: Raquel Petty and Tiffany Petty; sons in-law: Micheal McPhee, Arnold Rolle, and Jerrado Rolle Sr.; granddaughters: Mya McPhee, Rachea Petty, Micheala Petty, Selina Rolle Destinee Petty and Michela McPhee; grandsons: Marine Seaman Keith Petty, Shawn McPhee, Tamario Petty, Richard Petty Jr., Jerrado Rolle Jr., Ashad Rolle, Micheal Petty Jr., Lalphenso Petty and Angelo Rolle; sisters: Deaconess Emily Russell and Prophetess Lisa Si Milien; brothers: Prince Petty, Anthony Petty, Bishop Clifford Petty, Brent Petty, Bishop Slyvanus Petty and Leo Petty; sisters in-law: Evangelist Velma Petty, Deaconess Dolly Petty, Lillian Petty, Antoinette Petty, Bulah Petty; nieces: Dale, Janet, Dorothy, Pattie, Carol, Kathy, Leah, Donna, Therice, Wanda, Rhonda, Shanae, Clementina, Bernadette, Hyacinth, Brendalee, Aretha, Prophetess Margaret, Avis, Vanessa, Clarice, Monique, Maria, Stacey, Roxianna, Olivia, Tasha, Roshanti, Leshanti, Amanda, Latisha, Ashely, Sandy and Leshandrea; nephews: Jerome, Prophet Keith Sr. Garfield, Jason, Deacon Frederick, Thaddeus, Ezra, Cecil, Alfred, Harry, George, Slyvanus Jr., Patrick, Steven, John, Chris, Anthony Jr. Leo Jr. Philip Sr. and Don; grandnieces: Dehlya, Vashti, Shaniqua, Fiona, Jennifer, Esther, Lashanda, Curby, Dara, Mechesia, Aaroniqua, Ashanti, Whitney, Phylicia, Dorothy, Angelique, Awana, Stacey, Keithara, Kadesha, Jeremia, Johndesha, Rickema, Takia, Marcia, Shavette, Dwaynae, Frankesha, Naomi, Victoria, Aretha and Skyla; grandnephews: Philip Hepburn Jr. Justin, Johnathan, Kendrick, Kennetta, Kayden, Kylin, Keith Jr. Jeremy, Matthais, Josiah, Ashton, Anthony, Daniel, Dominic, Charles, Gerrard and Tyler. numerous of grandnieces and grandnephews; numerous of cousins including: Emily Petty, Bertha, Ruthmae, Rosetta, Ethel, Joyce, Olga, Emily, Paulins, Joyce, Harriett, Trevor, Frank, James, Nelson, George, Teddy, Paul, Gregory, Timothy, Alkanah, Ronald, Judymae, and Shera; countless special friends and acquaintances including: Martin Street Family, Kirky Smith, Angela Rolle and Family, New Riverside Church Family, New Birth Church Family, Rev. Culmer and Fmaily, Catherine Petty, Christa Rolle and Family, Mrs. Harriette Kelly and Family, Carlton E. Francis Primary Staff. Amos and Luna Johnson, Principal, Staff, students and parents of New Horizon Academy, Male Sugical II Ward especially Nurse Descha Johnson, Alenea Gardiner, Cleveland and Paulette Brown and Family. The community of Lower Bogue, Governor's Harbour Eleuthera Community, Sands Family and others too many to mention. The family wish to express apologies for persons mistakenly not mentioned. Please pardon our error and we ask for your continued prayers and support during this time.
Friends may pay their last respects at Bethel Brothers Morticians #44 Nassau Street on Friday from 10:00 a.m. to 6:00 p.m. and at the church on Saturday from 9:00 a.m. until service time.