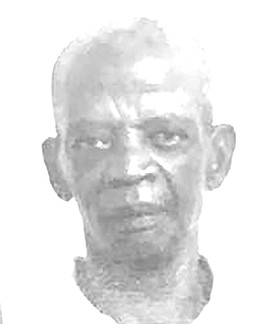 Edner Alexis
unknown - unknown
Funeral Service for the late Edner Alexis age 67 years of Cowpen Road and formerly of Haiti will be held on Saturday January 20 2018 at Ebenezer Baptist Church Carmichael Road at 2:00p.m. Officiating will be Pastor. Laurent H. Papouloute assisted by other ministers. Interment will follow in Southern Cemetery, Cowpen & Spikenard Roads.
 He is survived by His wife: Paula Alexis
Sons: Tony (Krystal), Shamecko, Lavalis (Julianne), Kevin
Daughters: Joy (Barkley), Sheila (Jeremy), Paulette (Perry) Carida (Charite), Jertha & Jesmer
Grand Children: Teandra, Joyanna, Annrecka, Jonathan, Jerome, Princess, Jordan, Zanda, Krystacia, Brianna, Brittney, Krystina, Terri, Olondieu, Zane, Siseron, Elimene, Chrision, Moleyon, Dimene, Kimson, Chelda, Pola, Idionel, Piterson, Marcilone, Lichania, Makeled, Calinda, Chrision, Oalama, Macson, Wisinka, Christian, Louisandine.
Father-in-Law: Joseph Noel
Nieces: Raquel, Fanny, Sherry, Allison, Shakera.
Nephews: Timothy, Timmy, Vernal, Marvin, Haram
Uncle-in-law: Peter Curry
Sisters-in-law: Stella Saunders, Laura
Brothers-in-law: Moses, Bernardo, Henry & Godfrey
Godchild: Carlene Augustin
Other Relatives & Friends: Clearmane Augustin & Family, Augustin Gustave  & Family, Autherine John& Family, Veronica & Family, Yolette & Family, Mary & Family, Cheryl Rolle & Family, Leona Cooper & Family, Licianna & Family, Cowpen Road Family & Ebenezer Baptist Church Family
Relatives and friends may pay their last respect at Evergreen Mortuary located on Collins Ave & 5th Terrace on Friday from 10:0a.m. - 6:00p.m. and again at the church on Saturday from 1:00p.m. until service time.