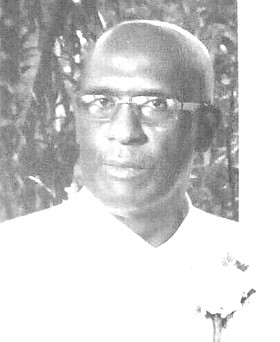 David Washington Pinder (Black Lightning)
unknown - unknown
Funeral Service for David Washington Pinder (Black Lightning), age 67 years, of Redwood Street, Sir. Lynden Pindling Estates, will be held at 11am on Saturday, January 20, 2018, at Hillside Missionary Baptist Church, Independence Drive. Rev. Dr. Lockwood K. Deleveaux, assisted by Reverend Stephen Ferguson, will officiate the service. Interment will follow in Woodlawn Gardens, Soldier Road.

He is predeceased by his sons: O'Dinge and Daville Pinder.
Precious memories will always linger in the heart of his: Loving Wife: Phillippa Pinder;
Sons: Ujammåå Pinder; Step Son: Andrew Johnson (Germany); (Sons Predeceased):
Daughters: Davina and Katrina Pinder; Sisters: Dr. Susan Lightbourn (Pennsylvania); Sandra Pinder and Melony; Brothers: Allan Pinder Jr.; Douglas Pinder; Stephen Pinder; Derek Pinder; Michael Pinder; Trevor Pinder; Sisters-in- Law: Francita Brice (Grand Bahama); Angeline Smith; Nadine Vannoy (Orlando Fla;) Carolyn Burdine-Coakley (Miramar Fla;); Lila Pinder; Naomi Pinder; Patrice Pinder; Gracelyn Pinder; Suzette Scott; Brothers-in- Law: Cyril Lightbourn (Pennsylvania); Alexander, Joseph and Philip White; Grand Children: Kamea Simmons; Nephews: CJ, Casey, Annand, Aaron, Darren, Nelson, Solomon, Andre, Brent, Sterling, Kelphany, Sashian, Malik and Meko PinderNieces: Chelsea, Nadia, Jasmin, Mandisa, Michaella and Latangel; Relatives & Friends include: Andrew Stanford & Family; Greg Burdine-Coakley (Miramar Fla.); Tyrus & Karishma Cartwright (Boston); Vanessa Johnson (Germany); Nako & Aisha Brice (Grand Bahama); Ernest Smith & Family; Erma, Marjorie, Una and Josephine Evans; Rowena Brown & Family; Esthermae Moss & Family; Gabby & Tanya Sastre; Erskine Hutcheson & Family; Javon & Jorenda Braynen; Alfreda Edwards & Family; La'Genia Gibson & Family; Angeline Smith & Family; Patrick Mackey & Family; Sandra Curry & Family; Ernestine McKenzie & Family; Nadia Brennen & Family (Tampa Fla); Nora Pinder & Family; Gaylene Lloyd & Family; Irie Rolle & Family; Dr. Sheena Collie; Dr. Beverton Moxey; The Staff of Bahamas Health & Medical Center; Dr. Joseph Evans; Dr. Farquharson; Dr. DuVaughn Curling; Dr. Turnquest; Doctors, Nurses & Staff of Doctors Hospital; The Oncology Center; Staff at The Bahamas Cancer Center; Doctors & Staff at Princess Margaret Hospital Accident & Emergency; Felix Bethel; Peter Maynard; Staff & Faculty of the University of the Bahamas; and the School of Business, Hospitality and Tourism Studies at the University of The Bahamas, Vincent & Marilyn Tinker; Arlington Brown & Family; Government High School Class of 1967; Management & Staff Bahamas Development Bank, and a host of relatives and friends too numerous to mention.
Friends and relatives may pay their respects at Cedar Crest Funeral Home and Crematorium Ltd, Robinson and Baillou Hill Roads, on Friday, from 12 noon to 6pm, and on Saturday at the Church, from 10am until Service Time.