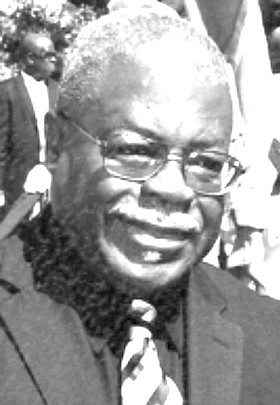 Basil Francis Theodore Huyler Jr
unknown - unknown
Funeral Service for the late Basil Francis Theodore Huyler Jr. age 67 years of Nassau Street will be held on Tuesday January 23rd, 2018 at 11:00 a.m. at St. Mary the Virgin Anglican Church, Virginia Street. Officiating will be Rev'd Father Dwight Bowe assisted by other ministers of the clergy. Interment will follow in Church Cemetery.
Left to cherish the memory of Basil Huyler Jr are his children: Basil III, and Demetri Huyler, Carla Shock-Jackson, James D. Jackson Sr; grandchildren: James D. Jackson Jr. and Imani Jackson; brothers: Anthony, Valentine, Lopez, Prince III, Eureston Huyler, and 'brother from another mother' Sidney (Moon) McPhee; sisters: Theodoris (Trixie) Huyler, Jacqueline Huyler-Reckley, Sabrina Huyler-Ramsey, Claudette Huyler-Beal, Natacha Huyler; step-sister: Eloise Huyler; brothers-in-law: Alexander Reckley, Earl "Mikey" Ramsey, Andrew Beal; sisters-in-law: Ana-Lee Huyler, Charmaine Huyler, Gaye Huyler; uncle: Neville Styles; aunt: Maggie Harrison, Delores Styles; nephews & nieces: Peter & Kermit, Timothy Huyler, Roberto Reckley, Ambrose Ambrister, Hilary Huyler II, Vivian, Nicholas, Leon, Vivasvan & Jefferson Huyler, Jamoga Huyler Ramsey, Antanasio Curry, Rashad Symonette, Daniel Beal, Eureston Huyler Jr., Andrew & Rashad Huyler, Patrice, Tamara Taylor-Knowles, Solomonia Rigby, Ladrana Reckley, Ambrosine Huyler, Anastarcia Palacious, Valentina, Kaylisa Cleare, & Sabrina Huyler, Felicia Charite, Charnisha Jones, Carla Jackson, Danielle Beal, Requel Huyler, Delcina Reckley, Raynard Rigby, Carlos Palacious, Jamal Jones; great-grand nephews & nieces: Bryll Seymour, Nyles Archer, Sanaa' Knowles, Perez Huyler, Corban, Jaydon & Madison Reckley, Seven Reckley, Zahra, Ziah & Zayne Rigby, Mallory & Devondre Huyler, Jamuari & Jahkari Jones, Renaj, Antoninez, Trinity, Azarial, Shaquawan, & Angelus Huyler, Kevin Archer, Nicholas Jr., Ezynphony, Aria, Nathan, Carmelo Thompson, Amsia & Anasse Brown, Vaniunique, Vasanique, Leon, Leondre, Jefferson Jr., & Breon Huyler, Cairo Palacious; godchildren: Anastarcia Palacious; a number of other relatives and friends including: The children of the late Maria Woods, the children of Neville Styles and Maggie Harrison, Charles Major Jr. & Family, Andray Charlow & Family and Patricia Johnson of Grand Bahama & Family. The children of the late Kenneth Huyler Senior, Donzel Huyler Sr., Carmel Rutherford, Bernice Ambrister and Cecil Miller. Clyde Seymour, Janette Thurston.
Friends may pay their last respects at Bethel Brothers Morticians #44 Nassau Street on Monday from 10:00 a.m. to 6:00 p.m. and at the church on Tuesday from 10:00 a.m. until service time.