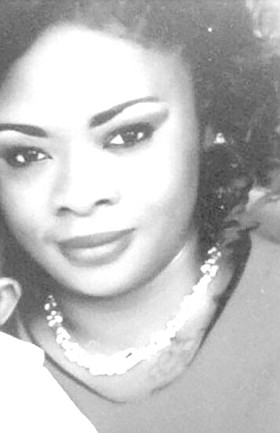 Alicia "Lisa" Shanise Stuart
unknown - unknown
Funeral service for
Alicia Shanise "Lisa" Stuart, 34
a resident of Windsor Place off Soldier Road, will be held at Church of God Greater Chippingham, Eden & Rosebud Streets, on Saturday 20th January, 2018 at 11:00 a.m.  Officiating will be Bishop Carl Denise Lafrenier, Rev'd John M. Darville, Rev'd Sybil Deveaux, assisted by Pastor Cassell Higgs & other Ministers of the Gospel.  Interment follows in Lakeview Memorial Gardens, John F. Kennedy Drive.
Left to cherish her precious memories are her Parents:  Derek and Marilyn Neymour and  Edward Rolle Sr.; Daughters: Deina Rolle and Olicia Cayard; Grand Father: John Stuart (deceased) and Jeremiah Neymour; Grand Mother: Flossiemae Coakley (deceased) and Yvonne Neymour; Brothers: Dravanta, Delano and Derek Jr. (Jennifer) Neymour,  Dwight and Edward Rolle Jr.  Inspector Jamique Campbell ; Sisters: Achanta Stuart, Lashanda (Kevin) Stewart from Lexington, Kentucky and Deka Rolle; Nieces: Asia Stuart and Zaniyah Stewart;  Uncles: Melvin Thompson and Robert Stuart, Rodney Neymour, John  (Caroline)  Hartman  (Alice) Rolle; Aunts:  Diana Stuart, Deloramae and Rubell Clarke, Vernita Cleare, Williamae Toothe,  Maudline (Albert) Forbes and Margaret Taylor; Grand-Uncle: William Coakley, Orlando Florida and Glenwood Coakley; Grand-Aunts: Bloneva Poitier, Beryl Huyler, Alice (Garnet) Dorsett, Patricia Bannister, Adora (Reginal) Hanna, Judymae, Shirley, Rosemary and Merlene Cole; Relatives and Friends including: Apostle Carmel  Gibson, Sonia, Shawndale, Shonique, Stephon, Chris and DeShawn Miller. Paulamae  (Leslie) Bowleg, Patricia, Kishna, Karlisa and Carlton Rolle, Katisha Cayard, Ruthmae, Curtis, Edwin, Jerry,  Mark, Troy and Jensen Coakley, Deborah and Frankie Drakes, Christopher (Virginia), Anthony (Charmaine), Mario, Angela, Marva and DeiAndra Poitier, Broquelle (Franklyn) Brice, Gregory, Michael, Kim, Keith, Antonio, Ann, Sheryl, Lenore, Christine,  Helen Thompson, Latasha, Lenardo, Lamont and  Onea, Deborah (Walter), Shakara and Waldez Russell,  Kenva, Kenton and Dario Gibson, Shervin,  Aytia and Shanite Coakley.  Terrance, Shanique, Willicia and Sherell Charlow.  Althmease Carey, Rosemary Cambridge, Rev. Cecil & Milton Newbold, Kingston Bernard, William, Marcus Newbold. Princess and Dainett Bonimy, Ruben and Holbroke Stuart, Fonswitt Clonious Stubbs & Family, Bernard, Clinton and Florinda Smith, Alice Stubbs & Family, Nathalie Bonimy & Family, Cleveland Stuart & Family, Tiffany, Tammy, Edward, Kevin (Tameka), Randy, Delores, Angelica, Magnolia, Stella, Nadia, Carla, Ivan (Lavonne), Alan and Judy Neymour,  Ambrosine (George) Martin, Margaret Sands, Mary, Quennie (John) Hutchinson, Leroy Minns, Patrick, Donna Robinson, Fairdawn (Neville) Neely Perez Forbes, Elder Anthony (Arnadelle) Whylly, Bernadette (John) Trottman, Eleanor Whylly, James (Barbara) Thompson, Jerome Moxey, Cora Taylor, Stacey Smith and Family, Gregory (Francell) Dorsett, Kendrick Williams, Daron Davis, Alan, Patrice, Cheryl, Sherice and Linda Sands, Brennett Roberts, Turkessa Burrows,  Latonia Baker, Shannon,  Arlene (Gordon) Mackey, Wendell Whylly, Rochelle Delancy, Monique Brown, Vera Cole & Family, Harry Horton & Family, Mr. Maybell Rolle & Family, Mary Neymour & Family,  Phenton Neymour & Family,  Margaret Sands & Family, Rev. John Darville & Family, Bishop Raymond Mackey & Family, Mrs. Alma Ferguson & Family; A HOST OF OTHER RELATIVES AND FRIENDS: Bishop Carl Dennis & Deaconess Delcina LaFrenier and The Church of God Greater Chippingham Family,  Usher Department of The Church of God Greater Chippingham Family,  Rev. & Mrs. Higgs and The Church of God of Prophesy Pinewood Gardens Family,  Obie Pratt & Family, Mr. Terrance Harris & Family, Sherwin Butler & Family, Mr. & Mrs. Flowers & Family, Mr. & Mrs. Gregory Cottis & Family, Mr. & Mrs. Robert Adams & Family, Mr. Ervin & Mrs. Curlean Fernander & Family, The Patton Family, Mary Fernander & Family, Keith & Mary Davis & Family, Pauline Davis & Family, Patrick Brown & Family, Marsha McCartney & Family, John Lockhart, Eureka Lockhart & Family, Mother June Johnson & Family, Godfrey Rahming and Family, Mary Young & Family, William (Shameka) McQueen & Family, Reagan Rolle & Family, Ottnee Caynard & Family, Derek (Stephanie), Darius and Stephan Pitts of Miami Fla. Troy (Erinique), Trenique and Trey Farrington,  Trevor, Christy and Christopher Farrington, Sharmaine Pratt, Samantha Neely, Dornella Farrington Smith, Alexandria, Theotha, Latoya, Erica and Terranique, Bishop Mark Knowles & Family, The Hon. Desmond Bannister Member of Parliament for Carmichael Constituency, Kimani Kimberly and Omar Miller, Nickilie, Nickalene, Shameka and Nicalus Jackson, Onique and Kiara Johnson, Stacy Smith, Charmaine, Charles McCartney and Michael Williams, The Coakley, The  Stuart, The Stubbs, The Newbold, The Braynen,  The Cargill, The Bullen Terrace and The Bering Point Family. The Exuma Street Family, Frankie & Sharon Simmons & Family, The Staff of Female Medical #2 of P.M.H, The Staff of Baha Mar, The Staff of Lyford Cay Club, The Staff of John Bull South West Plaza, The Staff of Rubis Carmichael Road,  Old Fort Bay and the R. M. Bailey Class of 2000.
Friends may pay their last respects at Demeritte's Funeral Home, Market Street, from 12-6:00 p.m. on Friday & on Saturday at the church from 10:00 a.m. until service time.