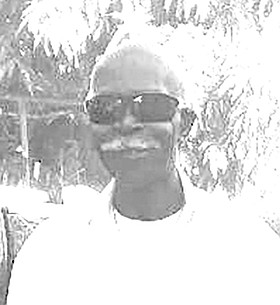 Wellington "Joe a.k.a. Double 08" Joseph Davis
unknown - unknown
FUNERAL SERVICE for the late Wellington Joseph Davis
-"Joe a.k.a. Double 08"age: 65 years will be held at Service Held At: Strong Tower Community Church Murphy Town, Abaco, The Bahamas Sunday, February 25th, 2018 at 1:00p.m.Officiating will be Senior Pastor Stephen Knowles and interment will follow in Murphy Town Public Cemetery

LEFT TO CHERISH HIS MEMORIES:
Two daughters: Tiffany and Brittany, One brother: Silvin Sr., Four sisters: Sandra, Helen, Joy and Cecile. Aunts: Verleta Davis, Elsie Knowles, and Beverly Davis. Two grandchildren: Corey and Taylor. Eleven Nieces: Grethel, Natasha, Misty, Keisha, Francesca, Christina, Sable, Lasasha, Schumir, Kimberly, and Leann. Seven Nephews: Rudy, Tyrone, Dennis, Topedo, Silvin Jr., Richard Jr. and Tyler. Grand nieces and nephews: too numerous to mention. One Sister-in-law: Addie Davis. Two brothers-in-law: Sterlin and Leroy. Two Niece-in-laws: Chastity, Loida and Taka. Cousin: Harrision and Fritz. Kenneth, Herbert, Forester, Danny, Patrice, Monaleta, and Clifforia. Dorolyn, Judy, Roosevelt, George, Basil, Lydia, and Rose. Keith, Kirk, Kimuel, Kendal, Leonard Jr., Sean, Tammy, and Trainette. Henley, Vandyke, Owenta, Gwendolyn, Emma, Misty, Millie, and Rochelle. Stephen, Rosemarie, Patrice, and Anishka. Jennive, Barbara, and Paula. Ruth. Zendal, Wayne, James, Clay, Edith, Wanda, Collette, and Colene. Philip, Junior, Pleasant, and Nadia.
Five God brothers: Donald, Sherwood, John, Cyril and Jonathan. Seven God sisters: Eulamae, Edith, Christine, Susan, Mary, Gelita and Yvonne. Two God Children: Daisha and Daishawan.
A host of relatives and special friends: Bishop Christopher Dean & The Zion Baptist Cathedral Family, Strong Tower Community Church Family, Clint and Earlist Sawyer, Dan Davis, Edith Clarke and Family, Tracey Dean, Ivy Davis, Sharon Octavien, Olga Delancy, Paula Symonette, Richard Cox and family, Aremena Smith and Family, Pastor Lernis Cornish and Family, Muriel Curry and Family, Ena Swain and Family, Boynell Williams, Masheva Stuart and Family, Hiram and Silvina Major, Joseph and Beryl Norris, Roosevelt McIntosh and Family, Raymond Russell, Evelyn Russell and Family, Captian Forty and Florence Sawyer, Gail McIntosh and Family, Celeita Sawyer and Family, Crystal and Rohan Spicer, Jason and Gilbert Davis, Eleanor, Rochelle Stuart and Family, Cubel Jr. and Amanda Davis, Enid and Sandra White, Richard Gibbs, John Husdon, Sylvia Rolle and Family, Jocelyn Bootle and Family, Preston Roberts and Family, Rispah Edgecombe and Family, Lorraine and Deon Nesbitt, Kendal Kemp and Family, Marsh Harbour Healthcare Centre and Emergency Medical Services staff, Princess Margaret Hospital Nurses, especially Daphne Brown, Ruth Swain, Claramane Davis-Doresett, and Judy Hunt, The Rum Hill Boys, Gail Wallace, Gail and LaTeisha McKenzie, Dudley Davis, Leroy Davis, Alfred Knowles and Family, Murphy Town Community Association, Local Government Council Office, Bahamas Power & Light staff, F.E.S. Construction staff, Ministry of Tourism Abaco staff, Business License Abaco staff, Post Office Abaco staff, Maura's The Paint Place staff, Red's Kitchen staff, De Native Shack staff, the Local Abaco Junkanoo committee, the Local Music & Entertainment industry of Abaco, the entire Davis, Knowles, Curry, Dawkins and Simms Families, the entire communities of Moores Island, Murphy Town, Dundas Town, Marsh Harbour, and the entire Island of Abaco.
Relatives and friends may pay their last respect at Evergreen Mortuary located on Queen Elizabeth Drive on Friday from 10:00a.m. – 6:00p.m and again at the Church on Sunday from 12:00noon until service time.