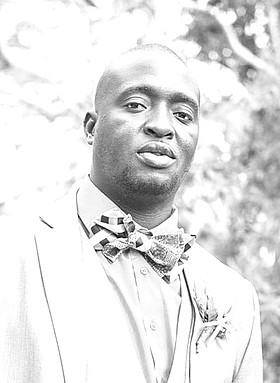 Sylvester Dentry McKenzie
unknown - unknown
Funeral Service for the late Sylvester Dentry McKenzie age35 years of Cedar Way will be held on Friday, February 23rd, 2018 at 11:00 am at New Hope Missionary Baptist Church Joan's Heights New Providence. Officiating will be Bishop Rudolph Mitchell Cooper assisted by Minister Pedro Davis and other Ministers of the Gospel. Interment will follow in Lakeview Memorial Gardens, J. F. Kennedy Drive.
Cherished memories will forever linger in the hearts of his Beloved wife: Tamone McKenzie. Son: Syldiko Sylvester McKenzie. Mother:Willamae McKenzie
Brothers: Cordero McKenzie, Sharrad Fowler, Rhandon and Anton Scott, Sean Gilbert and Levan Rutherford, Sr. Sister: Shandika McKenzie-Bain, Desiree McKenzie and Candice Williams Grandmother: Lillian McKenzie and Marie Bain
Grandfather: Charles Bain Aunts: Theresa Horton, Jacklyn Guerrier, Susan Sanusi, AnneMarie Campbell, Natasha Archer, Sherrine and Thelma McKenzie, Nadjah , Caroline, Sabine, and Yolanda Bain, Patricia Clarke, Marilyn Kemp, Atanya Bain, Irene Mott and Janice Williams. Uncles: Livingstone, Patrick and Stanley Bain, Philip, Glenroy and Barry McKenzie, Ricardo Guerrier, Akeem Sanusi, Bret Archer, Sr., Johnathan Clarke, Sr. and Harry Kemp
Grand Aunts:Pearline Adderley, Evangeline McDonald, Veronica Rolle Loretta, Ruthlin and Shirleymae Taylor
Grand Uncles: Jerry Meadows, Edward Rolle, Arlington, James, Nehemiah and Samuel Taylor
Nieces and Nephews: Kiajaand Ciara McKenzie, D'ajhia Moss, Jalexia Bullard, Janard Fisher, Jaday and Levan Rutherford, Jr., Reshawn Bain and Annastacia Campbell
Mother In Law: Vaneria Rolle Brother In-Law: Denton Bain
Sister In-Law: Lakeisha Albury-McKenzie, Vanessa Clarke, Racquel Gilbert and Latanya Rolle Aunt In-Law: Valeria Cash, Altheameze Watson and Eureka Vixamar
Uncle In-Law: Ronald, Henry, Theodore and Johnathan Campbell
Cousins:Derese Knowles, Bianca Butler, Nekera Smith, LaQuinta, Annaricara, Kaylisa and Patricka Bain, KaisprintinaMunnings, Nickie Pratt, Rory Horton, Carl Strachan, Cotec Guerrier, Shaquelle, Bernard, Antonio, Livingstone, Malinquin, Sergio, Bernardo, Nehemiah, Olivia, Patrick Jr. Ashante and Taisha Bain, Alexander, Julian, Osmond and Gary Munnings, Sherrif and FoloshadeSanusi, Cameron Jones, Philip Campbell, Breyah Archer, Ryesha Flowers, Sheran Rahming, Obafemi, Philip, Asreal and Barry Jr., Nickie and Marva McKenzie, Kourtnea Knowles, Maria and Dominica Nesbitt, Johnathan Clarke, Jr. Garland and Lauren Rolle, Zelda Adderley, Thelma Rolle-Fernander, Darlene and Daphne Davis, and Lawaynia Haven.
Cousin-In-Law: Anthony Butler,Tamika Horton, Tameka Dames, Shamar Cash, Travaz,Travaughn, Travayne Watson, Ronald Campbell Jr., Branique and Branae Coakley, Jaquan and Deno Campbell
Godmother: Debbie Gibson, Janice Williamsand Valerie Curry
Godchildren:Kenricka Mortimer, Tristan Sweeting, Bertis Capron Jr. and Jacquea Conyers
Adopted Father: Charles Lightbourne
Adopted Brothers: Jacques Conyers, Desmond Collie, Joeniel Rolle, Michael Sweeting, Rashik Bethel, Javon Knowles, Aaron Neeley, Christopher Colebrooke, Latario Bowe, Ronesto Riley, Reno Deveaux Jr., Jarvis Williams, Johnathan Mortimer, Tristan Lightbourne, Tevin Lundy, Travaldez Burrows,Trovelt Smith, NevadoMunnings, Anthony Dean, Antonio Toussiant, Darold Bain, Dudley Heart and Godwin Sherman.
Adopted Sisters: Angel Williams, Alquavia Brown, Nykia Smith and Guerla Prosper.
Other Relatives and Friends: Sarah, Eric and Jonathan Mundy, Phillandra Williams, Kay Ward & Family, Delores Ward & Family, Pat Ward & Family, Barbara Scott & Family,Patricia Mitchell, & Family, Sidney and Florine Bain, Dr. Charmaine Bodie, Katherine Cooper, Bishop Rudolph and Gale Cooper, Minister Linda Mortimer & Family, Myesha Mortimer, Minister Pedro and Thelma Davis & Family, Steve and Minister Uhura Woodside & Family, Rudolph and Brenda Gibson & Family, Luson and Barbara Polycarpe& Family, Evangelist Carolyn Cleare& Family, Avon and Dale Bethel & Family, Sheldon Knowles, Perry Clarke, Cameron Smith Margo Dean, Keishala Mackey, Jandayia Taylor, LaQuinton Cash, Tawanda Davis & Family, Travolt Smith, Selwyn Dean, Colton Smith, Calvin Adderley, Omara Thompson, Anthony Ferguson, Dudley Collie & Family, Eliakim and Dorcas Ferguson, Shane Deveaux, Enrique Rolle, Deon Bethel, Darold Francis, Doniceo, Damyon and Robert Bethel, Dakeem Bethel, Ahmad Rolle, Paul Gibson, DuwardWalkes, Dwayne Fox, Bertis Capron, Bridgette, Jackie and Leonora Conyers, Enigo Fisher, Shawanda Sands, Glenda Bain, Latoya Paul, Charles Sawyer, Lynden Swain & Family, Trentino McKenzie, Nicola Colebrooke& Family, Joyce Pratt & Family, Sarah Ferguson & Family, Brenda Albury & Family, Maria Poitier & Family, Sheena Burrows & Family, Charles Bastian, George King, Julian Butler, Kiffer Morris, Yendi Winder, Brian Maycock& Family, Anthony & Patricia Pinder & Family, Ricardo and Sharmaine Walker & Family, DelareseNeymour& Family, Tiffany Fox, Marcia Burrows, Paige Rolle & Family, Colette Darville, Godfrey Sherman & Family, Latoya Paul, Leshan Rolle, Donneth Moss & Family, , Darren Roker, Ian-Marie Darville, Michelle Colebrooke, Elkia Coakley, Doyle Burrows, Melissa Butler, Azrae Miller, Fernerin Hanna, Rhoanna Mortimer, Kelvin Mortimer, Rhonda Richardson, Renita Evans, Norell Williams, Tara Miller, Antoniqua Oliver, Desiree Chisholm, Andrea Davis, Shamara Williams, Wilma Farrington, Shaffane Knowles,Yvonette Strachan & Family, Shanell Cartwright & Family,Cabbage Beach Water Sports Family, The Port Authority Department Management, Staff of The Mandara Spa at Atlantis, Staff of The Lyford Cay Spa and Salon, L.G. M. Maritime Academy, Emmanuel Missionary Baptist Church Family, The Royal Bahamas Defence Force Family, Department of Correctional Services Family, The Frontline of the Genesis Junkanoo Organization,Golden Gates Family,Golden Gates FNM Constituency, Atlantis Family and The Pond Liquor Store Family and Sid Bar Family.
Relatives and friends may pay their last respect at Evergreen Mortuary located on Collins Ave & 5th Terrace on Thursday from 11:00a.m. – 6:00p.m. and again at the church on Friday from 10:00a.m. until service time.