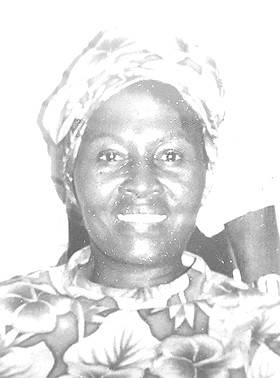 Pearlean Forbes Lawrence
unknown - unknown
Funeral Service for Pearlean Forbes Lawrence age 91 of Pinewood Gardens and formerly of Pure Gold, Andros who died on February 13, 2018 will be held on Sunday February 25, 2018 at 12:00 noon at Hillview Seventh Day Adventist Church, Tonique Darling Highway. Officiating will be Pastor Hugh Roach assisted by Pastor C. Melvin Lewis and Pastor Jeremiah Duncombe. Interment will follow in Woodlawn Gardens, Soldier Road.
Left to give Praise and Thanks to God for the gift of the lady we call Mother, Aunty Pearl, Sister Lawrence and Mrs. Pearl are her five Children: Edwin Thompson, Charles Thompson, Sterling Thompson, Donna Ettiene and Wendell Lawrence; Daughters-in-law: Marion McPhee, Angela Rolle, Leontyne Thompson, and Kathleen "Kasha" Lawrence Grandchildren: Myrmidon, Jeroboam "Jerry", Tiffany, and Cordero McPhee, Iesha Rolle Catherine, Edwin Thompson, Yahanan, and Michael Thompson, Wendell, Jaxlynn, Josephine, Jaleesa, Eli, Titus, and Marcus Lawrence; along with numerous Great Grandchildren; Sisters-in-law:Ena Forbes, Miriam Forbes; Numerous Nieces, Nephews, and their families including: Isaac, Thomas, Ellen, Flora, Louis, Steadman, and Lionel Forbes, Noralee Cartwright, Belva Collie, Patsy Beneby, Elijah and Philip Forbes, Lillian Bain, Elizabeth Moxey, Debbie Richardson, Deborah, Lisa, and Raymond Forbes, Denise Greene, Thea Smith, Mark Forbes, Ursula McPhee, Evelyn Cash, Ivan Rolle, Ruth Rodgers, Stanley and Raphalita Rolle, Agnes, Rebecca, Jacob and Olliemae Rolle, Flocetta Nottage-Bain, Geneva Davis, Carnetta Russell, Alfred Adderley, Edward Duncombe, and Pastor Jeremiah Duncombe, Maybel Morris, Anthony Sweeting, Agnes Bain, Hilman, Alfred, and Miriam Sweeting, Esther Burger, Manira Jones, Luella Williams, Rosemary Higgs, Sharon Gibson, Jennifer Grant, Carolyn Gordon, MalveseNeily, Ethelyn Davis, Sylvia Grant, Jacqueline Hall, Pamela Neely, Andrew Neily, Alexander Neily, Keith Neily and Other relatives and friends including Joy Khan, Kaywana Forbes-Rahming, Cleomi 'Lee' Nottage, and the Hillview Seventh-day Adventist Church family among many others.
Viewing will be held in the Legacy Suite of Vaughn O. Jones Memorial Center, Mt. Royal Ave. and Talbot Street on Friday from 12:00 noon to 5:00 p.m. and on Saturday at the Church from 10:00 a.m. to service time.