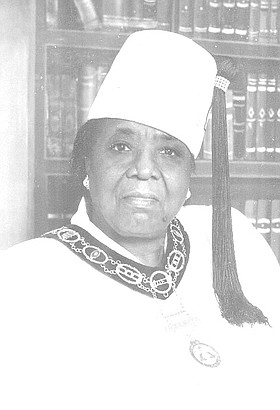 Merlene Merlita DeCosta
unknown - unknown
Funeral service for
Matriarch Merlene Merlita DeCosta, 91
a resident of Churchill Ave. & formerly of Chester's, Acklins, will be held at St. John's Native Baptist Cathedral, Meeting Street, on Friday, February 23, 2018 at 10:00 a.m. Officiating will be Bishop Carrington Pinder, assisted by Rev. Dr. Reginald Ferguson & other Ministers of the Gospel.  Interment follows in St. John's Native Baptist Cathedral Cemetery, Meeting Street.
Merle is predeceased by her husband of 59 years, Stanley DeCosta.
Left to Cherish her memories are: Five Children: Alfred DeCosta, Margaret R. Dillett, Judith N. George, Frederick (Johnny) DeCosta and Timothy DeCosta. Three Daughters in-law: Karen DeCosta, Nadine DeCosta and Marva DeCosta. One son in-law: Gregory Dillett: One Sister: Mable Higgs and one sister in-law: Eliza Williams (USA.); Eleven grandchildren: Tamicka, Alfred Jr., Bernardo and Devonnee DeCosta; Damara, Gregory Jr. and Maguel Dillett; Samantha and Steven George (USA); Dion and Frederick Jr. DeCosta; Six Great Grand Children: Damaal and Andrew Sands, Quendero Moore, Dion Jr. and Dakarai DeCosta, Kayleigh Dillett; Nieces include: Evelyn Nabby, Barbara (USA) Saunders, Betty Brooks, Jane Marion Johnson, Helen Bain, Catherine Rolle; Nephews: Herman (USA), Philip, Carlton, Teran, Corey and Alexander Higgs; Caregiver: Marie Linsey; Other relatives and friends include: Catherine Roxbury & Family, Laura Taylor and Family, Irene DeCosta & Family, Delores Darling & Family, Vivian Morrison & Family, Verline Bastian & Family, Vernita Thompson & Family, Effie Walkes & Family, Velma Cox & Family, Roston Cox & Family, Benjamin Gray & Family, Rosalie Dillett & Family, Nellie Ferguson & Family, Vernice Collie & Family, Rev. Edmund and Liza Johnson & Family, Letisha Smith & Family; John Deleveaux & Family, Janet Johnson & Family, Kim Williamson & Family, Amos Johnson & Family, Eugene Patton & Family, Helen Johnson & Family, Steve Stubbs & Family, Shirley Pearson & Family, Jenniemae Moncur & Family, Jerry Whyte & Family, Renee Chase & Family, Kenny Johnson & Family, Family of the Late Inez Bowleg: The Churchill Subdivision Community, The Community of Acklins, The St. Johns Baptist Cathedral and Society of Churches its officers and members, the Jordanaires, Ministry of Public Service & The Public Service Commission, Mr. Gilbert Kemp, Island Administrator for Governors Harbour, & staff of the Office of the Island Administrator in Governors Harbour Eleuthera, D.W. Davis Junior High School, The Grand United Order of Odd Fellows and The Household of Ruth, the Doctors, Nurses and Staff at the Princess Margaret Hospital and a host of other relatives and friends too numerous to mention.
Friends may pay their last respects at Demeritte's Funeral Home, Market Street, from 1-6:00 p.m. on Thursday & on Friday at the church from 9:00 a.m. until service time.