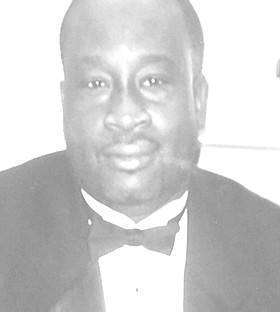 Matthew Williams
unknown - unknown
Funeral service for
Mr. Matthew Williams
Age 46
Will be held at
New Covenant Baptist Church
East West Highway
On Saturday 24th of February 2018 at 2pm. There will be a pre service starting at 1pm.
Officiating will be: Trejean Garrad
Interment will be in the Western Cemetery, Nassau Street

Fond loving memories will forever linger in the hearts of his loving wife Javarah Williams 4 Sons Matthew Jr., Shelton, Javarel and PC 4006 Donavon Williams. 2 Daughters Quatiesha and Jazaria Williams. 3 grandchildren Philip, paige and Philea white. 4 Adoptive children Franklyn Ambrister, Reynaldo Symonette, Roshad Ferguson Derese Dames 5 brothers Thaddeus Bastian, Chief supp Dereck Burrows Samuel and Lawrence Williams and Kevin Wallace. 14 Sister in law Estella Bastian, Linda Burrows, Inga and Odette Williams, Dorthy Shirley and Agatha Farrington, Maxcine Rolle, Cathlean Johnson, Bernadtte Wells, Perlean Hepburn, Sharon Farrington –Rolle of Miramar Fl and Lisa Culmer. 5 Brothers in law Charles and Stephen Farrington Wilferd Johnson, Melvin Wells, Hornsby Rolle Aunts & Uncles Joy Clarke – Williams Shirley & Bertram Johnson, Eshter & Nathaneil Johnson, Zenes & Ruth Mackey, Elzena Johnson. Neices Anita, Melinda, Nicoya Deandra, Shereika Natasha, Dereka Daphanie, Shamara, Destiny, Anya, Donica, Tammy, Perecka, Keva, Britany Tamika, Montez, Princess, Princeka, Rashante, Shirya, Chelsi,Tanice and Shamiya Nephew Micheal, Keino, Leanardo, Inspector Renaldo Burrows, Coperal 3746 Derek Burrows Jr., Larenzo, Sup Damien Robisonson, Donavon
Tino, Lawrence Jr., Perry Jr, Mario, Kevin jr, Jasin, LaGuardia, Desmond, Valentino, Meltheo, Albert, Aaron, Parez, Lead Seaman Raymond PC3923 Javasian Farrington Kenneth , Haven, Correction officer Eric Smith ,Airman first class officer Sharrad Smith, USAF Darrius, Kesmond Jr.
Special Family: Alpha Nu Alpha Fraternity, Alpha Nu Zeta Sorority, Kirsten Walker, Philip White,
HOST OF OTHER RELATIVES AND FRIENDS
Leon Wallace, Clement Taylor His Excellency Elliston E Greenslade High Comminionser of Bahamas in London & Family Doctor Kevin Moss and Family Chris Miller & Family and family Michelle Davis, Wayne & Pam Williams & Family John & Janet Williams, Shavonne & Shrelia Knowles, Terrance & Michelle Storr , J. Barrie & Susan Farrington, Scott Farrington & Sun Tee Family, Godfrey Brice & Family, Patrick Davis, Shirley Symonette & Edna Symonette & Family, Sherine Saunders, Neya Newbold, Monique Babbs & family Janice Rolle & Family Judy Philips & Family, Rhonda Henfield, Deandrea Balfour, Chris & Marva Gaitor, Psi Beta Chi & Gamma Beta Chi Family, Rodrick Hepburn, Mechanic Ken, Kim Koolaslis Shameka Moss & the entire Blairwood Family Alexander Darville. Faith Gardens Community, Watlins Street Community , Valentino & Sharmaine Wells, Lakeisha Smith, Rotary Team, Christopher Bullard & Family, Roxybeth Whyms, Philesia Carey, Eddy Bain, Yasmine Rolle, Bahamas Hot Mix, Charlice Currry, The Mcphees, Laureen Greene & Family,Eddies Electric, Storr's Electric, Melinda Collie, Brian Antonio, Dr. Shena Antonio Collie, Etheral Antonio & Family Kermit Smith, David Smith, Goodrich Family, Elizbeth Clarke, Bridgette Ferguson, Marion Strachan, Antonio Dugay.
Friends Can pay their respects at Legacy Memorial Mortuary on #20 Claridge road from 10am to 8pm and on Saturday at the church from 12 noon until service time.