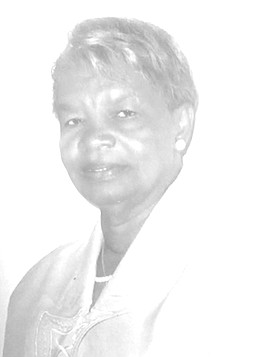 Inez Isadora Bowleg
unknown - unknown
Funeral service for Inez Isadora Bowleg, 77 yrs., a resident of #21 Maxwell Lane, Farrington Rd. & formerly of Nicholls Town, Andros will be held at Assembly Hall of Jehovah's Witnesses, Edmond Street off Dolphin Drive, on Saturday, February 24, 2018 at 11:00 a.m.  Officiating will be Bro. A Interment follows in Woodlawn Gardens, Soldier Road.
Left with visions and memories:
Three Daughters: Sheryl Lightbourne, Nadine DeCosta, and Shelly Roberts
One Son: Cardinal "Troy" Green
Three Son-in-Laws: Ellard Lightborne, Timothy DeCosta and Wayne Roberts
Five Grandchildren: K'Ron (Hollis) Lightbourne, Isaac Rolle, Latrae Darling, Candice Roberts and Troy Green
Two Great-Grandchildren: K'lyne Lightbourne and K'Ron Lightbourne Jr.
Four Sisters: Doreen Lewis, Jaqueline Jadotte, Velma Forbes, and Hilda Bowleg
Four Brothers:  Charles Bowleg, Clyde Bowleg, Fred Bowleg, and Jimmy Bowleg
Two Adopted Sisters: Majorie Albury & Pamela Heastie
Two Adopted Brothers: Ivan Conyers & Glenroy Oliver
One Brother – In-Law: Joel Lewis Sr.
Four Sister-In-Law: Debbie, Virginia, Maria, and Stephanie Bowleg
Nieces: Daisy, Michelle, Joycelyn, Shaneze, Shaquille, Lavern, Joyce, Shandrice & Lynette Bowleg, Maralyn Adderley, Vashenell Hill, Mablene Burrows, Alvern Brown, Stacy Dorsett & Nina Johnson, Aretha & Anita Lewis, Marcelline Jones & Shasta Jaddotte.
Nephews: Harazona, Charlie, Bradley, Keith, Tony, Dwayne, Mario, Clinton, Clyde Jr, Frederick Jr, Valdez, Cortez, Manasseh, Ephain Bowleg, Mandell, Lamont, Alphonso, Mark Harry, Joel Jr, Kirk, Delroy, Jason ,Jamaal Lewis, Kevin Marshall, Lenford, Marcus & Antwan Jaddotte, Elvin & Arlington Forbes.
And Numerous Grand Nieces and Nephews.
Cousins & Friends: The Bowleg, Albury ,Heastie, Lewis ,Dawkins, Christie,Treco, Riley ,Brooks, Peet, Archer ,Oliver, Sumner, Miller, Lightbourne, DeCosta, Roberts, Green & Vaughan Family, Millicent Miller, The Entire Jehovah's Witness Congregation, The Entire Nicolls Town Community & Entire Rock Crusher Community.,

Special thanks to the entire brothers and sisters of the Kingdom Hall of Jehovah's Witness, Cheryl Davis, Heath Kemp, Beryl Brown, Rosie Newbold ,Cynthia Sargent, Flora Fernander, Thelma Stubbs ,Maud Pickstock ,S eylvon Claridge, Kevin Bell ,Dr. Herbert Orlander and the entire Staff of the Comprehensive Clinic & St. Luke's Medical Centre, Monique Hutchinson, Former Nursing Collegues, Tamica Williams & Family, Lucretia Darling & Family, Sandy Major & Staff, Sharlene Rolle, Monique Hutichinson & a host of other relatives and friends.
Friends may pay their last respects at Demeritte's Funeral Home, Market Street, from 12-6:00 p.m. on Friday & on Saturday at the church from 10:00 a.m. until service time.