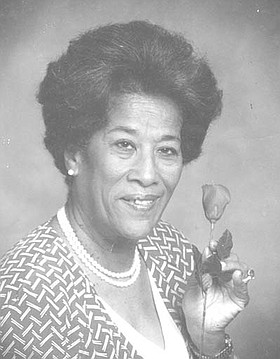 Hazel Louise Moore
unknown - unknown
Funeral Service for Mrs. Hazel Louise Moore, age 99 years, of #16 Beginning Drive, Freeport Bahamas, and formerly of Nassau, Bahamas, will be held on Saturday, February 24th, 2018, 11:00 a.m., at Sacred Heart Roman Catholic Church, East Shirley Street. Officiating will be Father Oswald Ferguson, assisted by Rev.Fr. Anselm Russell, and Deacon Keith Roberts. Interment will follow in Western Cemetery, Nassau Street.
She is survived by her: Children: Beverly Anne Curtis, Robert L. Stevenson and Grace M. L. Sullivan; Sons-In-Law: George Curtis and William Sullivan, Jr. Daughters-in-Law: Laverne Stevenson; Grand Children: Donahue Stevenson, Monique Treco (Patrick), Felice Saunders (Ken), Linly Stevenson, Shari T, Derek, Damon and Maya Stevenson, Jodi Curtis and William Sullivan III. Great Grand Children: Patrick (Mara) and Christopher (Brittany) Treco, Fidel and Allistair Stevenson; Steven and Nicolas Treco and Kristina Saunders, Brian Knowles, Camron Stevenson Smith and Meghan Tims; Seven Great-Great Gand children; Sister: Norma Allen; Sister –in-Laws: Mellie Dillet and Beryl Dillet; Nieces: Iris Knowles, Joan Bethel (Foster), Anya Dillet, Fran Wilson (Larry), Page Mitchell, Gillian Moss (Andre) Simone Michel, Zina Dillet, Tenny Skees and Hyacinth Allen. Nephews: Niven Allen, Martin (Sherry) Allen, Adlai (Jean) Foster, Rod, Carl and Dr. John Dillet, Jr. Harold and Fitzerle Skees. Cousins: Barbara Usher and family, Andrea Knowles and family, Elaine Bannister, Dr. Sonny Dillard and family (CA), Dr. Lorraine Dillard and family (CA), Thelma McSweeney and family, Eugenie Lady Nuthall and family, Charles Dillette and family, Sharley Braynen and family, George Cox and family, Al Dillette and family, Shirley Brayner and family, Mary El Fituri and family, Anita Dillet and Family, Heather Dillet and Family; Other relatives and close friends including: Gladys Sullivan, Damian and Denise Farmer and family, Allan and Paula Dixon , Kerry and Eugene Higgs, Ed and Debbie Algreen , The Honorable Frederick Mitchell, The Honorable Phillip Davis and Mrs. Davis and family; Charles Hoking (FL), Viola McCartney and family (FL), Robyn Adderley and family, Dr Catherine Adderley, Mary Sweetnam (Exuma), Una Elliott and family, Faye Paul, Jeanette Thompson (Exuma), Rosemary Huyler and family; the families of Steveson's Sub-Divison, The Grant & Campbell Families, the Basden Family, Ken Kerr (fondly referred to as her adopted son) and his children Sydnee, Kohen and Ian, and many others too numerous to mention. Special Companions and pets: Tequila & Velvet (Chihuahuas); Special Thanks to Reverend Fr. David Cooper, Reverend Fr. Oswald Ferguson, Mary Star of Sea Family and the Communicants, Nurses and Doctors of Female Surgical Ward, Rand Memorial Hospital.
Relatives and friends may pay their respects at the church on Saturday, from 10:00 a.m. until service time. There will be no public viewing at Cedar Crest Funeral Home and Crematorium Ltd., Robinson & Baillou Hill Road.