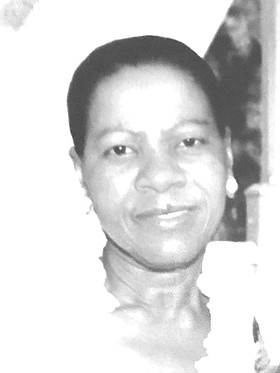 Evangelist Joyce Deveaux
unknown - unknown
Evangelist Joyce Deveaux

Age: 73 years
Service held at:
BAHAMAS FAITH MINISTRIES INTERNATIONAL
The Myles E. Munroe Diplomat Center
Carmichael Road, Nassau, N. P., The Bahamas
SATURDAY, FEBRUARY 24, 2018
AT 10:00 AM

Officiating:
Pastor Neil Hamilton
Assisted by:
Other Ministers of the Gospel
Interment
Lake View
Left to cherish her vibrant and precious memories are her:
Two Sons: Leetravino and Dario Deveaux
Six Daughters: Donnell (predeceased), Shandy Martinez, Monique Hervy of Chicago, Illinois, Min. Lindell Johnson, Dr. Lashon Storr of Houston Left, Texas, and Sanshayeea Adderley
Five Sons-in-law: Luther Miller of Miami, Florida, Miguel Martinez, Darryl Hervy of Chicago, Illinois, Prof. Kevin Storr of Houston, Texas, and Lieutenant Roberto Adderley of the Royal Bahamas Defence Force
Eight Grandchildren: Lawrence Gant of Chicago, Illinois, Ashley and Jamal Miller of Miami, Florida, Lynreshay, Ivrinique and Ivry Johnson Jr., Sanayah Adderley, and Gabrielle Storr of Houston, Texas
One Great-grandson: Tristan Gant of Chicago, Illinois
Brothers: Melvin (deceased), John (deceased), Conville (deceased), Yorick (deceased) Vencil (deceased), Fletcher Sr. and Otis Deveaux
Sisters: Muriel Hamilton of New York, Victoria Murray (deceased), Estella Laing (deceased)
Nieces: Kelcine Hamilton, Urshla (Joe) Dawson of New York, Julia Hamilton of Atlanta Georgia, Debra (Wilbur) Harris of New York, Deborah, Cynthia, and Barbara Deveaux, Mag Arnette, Debra Fernander, Charlene Knowles, Melvern Roker, Anastasia Burrows, Michelle, Monique, Denise, Theresa, Denny, Dorothy, Marilyn, and Estella Deveaux, Fredricka Stuart, Victoria Casamere and Pamela Williams;
Nephews: Fredrick Hamilton, Brian Dillet, Fletcher Jr., Sean, Wentworth, David, Benry, Ulysses, Christopher, Gregory, Arthur, Preston, Roy, and Sidney Deveaux.
Other Relatives and Friends including: Berthamae Bowleg and Livingston Johnson & Family of Freeport, Grand Bahama, Harold Cole & Family, Reginald Hanna & Family, Denise Paige Boyd & Family, Sheena Cooper & Family, Nina McBride & Family, Wayne, Vaughn, Cordell Carey & Family, The Pickstock Family, Family of the Late Althea Newton-Alcime and the Late Linda Heastie; Eloise Strachan & Family, Leo Rodgers & the entire Rodgers Clan, The Murray Family United of Chicago, Illinois, Dorothy & Jesse Johnson & Family of Chicago, Illinois, The Longly Family, Mr. and Mrs. Vernon Adderley & Family, Melessa Knowles & Family, Barry Mackey & Family, Schemell Walkes & Family, Pastor Neil & Katherine Hamilton and the Evangelistic Church Family, Pastor Dave & Angela Burrows and the BFMI Family, Pastor Christopher & Delerese Strachan, Rev. Ranford & Juliette Patterson, Pastor Rick & Mrs. Dean, Pastor Paul & Mrs. Butler, Mr. and Mrs. Kenneth Ferguson and Family, Management & Staff of the former Solomons Mines & The Perfume Bar Family, Management & Staff of Kay Jewelers Chicago Ridge, Chicago, Illinois, Management and Staff of Bonaventure Medical Lab, Faculty & Staff of Queens College Primary Years, Faculty & Staff of Temple Christian Elementary School, Crystal Arnette, Maria Hepburn, Monique Dieufaite, Kimberley Cleare, Shervonne Bain, The Fox Hill Community including Jennifer Burnside & Family and The Family of the Late Melba Pratt, Dorothy Duncombe & Family, R.M. Bailey Class of '88, L.W. Young Class of '89, '90, and '96, and The Princess Margaret Hospital Female Surgical 1 Nursing Staff.
Caregivers: Lorna Lambert & Jennifer Samuels
To all of those Family Members and Friends not mentioned, we do apologize for not naming each of you. You are loved and appreciated.
Viewing will be held at Legacy Memorial Mortuary, #20 Claridge Road On Friday from 10am until 8pm and on Saturday at the church from 9am until service time.